Fletcher and Sign lead 49ers
Conditions seem to be changing every day in Helsinki where at present the 49ers, 470 Men and Women and Finns are competing for their European titles. Sailors had to deal with tricky and light winds which forced the race committees to postponed or cancel races. However, sailors have been provided with a good mix of conditions so far and this year's European winners are being given a thorough test.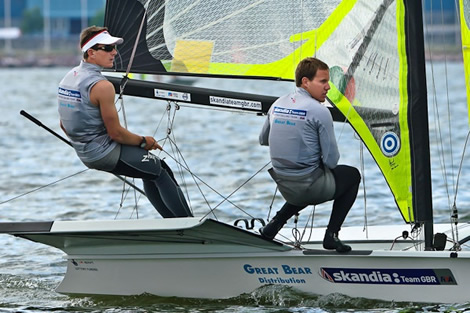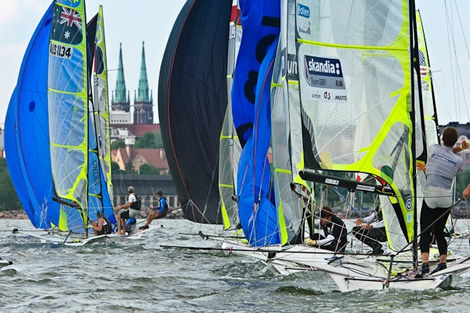 49er photos by Fried Elliott/www.friedbits.com

Seiko 49er Europeans - Fletcher & Sign take the lead

With quite the opposite conditions from yesterday, today's racing required skills for light air finesse. 49er sailors in light air show the delicate nature of keeping the high performance skiff balanced while attaining maximum speed.

The race committee on both courses had high hopes and sent the fleet out on time only to see a dying breeze and send them back to shore. After a three hour postponement both courses were able to get two races off for the day in a maximum wind of 7 knots.

British sailors Dylan Fletcher and Alain Sign demonstrated their mastery of the light air technique, winning both races of the day. Catching up with Fletcher while putting his boat away he described his day: "After a long wait, we launched at 3:00. We've sailed every day on this course and that was a bit of an advantage for us so we knew what worked.

"Alain was really on it at the start and he kept my head down as he makes the decisions, and we were going fast and started well. In the second race we started a little bit evenly, mid-line, held our lane and it happened that we were quite quick. For our tactics we kept it really simple with a two-tack beat. Downwind our strategy was to sail to the layline and cover the boats behind and lead the group back out." When asked about tomorrow's plan, Fletcher commented with a smile, "..same again would be nice! It's our best ever day...ever!"

The two bullets now put Fletcher/Sign (GBR) in the lead with 48 points followed by previous regatta leaders Delle Karth/Resch (AUT) with 52 and the Nielsen brothers, Emil and Simon, (DEN) in third with 55. Beijing gold medallist Jonas Warrer with crew Soren Hansen (DEN) had the second best day posting a 3-3 to move them to sixth overall.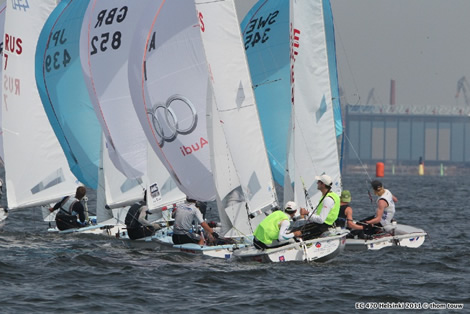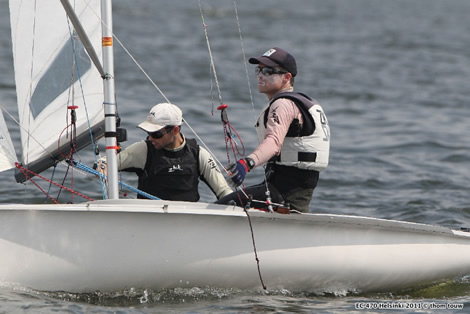 470s - leaders hold their ground

Conditions on Course Area D for the first races of the day for the 470 fleets were tricky with the wind shifting and with 7 knots, before decreasing to 4 knots as the fleets finished race 5. After going back ashore to wait for an improvement in the wind, it was decided to abandon racing for the 470 Women, while the 470 Men were sent back out to race in a more stable 6-8 knot breeze to complete their qualification series.
470 Women
Compared to yesterday's disappointments, world ranked #6 Hannah Mills/Saskia Clark (GBR) got themselves back on track to lead race 5 from start to finish. Disappointment can often deliver success, as Mills explained: "Today we had to start the event again in our minds and put the last two days behind us. All we wanted was space at the start line and we got that. We had good upwind speed, good downwind speed and having gained the lead were able to extend it."
Recognising the challenge facing them Clark continued, "We've got a big climb ahead of us. We have reassessed where we are and reassessed our goals for the week and the goal is top ten." But that statement was made before the pair knew that redress has been granted for race 1, which now gives them a 3 point score rather than 44 points, and they now go into Tuesday's racing in 14th overall.
Spain's Tara Pacheco/Berta Betanzos continue to lead the fleet overall, with Fernanda Oliveira/Ana Luisa Barbachan (BRA) in second. Moving up into third are Camille Lecointre/Mathilde Geron (FRA) after a sixth place in race 5.
470 Men

One of the happiest crews in the boat park tonight are Canada's Luke Ramsay/Mike Leigh who qualified to the gold fleet on a countback decider after tying on equal points in 37th overall with Vianey Guilbaud/Mathieu Fountaine (FRA). Only the top 37 boats qualify to the gold fleet and a stab at the Medal Race, with the rest qualifying to the silver fleet.
It was their second place in race 5 which gave the Canadians their opening and with the results yet to be published when they came back ashore after race 6, Ramsay wasn't predicting certain qualification. "We knew it would be 50:50 getting into gold," before adding, "It would be really, really great to get into gold and race with the top guys."
Positioning themselves safely in the top 10 of the 470 men going into tomorrow's final series are Stuart McNay/Graham Biehl (USA) who posted a 4,2 to move up into fifth overall. Biehl gave his thoughts on their preparations for the final series, "We are just having fun, enjoying sailing and being here. All the racing has been awesome even though we are out on the water pretty late every day. We are pretty happy with the way things are going and we are going to continue doing what we have been doing."
Australian World Champions Mat Belcher/Malcolm Page (AUS) remain in first overall, with Israel's Gideon Kliger/Eran Sela now taking over the second place slot. Moving up into third are Luke Patience/Stuart Bithell (GBR).
The charge for the 470 Men and Women European Championship titles continues tomorrow with three races planned for the 470 Women to get back on schedule and two races for each of the men's fleets. Racing is scheduled to get underway tomorrow at 1155 hours.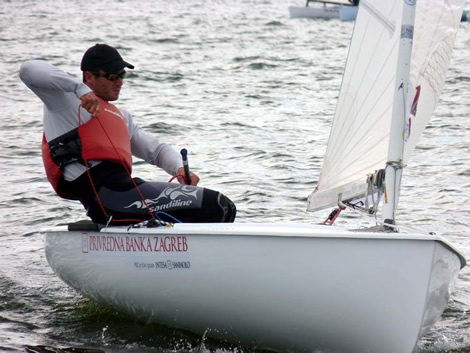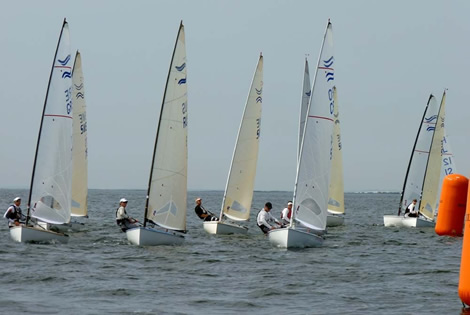 Finn photos by Robert Deaves
Finn - double European champion takes lead

In the Finn class the defending European Champion Ivan Kljakovic Gaspic (CRO) moved into the overall lead after a first and a second in Monday's two light wind races.
In Race 4 Gaspic capitalised on a big left hand shift after starting at the pin and led at each any every mark to win his second race of the championship. Fellow Croat Marin Misura (CRO) emerged from the chasing fleet to cross in second, while Thomas Le Breton (FRA) took 12 places on the final downwind by sailing round the pack on the left to finish third.
After a long wait and a big shift in the wind, Race 5 was sailed in 5-6 knots with Daniel Birgmark (SWE) leading from start to finish. Kljakovic Gaspic moved from third at the top mark to second at the finish and at one point nearly caught the Swede. The regatta leader this morning, Andrew Mills (GBR) spent most of the race in third, but lost out to Rafal Szukiel (POL) on the approach to the finish and now sits in second overall. After a fifth and a 21, Pieter Jan Postma (NED) drops to third.
Kljakovic Gaspic said, "You know how it goes in light winds, so it was tricky, and always difficult. But I had really good starts in both races and had quite good speed. It was risky at times, to make calls and decide where to go and what to do so I am pretty happy with what I did today."
Racing for the Finns continues on Tuesday, with more wind, and rain on the forecast.
Full results here
Back to top
Back to top