British paralympic sailors prepare for World Championships
Britain's leading Paralympic classes sailors will hope to lay down an early marker on the 2012 waters when racing starts at the IFDS Disabled Sailing Combined World Championships in Weymouth and Portland this Sunday.
The six-day regatta doubles as a trials event for both the 96-boat, 30-nation entry, who can earn the final country qualifying spots for the Paralympics next year, but also for the GBR crews who will hope to earn the attention of the RYA's selectors with a medal-winning display in a major event at their home venue.
Alexandra Rickham and Niki Birrell will head into the event defending the title that they've won at the past two World Championships in the two-person SKUD class, but in spite of their worlds track record and their recent crowning as World Cup series champions for 2011, the Skandia Team GBR duo are conscious of increasing competition.
"Our training in the build-up has gone pretty well. I think everything's on course," the 29-year-old Rickham explained. "Obviously it would be wicked to win our third title here, but we'll just have to wait and see what Weymouth throws at us next week! It was really comforting [to win a medal at Sail for Gold], but it wasn't gold so we weren't at our happiest. The Aussies have been a bit of a niggle lately, but hopefully we might be able to rectify that next week."
"Obviously with a year to go people have upped their training significantly and invested a lot of time and money into the class which is fantastic," added Birrell, who hails from Knutsford. "The more boats there are, the bigger the event feels and it feels more like an able-bodied event now with more boats around. From that point of view it's fantastic, but from our point of view we just have to make sure they all finish behind us!"
The Sonar trio of John Robertson, Hannah Stodel and Steve Thomas are arguably the in-form crew heading into the World Championships, having claimed gold at the same venue at the Skandia Sail for Gold World Cup regatta just over two weeks ago. Having won world consecutive world titles in 2005 and 2006, and narrowly missing out on a third at last year's event, the crew are hungry for success on their home waters, and see the Worlds as a vital stepping stone towards their Paralympic success.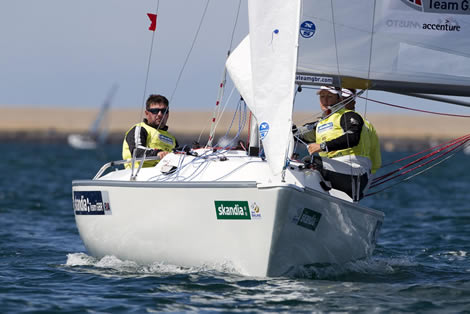 "I think this event is going to be pretty big in terms of an indicator as to where we are," explained Stodel. "Although it's not the be all and end all – the Paralympics is all that really matters – this is a step up to that and this will be a good indication of where we are what we've got left to work on for the next year or so. We're obviously really pleased to have won here at the Skandia Sail for Gold Regatta and winning the World Cup series is great, but we've still got stuff to do, we're not going to be resting on that."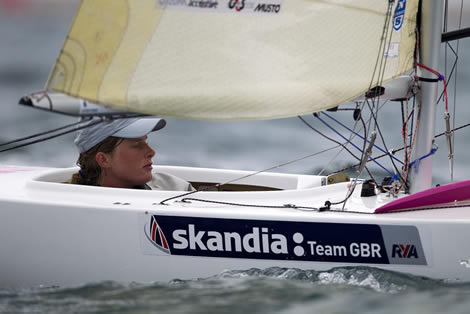 Megan Pascoe, who claimed her first World Championship medal – a bronze – in 2010, had a timely victory in the one-person 2.4mR class at the Kiel Week regatta last week to hand her overall World Cup series silver and is in confident spirits. "I've got a really, really good chance. I can't predict the future, but I really am excited about the event and I think it's going to be good," she said.
Helena Lucas, 2011 World Cup series bronze medallist and bronze medallist for Skandia Team GBR at the 2009 IFDS Worlds in Greece, will also be vying for the podium spots in the 2.4mR class.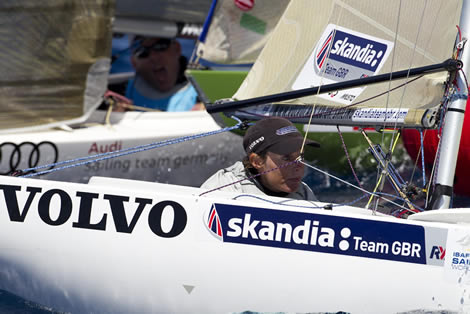 "Everybody that's racing here will be at the Games – albeit it fewer competitors [at the Games] as there's only one per country so it's actually an even more competitive fleet here than we'll have at the Paralympics in 2012, so to get a medal here would be awesome."

"With the Skandia Sail for Gold Regatta and now these IFDS World Championships both held in successive months on the Paralympic waters, the interest and entry level from the international fleet across the three classes has been huge," commented RYA Olympic Manager Stephen Park. "That, along with 2012 qualification at stake for a number of nations and classes, will no doubt make for a fiercely competitive event, but recent form on the World Cup circuit and on these waters at Sail for Gold where we won two medals in the three Paralympic classes means we're cautiously optimist about our podium prospects at the Worlds this week."
Racing at the IFDS Disabled Sailing Combined World Championships starts on Sunday 3 July and concludes on Friday 8 July. There are 11 races in total scheduled for each class (two races per day Sunday-Thursday and one race on Friday 8 July).
Skandia Team GBR squad for the IFDS Disabled Sailing World Championships:

Name/Place of Birth/Lives
SKUD18 (two-person keelboat)
Niki Birrell 16/08/86 Manchester Knutsford
Alexandra Rickham 11/09/1981 Kingston, Jamaica Epsom, Surrey
2.4mR (one-person keelboat)
Megan Pascoe 29/11/1986 Shoreham-by-Sea Portland
Helena Lucas 29/04/1975 Redhill, Surrey Southampton
Sonar (three-person keelboat)
John Robertson 11/02/1972 North Haven, Sunderland Portland
Hannah Stodel 27/08/1985 Colchester West Mersea
Stephen Thomas 05/01/1977 Bridgend Cardiff
Back to top
Back to top