Texel victory for Heemskerk and Tentij
Mischa Heemskerk and Bastiaan Tentij won the 34th Zwitserleven Round Texel Race. The race got underway at 1330 in a spectacular way with a downwind start, with spinnakers hoisted in a force 5 breeze. This caused some capsizes and collisions, including some favourites who were put of the race early.
Mitch and son Taylor Booth took line honours after 2 hours, 49 minutes and 52 seconds. The best mixed team was Chris Sproat and Georgina Burke from England. There were many dropouts. Of the 400 boats started only 147 finished. Everywhere cats stranded, but there were no injuries.
"I'm not quite getting it", said Heemskerk just after he parked his Cirrus F18 on the beach at Texel. "While sailing through the surf, the spinnaker sack tore and the spinnaker (extra fore sail) washed out. So ten seconds before the start we should have hoisted it, but we couldn't get the spinnaker up. Then I prayed vigorously and Bas was quickly tying it up. In the meantime everybody was sailing away with their spinnakers. I prayed a little harder and in the end the kite came up. Bas said to me: "It's good to be angry, but preferably with some safety in it." I said: "yes, I will!"
'We really sailed very very fast. At the lighthouse we were already fifth." There Gunnar Larsen and Sam Frank were still leading on rating, among the 20ft cats. Shortly after Heemskerk and Tentij climbed to second place in the F18s. "At the VC-buoy we were first. Then we saw the 20 footer crews all were walking alongside the boats, so I yelled that we had to raise the centreboards." Heemskerk also warned his direct competitor Gunnar Larsen. "We put the rudder blades up and I think we sailed like that at least for 15 minutes. We only scraped a bit over the bottom. Gunnar fell behind there and Coen (de Koning) caught up."
"When we could sail properly again, one of the rudders was too far under and the other too far out. I told Bas: "All is well, come on work like a horse". He pulled like crazy and we were speeding along like madmen."
Next to Heemskerk, his crew Tentij is gloating. Heemskerk scored a hat trick, but for Tentij it is the first time in his sports career that he has won the Round Texel: "It's fantastic. The first year that we sailed together we were second. To win now is wonderful. Especially in these conditions - really great. It was hard work, so I'm glad to be here." With this victory the team also gets an extra donation for their Cancer fund. Heemskerk: "This morning I got an sms from Arien Hofman, sailor and plastic surgeon, that he would donate 1.000 euros if we won."
With the Bouscholte brothers in their wake, Mitch and Taylor Booth finished first this afternoon. Both teams sailed similar Nacra carbon 20s. Proud father recently appointed skipper of Team China in the 34th America's Cup, Mitch Booth, reported: "It is great to do this with my son. We really have fun together. This is back to the roots of sailing catamarans. The Round Texel Race is the pinnacle of the cat sport. It has been five years since we sailed this kind of boats. To be this successful at the first attempt makes me happy."
They didn't get line honours for nothing. "It was rather chaotic at the start, because the wind was strong and the course was dead downwind. After that the fleet spread and we could sail away from the smaller cats. It was exiting till the VC buoy on the Wadden Sea. Unfortunately the two teams in the lead, Xander Pols and Peter Vink, hit the ground pretty hard. We did too, but we came off better than them. That was the decisive moment in the race. After that we kept the rest behind us."
But the Bouscholte brothers kept father and son on their toes. As Taylor Booth commented: "They pushed us the entire race and kept us working really hard. Hats off for them."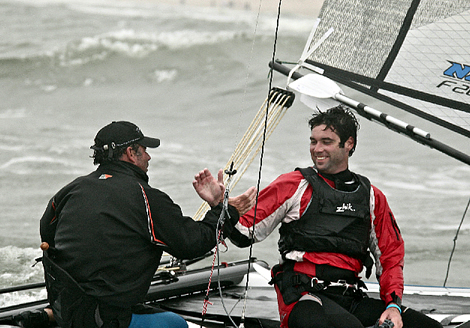 Booth Junior explained the second part of their race: "Most of the way on the Wadden Sea was upwind, so it was all about boat speed. We worked hard and came around the southern side of the island first. We set the chute and said 'it's time to get home', so we were covering. It is a really good moment to have won this together. It is always a pleasure to sail with my father."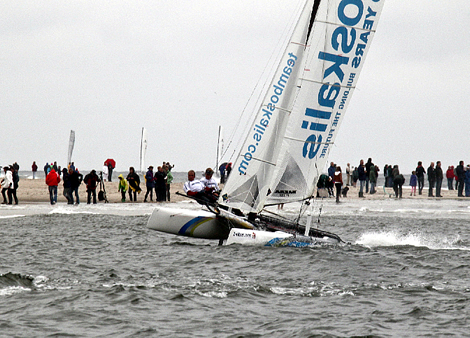 The Boskalis Nacra carbon 20 team Xander Pols (NED) and Sascha Larsen (NED) sped away right from the start, but on the Wadden Sea it went wrong. Xander Pols: 'This really was a mental Round Texel Race. We made a good start, were the first boat at the lighthouse and gate. Near the VC buoy was only 30 centimetres of water. Although we had the centreboards pretty high we grounded. The centreboard was stuck, so the boat was bouncing. In order to safe it, I had to capsize. But then there were some twenty boats ahead and we had to get ourselves together. We couldn't get the first boat anymore, but a third position was still possible. Forget what happened and go for it! That worked, we came in third. It was defining that there was no water, but it's all in the game since this is Texel. It is a cowboy race and we love doing it every year again."
Coen de Koning and Thijs Visser finished seventh, more than a minute after Heemskerk and Tentij to claim second overall. De Koning: "Just like everybody we suffered from the shallow water at the VC buoy. We also grounded. We tried to beat upwind without centreboards and rudders, but that was hard. One has to deal with that smartly. Then we climbed from a fourth position to a first of the F18's. At Oudeschild Mischa overtook us beating upwind and we couldn't catch him anymore."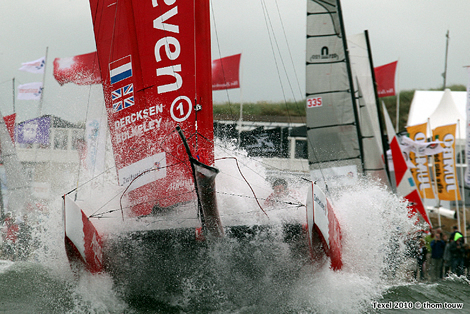 Although they were not up among the front runners, the wing experiment was still successful according to Herbert Dercksen. "Promising," said Dercksen. "It's all new, so we have to explore everything, especially under these circumstances. Actually we learned gradually throughout the race how to tack. It is difficult to get this boat up to speed after the pressure in the sail has dropped for a while. But we are proud to be the first to race around Texel with a wing sail. It performed well and we are very satisfied."
Carolijn Brouwer and Jeroen van Leeuwen (NED) were very unfortunate to drop out before the start with significant damage to their 16-foot Viper. They were serious podium candidates for the mixed multihull class and for a top result on handicap, but were unluckily hit by a Prindle 16. The same happened to the Britons Will Sunnucks and Oliver Egan with their M20 Vampire. These favorites for line honours had to return to the Texel beach as well. Olympic sailor Renee Groeneveld survived her debut to beach cat sailing, but nosedived almost exactly at the gun and at the start line. "It was a bit too much for a first time. But I have a new hobby", she laughs.
Top three line honours:
1. AUS - Booth/Booth
2. NED- Bouscholte/Bouscholte
3. NED - Pols/Larsen

Top three on handicap:
1. NED - Heemskerk/Tentij
2. NED- De Koning/Visser
3. AUS - Booth/Booth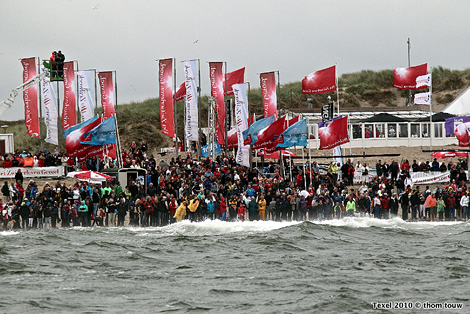 Back to top
Back to top