De Koning and Visser edge ahead
Coen de Koning and Thijs Visser are the early leaders of the Nacra Infusion Worlds 2011, sailed off the Texel beach in the Netherlands. After five races on the first day, the Dutchmen proved to be the most consistent team, taking three bullets in five races. The conditions were challenging with a variable wind and relatively big waves. The fleet was obviously eager to start racing, as there were several general recalls. A total of 46 teams lined up for the Nacra championships.
"It was a technical breeze with on and off trapeze conditions and oblique waves on the course", said de Koning. "In the first race, I still had some problems with it, but afterwards we won pretty easily. We did not lead from the beginning, but we just sailed a bit smoother in terms of tactics and speed." The 2009 F18 World Champions scored a third after the lunch break, followed by another victory. "Sometimes we could double trapeze, sometimes not. It was important to look for pressure and stay in it." It was a long day with five races, so felt De Koning: "I am looking forward to my bed."
"It is difficult weather", confirmed Gunnar Larsen this afternoon. "Your boat needs to be tuned for maximum power, until you get on a surf. It is about balance and constantly changing gears." Larsen and his crew Sam Frank finished were second overall after four races. The fourth race was a dream according to Frank: "We won the start and everything went well. We were so fast that we built up an enormous gap between us and the others. The circumstances this afternoon were difficult. There were small waves and if you have clear air you can steer through them." Larsen and Frank finished day one with an OCS, which caused a drop on the leader board to a fifth position.
The Britons Grant Piggot and Robby-Jon Garcka took over the second place overall, followed by the first mixed duo Jorden Veenman and Marja van Helden (NED).
Veenman and Van Helden started this morning with a third, followed by a fifth in the second race. They experienced a little bit of a set back after this. Veenman: "We didn't focus at the start, it was our own fault." But they recovered soon and came ashore with a second place. Their best race, according to Veenman: "We sailed from a fifth spot to a second. We had a terrific catch up, because we estimated the distance to the top mark better than Gunnar and Sam, so we overtook them just before the buoy. In the second round we did the same again and overtook Willem Geijssen and Dominique van Asselt. So we ended up in second place. That was cool."
Boskalis duo Pim Nieuwenhuis and Ferdinand van West started really well this morning. They won the first race, but their fortune did not last for long. They were pushed over the line at the second start and scored a BFD. Van West:"'And at the last start, we had a frontal collision before the gun." It happened as Conrad Schwindt and Dave Holigan from Abu Dhabi bore away. "We have considerable damage on the hulls, that are delaminating." They the protest and scored a dsq. Meanwhile the repairs are full on. "Tomorrow, we will be back on the water", says Nieuwenhuis.
Despite his move into the grand world of the America's Cup with China Team, Mitch Booth (AUS) showed up at the very last moment, unexpectedly. A change of training schedule allowed him to compete in the International Nacra Championship with the Nacra Carbon 20. He and his teammate Olivier Witteveen (NED) had a close matchrace battle with Xander Pols and Sascha Larsen from the Netherlands. The pair of teams dominated the fleet of six cats, with Booth and Witteveen winning the bullets. Booth: "You notice there are different levels in the fleet. For a lot of sailors the circumstances were difficult. There wasn't a lot of wind and the waves were higher than you would expect with this breeze. So if you are a moment not really focused than you loose a bit."
Xander Pols and Sascha Larsen were a bit too keen at the beginning, as they commenced their series with an OCS. However, they finished second in the rest of the races. According to Pols they won the first race, but that turned out to be an OCS. "But we feel lucky to match race against Mitch and leave the rest of the fleet way behind us. Mitch is considered to be one of the best cat racers in the world. So we did well today." Peter Vink, their other competitor, dropped out due to illness. Hans and his brother Ronald Bouscholte used his boat in the afternoon, as theirs got damaged during transport.
Top five Nacra Infusion Worlds 2011:
1. NED - De Koning/Visser, 13 points
2. GBR - Piggott/Garcka, 20 points
3. NED - Veenman/Van Helden, 25 points
4. USA - Easton/Burd, 43 points
5. NED - Larsen/Frank, 50 points
Top three Int. Nacra 20 carbon Championship 2011:
1. ESP - Booth/Witteveen, 5 points
2. NED - Pols/Larsen, 17 points
3. NED - Rijnsburger/Willems, 17 points
Top three Int. Nacra Open Class 2011:
1. NED - Meermans/Brommer, 10 points
2. NED - Van Ravesteyn/De Smith, 11 points
3. NED - De Jong, 15 points
More pics from Thom Toub: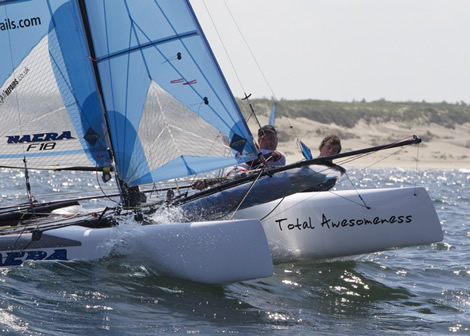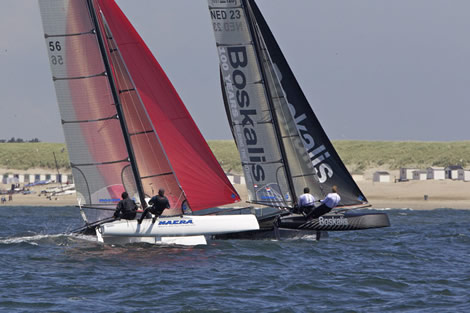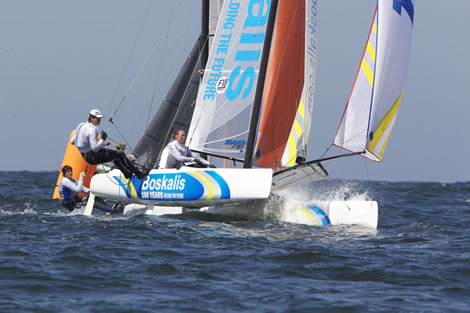 Back to top
Back to top