Dynamic duo
Unfortunately today they scuppered their chances of taking the gold, but one of the stars of Skandia Team GBR this week has been the new 470 pairing of Hannah Mills and Saskia Clark, that came together three and a half months ago when Clark's former helm, double gold medallist Sarah Ayton chose to hang up her Olympic sailing boots in favour of motherhood.
In today's last race Mills and Clark got nailed on the wrong side of big left hand shift... "and we didn't get a sniff of anything to come back across on. So we sailed our discard unfortunately," admits Clark.
However two sailors who did get it right today were the New Zealanders, Jo Aleh and her recently returned crew (from a broken collarbone injury) Olivia Powrie, who's points score is now out of reach for the third placed Brits going into tomorrow's double points scoring medal race. Tomorrow's race for the top 10 will end up being a squabble for the final two positions on the podium between the Brits, the second placed French, Camille Lecointre and Mathilde Geron and the Israeli duo Gil Cohen and Vered Bouskila.
Unfortunately today's last race has taken the sheen off what has been an incredible week for Mills and Clark, who out of the blue led their class over days two and three. So pretty happy? "Yes....but your expectations get high after doing a few days in yellow!" admits Clark. "It would be nice to go in with a chance of winning, whether it was a close chance or not. It is a bit of a shame that gold has gone. But we are happy.
"We are pleased with how we did in the wind. We hung in there and got some solid races in. We may have been discounted a bit in the bigger breeze stuff, so that is promising and we have a lot more to come in that stuff."
Mills agrees: "It has been a great week. We have had a range of conditions, on the breezy side which we didn't know if they would suit us or not, but we seem to have hung in there because we are on the small side of the scale. I think that's me, because I'm quite a bit smaller than most other helms. So it is nice that we are up to speed in the breeze. It has been good."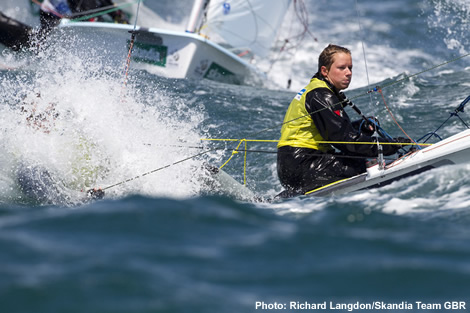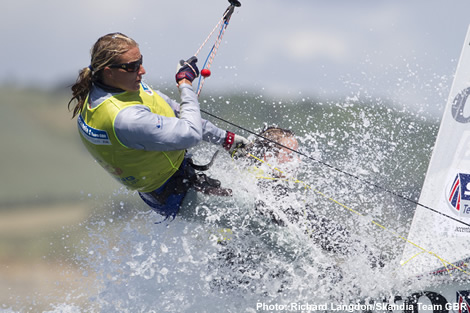 According to Clark, who lives here, Weymouth Bay has been doing some strange things this week. The wind direction has the opposite of how it was at last year's regatta which was a coming-off-the-cliffs northeasterly, but this year the southwesterly puts the race courses to leeward of Portland, with the wind bending around each side of the island and this combined with the thermal effect has made life on the water particularly challenging. "It has been awesome, really good sailing conditions, but definitely yesterday we got caught out thinking we knew the race track and thinking we knew what to expect and actually that didn't happen," says Clark. "So for us and the other British boat [Penny Clark and Katrina Hughes], we train every day here and we both got a bit hung out to dry on the left hand corner. But it has been really good. On shore the organisation has been awesome. The race management team on our course has been really good, good courses, good start lines."
Perhaps most promising is the dynamic between Mills and Clark – Clark the experienced campaigner having been to the Beijing Games where she finished sixth with her then helm Christina Bassadone, while Mills is younger and more aggressive and terrier-like. "We have good energy," says Clark. "I think we've had that from the beginning. We were a late campaign and that was one of the things we had to capitalise on and its going really well. We have to settle down a bit now. That energy has been easy until now. There's been a big build up but now we have to adjust that for the longer game."
Or as Mills puts it: "We have had a really good month here in Weymouth after Hyeres doing lots of training and it has been going really well, so we sort of expected to do well because we've been going quickly and our communication has come a long way. It is always a surprise to be sitting up there in the medals when you've only been together for three months or whatever. But we felt confident that if we sailed alright, we'd be in with a shout."
Typically on the 470 either the helm or the crew does the tactics, but, according to Mills, she and her crew have different strengths and combine the tactical role. "Saskia is a bit more conservative tactically and I tend to grab more opportunities, so it is trying to coordinate that so we end up on the same page. It is a case of when to grab the opportunities and when to stick. It has gone well this week but we need to just keep checking in with that."
Bizarrely, given the proximity to the Games, the rest of the year is a little bare. There is the Olympic test event in August, a one boat per class per nation affair (unlike Sail For Gold) like the sailing event at the Games will be next year, and Mills and Clark hope they will get the berth for that. This they will discover tomorrow after the prize giving. They are sailing at the Perth 2011 ISAF Worlds in December and the Europeans in Finland in July. Apart from that they will be undertaking a lot of training out of Weymouth.
"We are training with the British squad at the moment," says Mills. "There are a lot of guy boats who are all really good and some of the girls boats are really good, so there is always people to train with so I don't see there's any reason to take it outside of the UK – we have got such a great set-up here, we don't need to give anyone else that advantage..."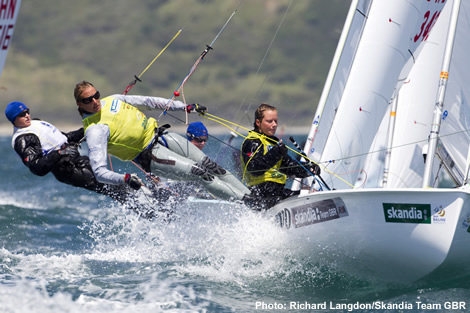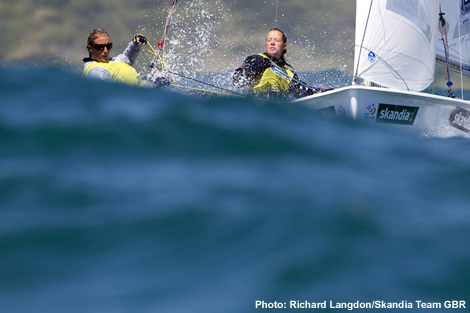 Back to top
Back to top