First medal races decided
The penultimate day into the Delta Lloyd Regatta was a long sailing day with delays with the first three medal races only starting at 1800.
With wind quickly increasing to 28 knots and steep waves causing casualties, only one race was sailed in the Laser, 470 Men and Star. The Laser Radial managed to compete two races, ending with with the wind gusting up to 30 knots. The RS:X men enjoyed great planing conditions and got in two more races. They are the only class to complete their schedule. The Women's Match Racing completed their quarter finals and after a break in the late afternoon, when the wind was at its strongest, they also ran their semi-finals.
Delta Lloyd regatta defending champion (AUS) Tom Slingsby added a sixth win to his score and will enter tomorrow's Laser medal race with an 18 point lead over Brazil's Bruno Fontes. While Slingsby has secured gold, barring a disaster, Fontes is also ensured of a medal. Roelof Bouwmeester (NED) in third position can only hope for silver or bronze, but the podium is out of reach for all the other medal racers.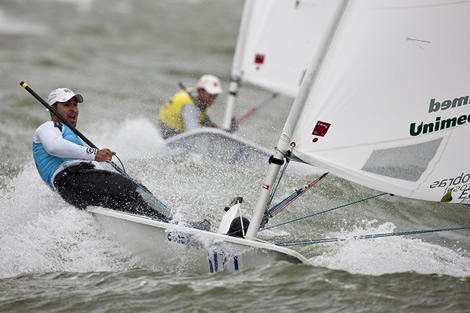 The Laser Radial saw the come back of early leader Ireland's Annalise Murphy. She collected two bullets and recovered from her OCS/BFD disqualifications to narrowly slip into the last spot for the medal race, albeit with no chance for a medal. Places on the podium are available to the top four. Marit Bouwmeester will defend her title going into the medal race with a comfortable 12 point lead, but Belgium's Evi van Acker who was third at the Rolex Miami OCR and second in the Trofeo Princesa Sofia Mapfre is second, the same position she took last year in Medemblik. She has a chance for Gold but her closest rivals for Silver and Bronze are only a few points behind. Lijia Xu (CHN) is in third, one point from van Acker, while Croat Tina Mihelic who has been developing her skills in this week's big breeze, is the last sailor who can aim for a medal at present just three points away from silver.
The Stars suffered from the breeze and sharp chop. The last downwind leg today saw four masts snapped. Among them were Skandia Team GBR's Iain Percy and Andrew Simpson, who unusually broke their boom, causing their mast to break. They still managed to sail across the finish holding the sail at arm's length in the air!
Surfing the wave of success, Robert Scheidt and Bruno Prada (BRA) took another bullet making a fifth their discard! They go into the medal race with a 11 points lead on Olympic champions Iain Percy and Andrew Simpson (GBR), who after their breakage won't be competing. Kusenierewicz/Zycki (POL) conserve their third position but with the Brits out of the picture now seem set to take silver. Pre-medal race the podium is open to the top 8.
In the RS:X Men Korea's Taehoon Lee added another solid day with a second and a first. With a 17 point lead over Canadian Zachary Plavsic, the Asian RS:X champion is assured of either Gold or Silver, but the Bronze will be up for grabs by three sailors: Ricardo Santos (BRA), Thomas Boyard (FRA) and Wang Aichen (CHN).
In the 470 Men, Matt Belcher and Malcolm Page scored another victory to extend their lead to ten points prior to their medal race. The score is very tight between the sailors ranked from second to seventh, all of whom can podium in the medal race.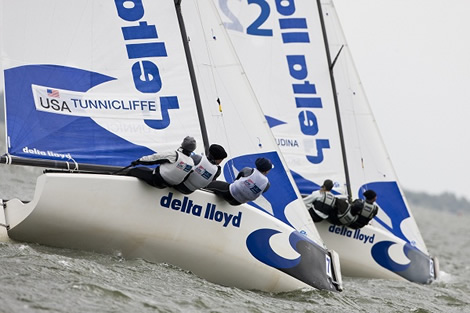 The women match racers sailed their quarter finals. Tunnicliffe (USA) defeated Skudina (RUS) 3-1, Lehtinen defeated Abrahamsen (DEN) 3-0, Wang defeated Roca (ESP) 3-1 and Groeneveld defeated Echegoyen (ESP) 3-0. With racing delayed by the heavy rain, the semi finals started at the end of the afternoon. In these Finland's Silja Lehtinen beat Anna Tunnicliffe, while the Netherland's own Rene Groeneveld defeated Ru Wang. Therefore tomorrow's final will Lehtinen's team face Renee Groeneveld.
There was no further fleet racing today for the 470 Women, Finns and 49ers. The strong wind and rain prevented further racing.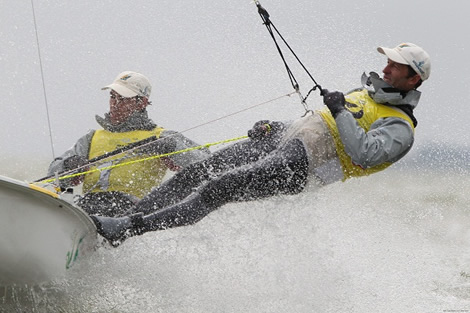 This evening first to compete their medal race were the 470 Men. Belcher and Page surging into the finish line picking up two places and their second secured them the gold overall. The medal race was won by Greece's Panagiotis Kampouridis and Stathis Papadopoulos elevating them into the silver spot with 2009 World Champions Sime Fantela and Igor Marenic from Croatia third.
The 470 Women was won by double World Champions Lisa Westerhof and Lobke Berkhout after they came home fourth in the medal race. Victory in the Medal Race went to Spain's Tara Pacheco and Berta Betanzos who's OCS and BFD earlier in the week barred them from the podium. The upset was when Brazil's Fernanda Oliveira and Ana Luiza Barbachan came home eighth dropping them from the bronze position, to be replaced by their younger team mates Martine Grael and Isabel Swan. In the end Japan's Ai Kondo and Wakako Tabata confirmed their silver medal.
Finally the line-up was thin in the Star medal race with Percy/Simpson out along with Poles Maciej Grabowski and Luk Lesinki. It was Atlanta Finn bronze medallist and local hero Roy Heiner, sailing with Gert van der Heijden, who proved there was still life in the old dog to claim victory, although it was only enough to elevate him to 9th overall. During the race Germany's Robert Stanjeck and Frithjof Kleen were penalised under rule 42. However a second place finish for Robert Schiedt and Bruno Prada was enough to secure them gold overall, with Poland's Mateusz Kusznierewicz and Dominik Zycki taking silver and Eivind Melleby and Petter Moerland Pedersen bronze.
Back to top
Back to top