Back on the campaign trail
Australian double 49er World Champion Nathan Outteridge and crew Iain Jensen start their Olympic sailing season in Europe this week with the Delta Lloyd regatta.
While they competed at Sail Melbourne, this will in fact be their first regatta this season and will of course be followed by Weymouth for two and a half weeks taking in Skandia Sail for Gold, then after a break back in Australia, the 49er Europeans, taking place this year in Finland, before returning to Weymouth for the Olympic Test Event in August. "We have the four events plans in two trips and hopefully it will go as well it has over the last couple years," says Outteridge.
So how has the game come on in the Olympic skiff since Beijing when he finished disappointingl off the podium in fifth place? "I haven't seen much of what has been happening in Europe this year, but it is getting closer. The new rigs came in two years ago and we did a lot of training with them in Australia and we came to Europe and we'd worked out a few things that now everyone else knows. So this year it will be interesting to see how the European fleet is progressing and I think the US fleet is coming on a lot more as well."
When we press Outteridge on what the "few things" were, he says they are to do with rig set-up. "We have gone from the old fibreglass rigs to carbon fibre rigs and square topped mains and the settings are slightly different. And people went to different areas and now everyone is in the same area. So the boat speed differences are a lot less from what they were probably two years ago and it will come back to just racing well and knowing the weather pattern in Weymouth come the Olympics. It is good to see because the 49er is all about one design racing as fast as you can and when everyone is racing at the same speed, it is quite hectic with 25 boats."
At the recent ISAF Mid-Year meeting in St Petersburg, for one horrific moment the 49er looked like being given excluded from the equipment to be used for Rio 2016 in favour of the keelboats being reinstated. Outteridge was equally dumbfounded as to what happened.
"I was watching it and going 'surely that's the lastboat they should eliminate'. I read it and it was like 'you're kidding me'. The decisions they made in the end - not everyone is always going to be happy with, but it has a good spread. It is good to see the Tornado back in. It is a bit disappointing to see the keelboats disappear but you can't have everything in there and if the keelboat goes and the Finn goes you'll have no big guys at the Games."
While Outteridge is obviously focussing on his 49er campaign, he also has been finding time to sail other boats, most noticeably the Moth, where aboard his Mach 2 in Belmont, Australia in January he was crowned World Champion, in a series of nine races where he never finished lower than sixth.
"That was quite good, although it feels like a long time ago! I remember spending most of December and January sailing with Tom and Goobs [Iain Jensen] and also with Joe Turner, we'd go out every day. Goobs and I took our Moths out a couple of days before I left - we were thinking of selling and then after about an hour it was like 'we can't sell these!' Hopefully I'll get the chance to do the Worlds in Garda [in 2012], but they are only five days after the Olympics. But if we do well we'll be expected back in Australia for various things.
"The Moth is the best boat to sail. If that became an Olympic class I'm sure I'd just switch into it straight away. I'm sure I'd have to get a lot fitter because the level of the sailing would go up a lot. Bladerider were pushing for it for these [2012] Olympics, but you don't want to end up with a one design foiling Moth that in two years' time is completely out of date. Equally you don't want to make it unrestricted because people will spend half a million a year developing it. It is so easy to spend money on a boat like that..."
"It could be exciting if it does get put into the Games. I'd love to see that. That is the way the sport has got to move. You can have traditional stuff too, but there has to be other opportunities for other classes."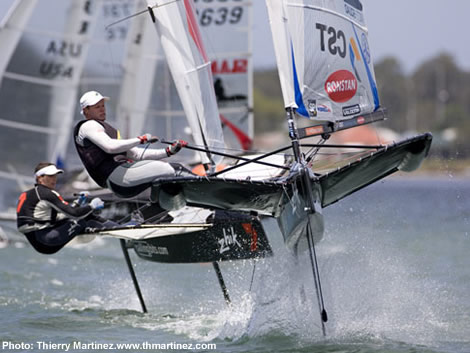 We put it to Outteridge that Moths increasingly be sailed by heavier sailors. So a replacement for the Finn? "I was about 80kg for the Moth Worlds and Tom [Slingsby] was about 85. I don't think you could be over 90 and be competitive in all ranges. I would get up on the foils as quick as Simon Payne who is 60kg or a bit over, but as soon as there is 12 knots of breeze I am about three knots faster than him upwind because there is so much leverage and you just have so much more power and the more you heel it too windward the further you get to windward in the boat. I don't think there is any excuse for being too heavy in a Moth, it is just in that 5-10 knot wind range where you are going to struggle, but if you have good technique you can get away with it."
But the Moth is not Outteridge's only other distraction from the 49er. "I did the Farr 40 Worlds and the 505 Worlds up at Hamilton Island where we were in a bit of a rush. We hadn't sailed the boat until the practice race, so we got two days of practice in before the Worlds started and we ended up ninth, so we were pretty happy with that. We were a long way under weight and a lot of the regatta was in 25 knots, so we had to tough it out a bit. We were sitting in 5th for the whole regatta but we broke a fair amount of stuff in the second last day and then we worked all night long to get the boat sailable for the next day but we didn't get it all fixed, so we had a bit of shocker in the last race. We were pretty happy to be second Australian boat and in the top 10 on the first time we'd ever tried it..."
So does he have a policy to sail lots of boats to help with his development as a sailor and ultimately benefitting his Olympic campaign? "I think it helps a lot doing a lot of other sailing. You learn a lot of other skills, whether it is rig tuning or priorities in different types of boats and you come back into the 49er feeling refreshed after doing some other sailing. You can always bring some experience from the other sailing that you do, it is just a question of doing it at the right time so that it doesn't affect the 49er program.
"And the fact that I have done a lot of it with Iain – because he did the Moths in January and the 505s and the Farr 40s - so he is getting the same involvement. And it has been working quite well but I think over the next year, between now and the Games, you'll see me doing a lot less on the other boats. The downtime in the past I have gone and sailed other boats whereas now it will be downtime to rest or work on physical aspects - there is always more work you can do in the 49er, working on equipment or whatever it might be."
Aged 25, Outteridge is one of the hot prospects for a 49er medal at the Games next year and presumably at his age there is the prospect of continuing on to Rio four years later. "It probably depends on this time and how we go, but it depends on what other opportunities arise. I'd like to get involved in the America's Cup given the way it is going. I think it is pretty exciting in those sort of boats. So if an opportunity like that comes along then financially it is probably a lot smarter choice, because when you do Olympic sailing you don't earn any money, you are just doing it because you love it. I'd love to go again for sure but at the end of the day I've got to try and set myself up for the rest of my life. I don't want to be 35 or 40 and still have no money..."
Back to top
Back to top