MothFest concludes
The forecasters were correct and the first day of the Pro-Vela Mar Menor Moth Fest Regatta saw gusts of 30 knots forcing the 40 foilers to the Go Kart track where the competition was no less intense, Sam Tozer from the UK pulled through to claim the spoils.
Normal service was resumed for the final day of racing as the Moth Fest served up perfect thermal breezes where racing commenced in 10 knots peaking at 15 knots before falling away slowly toward late afternoon.
Demonstrating what had been clear all week Mike Lennon on his Hyde-powered Mach 2 was head and shoulders above the fleet and recorded 3 race wins out of 3 before Lunch. The only sailor pushing him at all was the sister ship of Richie Lovering but he was unable to snatch a victory from the grasp of Lennon.
With a series of six races with no discard and a double points final race consistency would be rewarded and when Lennon opened the door with an uncharacteristic OCS that he would have to count in Race 4 the door was left open. Ricky Tagg took advantage by winning the race and then following Lennon home in the next two. His consistency was rewarded with the Golden wings as Lennon was left to rue his mistake and settle for silver. Filling the final podium spot was Fred (Messer) Schmidt from Germany who in counting nothing worse than a 6th saw him take home the Bronze. Tom Offer from the UK was 4th and the first Frenchman was Yann Andillon in fifth.
Katherine Knight was 8th and first Lady with Sue Ogg, Also from the UK from the UK 2nd and French woman Claire Gavinaux 3rd. Harald Steiner from Germany won the coveted KA sail donated by Ka /Mach2 as he brought home his superbly constructed home build in 13th place, finishing every race.
The prize giving and Tapas evening ensued with thanks given to event partners Magic Marine, KA Sails, Velocitek and Mundo Marine, Mach 2, Harken, Marlow, CTM, CAR Infanta Cristina, Hotel Costa Narajos, La Diva restauarant, Bolle, Hyde Sails and Crew Fuel.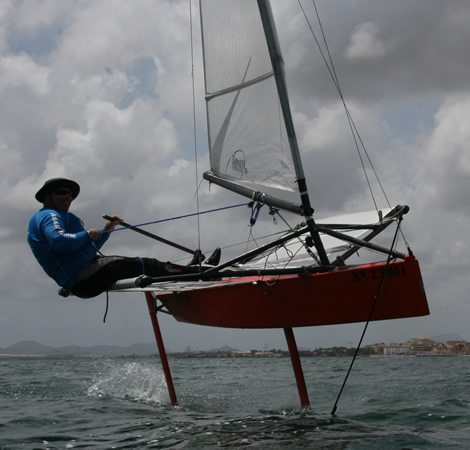 Back to top
Back to top