Tricky day on Hayling Bay
Hayling Bay witnessed the lightest winds of the week on the penultimate day of the 2011 RYA Volvo Youth National Championships as the young sailors engaged in a tough and challenging day of racing with unstable wind shifts proving awkward.

Going into today's racing the top end of the double handed 420 and 29er fleets were neck and neck with only six points separating the top four boats in the 420 and a minimal six points between first and third in the 29er fleet. The RS:X class began the day with tensions running high between Sam Sills and Connor Bainbridge who find themselves grappling for top spot with only one point between first and second.

Last year's 29er Championship winners and 29er Worlds silver medallists, Henry Lloyd Williams and Sam Batten demonstrated their ability to deliver under pressure as they posted 1-2-4 with only one day to go until the curtains close on the 2011 RYA Volvo Youth National Championships.

Lloyd Williams said: "We enjoyed sailing in today's conditions; we always do well when it is very gust orientated. We need to race with consistency tomorrow and it's important that we don't pick up any bad results as we have already got two discards."

Batten goes onto discuss their triumph at the 2011 29er Youth Worlds: "The competition was very fierce in Argentina as we were racing against the best teams from each country. The gold fleet was very competitive, very fast and extremely hard to catch if we made a mistake. The conditions we have raced in this week are a lot easier than they were in Argentina; we had to deal with 10 foot waves and massive swirls!"

"Our aim was to qualify for the ISAF Worlds which we are currently on course for and obviously we would love to win the Championships for a second year running."

Batten concluded: "If it comes down to the last race tomorrow then we will have to be more aggressive, but ideally we don't want it to come down to that as it would be nice to have it all sewn up by the last race!"

James Bolingbroke and Tim Walton currently sit second after posting 8-13-3, while Denmark's Mads Emil Lubeck and Marie Thusgaard Olsen are leading the way for the international sailors in third. Ruth Allan and Tess Allan are leading for the British female crews.

Jess Lavery and Georgie Motherselle continue to lead the way for the British 420 female crews laying an impressive fourth overall. Annabel Vose and Megan Brickwood lie second and Nia Jones and Molly Frost occupy third.

The continuing battle between Connor Bainbridge and Sam Sills today reached its pinnacle as the pair finished the day with 14 points apiece however Connor leap frogged Sam into first place due to his number of race wins throughout the week. Sam as always produced consistent results with a 1-1-2 with him yet to post lower than a second all week. Connor finished second in his first race of the day, third in his second and an all-important first in the final race of the day which shot him to the top of the table.

The British RS:X girls are also providing an interesting spectacle as Jade Rogers and Noelle Finch fight for top spot with only one day until the ISAF Worlds selection. The day finished with Jade posting 9-10-11 which currently puts her top of the girl's fleet. Hot on her tail with a 10-11-10 is Noelle who will be eager to close the gap come the close of play tomorrow.

Rogers said: "The tide was very strong today and ideally I prefer windy, choppier conditions. I have only been on the RS:X board for six months so my aim for these Championships were to gain experience and develop my technique on the board. I'm not thinking about the ISAF Worlds as I only want to concentrate on my performance tomorrow."

The Spitfire class is proving triumphant for Nicole Boniface and Rupert White who have for the second day running increased their lead with two spectacular bullets and a second in the final race of the day. Andrew Sinclair and Gilbert Sutcliffe lie second while Sebastien Samways and Daniel Fenn are third.

Nerves are starting to appear in the Radial gold fleet as yesterday's leader Elliot Hanson posted 9-11-8 to move him down one place into second. Cameron Douglas had two disappointing first races however managed to reclaim some pride and move up one place to the top of the table by finishing the last race with a bullet. Michael Cate sits in third after posting 21-1-2. Rheanna Pavey and Anna Carpenter are providing stiff competition for one another as they battle for glory in the female fleet.

The Laser Standard fleet is becoming very interesting with Rob Holmes reducing Alex Mills Barton lead at the top with an impressive 1-1-2. Martin Evans however is still in contention with a 2-11-1 which leaves him lying third, just one point of second and four points of the top.

Team Volvo for life and Skandia Team GBR sailor Annie Lush, current Women's Match Race World Champion, offered some top tips for the young sailors going into the final day of the regatta tomorrow: "It is important not to do anything different, especially for the crews at the top of the fleet as they are clearly doing well.

"Nerves will try to take over and it is vital not to let that happen, going into the last day of a regatta sailors need to do all the right things. You should try to sail clean, start well and eliminate all sail infringements. It is also wise to identify the point's difference between you and your closest rival so you know what is needed in the final race."

"However the most important thing overall is to enjoy yourself as you won't get the chance to compete at many RYA Volvo Youth National Championships!"

The last day of racing is set to resume at 10.55 on Friday.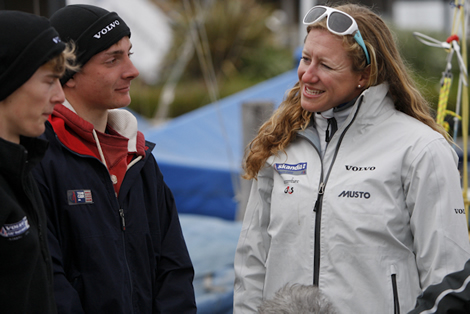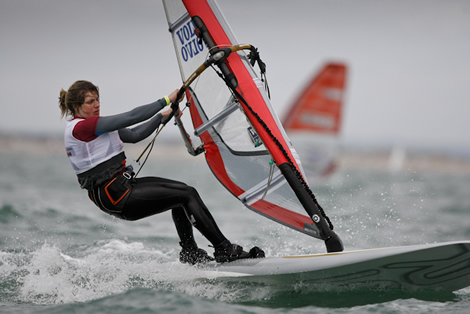 Back to top
Back to top