Hunger hangs in there
It was the toughest day of the 2011 SAP 505 World Championship yet; if it could happen it did, inclusive of the weather and the result of Race 5, in which an Aussie crew led from the start, only to have the race stolen from them in the dying minutes.

One thing is certain now; the series will rest on the outcome of one race, or not, tomorrow. It will be between the reigning world champions, Wolfgang Hunger/Julien Kleiner from Germany, Mike Holt/Carl Smit from the USA and Sandy Higgins/Paul Marsh from Australia.

This afternoon, Hunger was praying the breeze would not be too much tomorrow. "In Race 6 today, there was already too much wind for us," he said. "My crew is quite light for the boat and Mike Holt is much faster in the bigger winds, they suit it better. Maybe there is too much wind to race tomorrow?"

"We got stuck on the wrong side of a shift coming out in the first race, but we fought our way back to fourth. That is not how we like it," Hunger added. "We can do better than that.

"In the second race, we played it a little safe in setting spinnakers, and even then we ripped one all the way down. We saw others in trouble and we didn't want that to happen to us," admitted Hunger, who is currently carrying a worst score of 15th.

Holt, on the other hand, relishes the chance of sailing in big winds again. "The second race was very shifty and much windier; perfect sailing conditions. We led from start to finish, but we didn't pick all the shifts right, we won on sheer boat speed," he said.

However, their winning margin was sizeable, so much so, that Holt said, "we couldn't see who finished second, we were around 600 metres in front of them and the visibility was poor."

Holt and Smit finished bridesmaid to Mike Martin/Jeff Nelson at the 2009 Worlds in San Francisco, and does not want that scenario again. "Here we are again. I'm praying for a different outcome this time, and I'm praying we can race tomorrow," Holt said, knowing winds of up to 30 knots were predicted.

"We'll sit down and do the numbers tonight and see if Sandy Higgins is in contention as well. We know it will take everything in our power to win the Championship. Tactically we have a slight advantage, as Wolfgang has a 15th as his drop, ours is just a sixth."

Higgins and Marsh are in a similar position, their best Worlds result being a third in 2007 when it was held on their home turf in Adelaide. They are hoping to go one better at least too.

Back to today's two races, Race Officer Kevin Wilson had hold off starting on time at 10.00am, because there was little breeze on the course area and it was swirling in all directions amidst rain that bucketed down all day, making life unpleasant for anyone on the water.

When he could get a start in, Wilson had to abandon Race 5 shortly after. There had been a shift to the right and a couple of boats had run into the pathfinder's minder boat. Before he had a chance to start again, a handful of boats retired with sail damage, broken rudder, etc., caused by big swell, tide and confused seas.

Under tow by the power boat qualia, one 505 turned turtle, then the tow rope got caught in qualia's propeller, necessitating a rescue boat to go and help both. The day did not get any better, but eventually race five got underway just after 12.00pm.

The Danish crew of Jan Saugmann and Morten Ramsbaek (or "Fast Danes" as they were called on the press boat) stole the race in the closing stages after Kevin Cameron and Josh Mortensen from Australia had led around the entire course and had actually increased their lead over the Danes and Sandy Higgins/Paul Marsh, who finished the race third.

"I saw them (the Danes) gybe out, but we got a freaky gust and couldn't go with them, then we hit a light spot and that was it. It was disappointing not to win our first ever World's race after leading the whole way, but there's nothing wrong with second," Cameron, from Brisbane said tonight.

"Josh had never sailed a 505 until December and he did a brilliant job in very trying weather," Cameron praised his childhood friend. "We really enjoyed the 15 knot easterly, but the pressure was erratic and it was shifty," he conceded.

By Race 6, winds were at 20 knots, visibility was poor and the seaway worse. More attrition as the likes of second placed Luke Molloy/Jim Turner (GBR) broke their boom, and shortly after, Nathan Outteridge/Iain Jensen had a spill in while in second and dropped to 22nd, but stay in sixth and seventh place overall respectively.

And so it was that Hunger/Kleiner came to finish second, which had been so unlucky for those before them, but saved the Germans from dropping to second place overall, as their nemesis, Mike Holt/Carl Smit won that race. Currently, the Germans lead their US rivals by three points.

South Australians Higgins and Marsh finished the race in seventh place, leaving them four points behind Hot/Smit.

Race Officer Kevin Wilson has plans for one race only tomorrow, the final day of the 2011 SAP 505 World Championship. "It'll be one race with an upwind finish on Course 1 and we'll have a warning signal at 10.00am. If it's too windy, we can always move to the western course.

Current forecasts have winds at around 30 knots, but as we have seen this past 10 days, the forecast can't be depended on.
Results:
| | | | | | | | | | | | |
| --- | --- | --- | --- | --- | --- | --- | --- | --- | --- | --- | --- |
| Pos | Nat | Helm | Crew | R1 | R2 | R3 | R4 | R5 | R6 | Tot | Net |
| 1 | GER | Wolfgang Hunger | Julien Kleiner | 1 | 1 | 3 | -15 | 4 | 2 | 26 | 11 |
| 2 | USA | Mike Holt | Carl Smit | 3 | -6 | 1 | 3 | 6 | 1 | 20 | 14 |
| 3 | AUS | Sandy Higgins | Paul Marsh | 2 | -7 | 5 | 1 | 3 | 7 | 25 | 18 |
| 4 | USA | Howie Hamlin | Andy Zinn | 4 | -10 | 6 | 4 | 8 | 3 | 35 | 25 |
| 5 | USA | Ted Conrads | Brian Haines | 7 | 2 | 10 | 2 | 9 | -11 | 41 | 30 |
| 6 | GBR | Luke Molloy | Jim Turner | 14 | 11 | 2 | 5 | 5 | (86.0 DNF) | 123 | 37 |
| 7 | AUS | Nathan Outteridge | Iain Jensen | 9 | 3 | 7 | 8 | 11 | -22 | 60 | 38 |
| 8 | GBR | Ian Pinnell | Charles Dwyer | 8 | 13 | 8 | 10 | (86.0 DNF) | 5 | 130 | 44 |
| 9 | DEN | Jan Saugmann | Morten Ramsbaek | (86.0 DNF) | 9 | 17 | 16 | 1 | 4 | 133 | 47 |
| 10 | USA | Mike Martin | Geoff Ewenson | -23 | 4 | 22 | 9 | 10 | 8 | 76 | 53 |
| 11 | GER | Jens Findel | Johannes Tellen | 5 | 5 | 16 | 25 | -29 | 6 | 86 | 57 |
| 12 | AUS | Robin Deussen | Jordan Spencer | 11 | 18 | 18 | (86.0 DNF) | 14 | 9 | 156 | 70 |
| 13 | AUS | Mick Babbage | James McAllister | (86.0 DNF) | 14 | 14 | 18 | 17 | 10 | 159 | 73 |
| 14 | AUS | Bill Cuneo | John Warlow | 12 | 17 | 23 | 6 | 23 | -32 | 113 | 81 |
| 15 | AUS | Shane Guanaria | Leigh Riddell | 25 | 8 | 19 | 14 | 18 | (86.0 DNF) | 170 | 84 |
| 16 | AUS | Kevin Cameron | John Mortensen | 33 | 16 | -37 | 22 | 2 | 13 | 123 | 86 |
| 17 | GER | Claas Lehmann | Leon Oehme | 18 | 22 | 24 | 7 | -28 | 23 | 122 | 94 |
| 18 | USA | Ryan Cox | Stu Park | -30 | 21 | 11 | 28 | 20 | 14 | 124 | 94 |
| 19 | GER | Meike Schomaker | Holger Jess | 20 | -45 | 13 | 17 | 38 | 17 | 150 | 105 |
| 20 | AUS | Malcolm Higgins | Andrew Chisholm | 26 | 19 | 12 | -31 | 25 | 24 | 137 | 106 |
| 21 | AUS | Carter Jackson | Peter Holden | 10 | 30 | 9 | 46 | -51 | 16 | 162 | 111 |
| 22 | USA | Jeff Miller | Mike Smith | 31 | -34 | 31 | 19 | 15 | 15 | 145 | 111 |
| 23 | GER | Stefan Koechlin | Thomas Jung | 19 | 26 | 28 | 21 | 19 | (86.0 DNF) | 199 | 113 |
| 24 | AUS | Daniel Keys | Darryl Roos | -38 | 29 | 20 | 34 | 26 | 12 | 159 | 121 |
| 25 | AUS | Nick Davis | Michael Duffield | 21 | 23 | -40 | 27 | 31 | 20 | 162 | 122 |
| 26 | CAN | Philip Cragg | Reto Corfu | 16 | 28 | 27 | 37 | 24 | (86.0 DNF) | 218 | 132 |
| 27 | AUS | Nigel Lott | Bob Franks | 28 | 20 | -49 | 26 | 43 | 18 | 184 | 135 |
| 28 | GER | Helen Fischer | Lars Dehne | 32 | -48 | 32 | 38 | 13 | 25 | 188 | 140 |
| 29 | AUS | Paul Mitchell | Sam Haines | 43 | 31 | 33 | -50 | 16 | 19 | 192 | 142 |
| 30 | AUS | Brett Sharpe | Anthony Gaunt | 22 | (86.0 DNF) | 41 | 24 | 22 | 35 | 230 | 144 |
| 31 | HKG | Mark Thornburrow | Laurence Mead | -56 | 53 | 42 | 20 | 7 | 26 | 204 | 148 |
| 32 | GBR | Terry Scutcher | Christian Diebitsch | 24 | 25 | 4 | 12 | (86.0 DNF) | 86.0 DNF | 237 | 151 |
| 33 | AUS | Peter Nicolas | Luke Payne | 42 | (86.0 DNF) | 25 | 30 | 39 | 21 | 243 | 157 |
| 34 | AUS | Mike Quirk | Sam Heritage | 6 | 12 | 26 | 33 | (86.0 DNF) | 86.0 DNF | 249 | 163 |
| 35 | AUS | Peter Chappell | Matt Smith | 17 | 39 | -47 | 44 | 40 | 27 | 214 | 167 |
| 36 | AUS | Michael Thomson | Marcus Cooper | 39 | 32 | 35 | 36 | -41 | 28 | 211 | 170 |
| 37 | USA | Bruce Edwards | Mathias Kennerknecht | 41 | 15 | 21 | 11 | (86.0 DNF) | 86.0 DNF | 260 | 174 |
| 38 | AUS | Brett Beyer | Darren Gilbert | 15 | 35 | 29 | 13 | (86.0 DNF) | 86.0 DNF | 264 | 178 |
| 39 | AUS | Nicholas Deussen | Jonno Bannister | 34 | 36 | 36 | 43 | 34 | (86.0 DNF) | 269 | 183 |
| 40 | AUS | Earle Alexander | Ian Gregg | 37 | 38 | 43 | 32 | (86.0 DNF) | 38 | 274 | 188 |
| 41 | USA | Paul Von Grey | Doug Hagan | 29 | 40 | 30 | 58 | 37 | (86.0 DNF) | 280 | 194 |
| 42 | USA | Rob Waterman | Aaron Ross | 45 | -50 | 39 | 40 | 33 | 37 | 244 | 194 |
| 43 | SWE | Ebbe Rosen | Olle Wenrup | 55 | (86.0 DNF) | 15 | 35 | 12 | 86.0 DNF | 289 | 203 |
| 44 | GER | Nicola Birkner | Angela Stenger | 51 | -64 | 38 | 49 | 35 | 34 | 271 | 207 |
| 45 | GER | Hasso Plattner | Peter Alarie | 13 | 37 | 51 | 23 | (86.0 DNF) | 86.0 DNF | 296 | 210 |
| 46 | AUS | Jeff Robinson | Neville Kerr | 48 | 24 | 46 | -54 | 47 | 45 | 264 | 210 |
| 47 | GBR | Roger Deane | Adam Kenney | 35 | 57 | 52 | -65 | 45 | 29 | 283 | 218 |
| 48 | AUS | Ryan Menzies | Joel Castle | 36 | 44 | 54 | 42 | -56 | 43 | 275 | 219 |
| 49 | AUS | Claus Ejlertsen | Mick Patrick | -54 | 49 | 44 | 48 | 50 | 30 | 275 | 221 |
| 50 | AUS | Ed Cox | Cameron McDonald | 57 | 47 | 50 | -64 | 21 | 47 | 286 | 222 |
| 51 | AUS | Ayden Menzies | Lachlan Hornsby | 27 | 41 | 34 | 41 | (86.0 DNF) | 86.0 DNF | 315 | 229 |
| 52 | GER | Stefan Schollmeyer | Frisco Sanguino | 52 | 54 | 57 | 51 | 27 | (86.0 DNF) | 327 | 241 |
| 53 | AUS | Clint Bowen | Anthony King | 53 | 55 | 45 | -62 | 49 | 39 | 303 | 241 |
| 54 | AUS | Matt Hansen | Anthony Dean | 50 | 51 | 48 | 47 | 48 | (86.0 DNF) | 330 | 244 |
| 55 | USA | Hubert Guy | Xavier deTappe | 46 | 56 | 53 | 45 | 46 | (86.0 DNF) | 332 | 246 |
| 56 | AUS | Sam Cronin | Kevin Whitbread | 61 | -62 | 56 | 57 | 30 | 46 | 312 | 250 |
| 57 | AUS | Nathan Rosenberg | Reeve Dunne | 58 | 59 | -62 | 52 | 42 | 48 | 321 | 259 |
| 58 | CAN | Bob Tennant | Rich Mundel | (86.0 DNF) | 42 | 86.0 DNF | 60 | 36 | 36 | 346 | 260 |
| 59 | FRA | Xavier Broise | Gilles Carvallo | 40 | 43 | 59 | 39 | (86.0 DNF) | 86.0 DNF | 353 | 267 |
| 60 | FRA | Antoine Lafortune | Geraud Lafortune | 65 | (86.0 DNF) | 67 | 56 | 32 | 53 | 359 | 273 |
| 61 | FRA | Herve Dekegariou | Bernadette Dekegariou | 63 | 63 | (86.0 DNC) | 73 | 52 | 33 | 370 | 284 |
| 62 | AUS | Ian Taylor | Robin Bath | (86.0 DNF) | 86.0 DNF | 60 | 59 | 53 | 40 | 384 | 298 |
| 63 | AUS | Tom Brewer | Lindsay Whitton | -70 | 61 | 66 | 61 | 59 | 51 | 368 | 298 |
| 64 | AUS | Ian Burford | Dave Christie | (86.0 DNS) | 86.0 DNF | 86.0 DNS | 55 | 44 | 31 | 388 | 302 |
| 65 | USA | Carol Buchan | Carl Buchan | 44 | 33 | (86.0 DNF) | 53 | 86.0 DNF | 86.0 DNF | 388 | 302 |
| 66 | AUS | John McLean | Dennis Winstanley | 59 | 71 | 65 | -78 | 55 | 52 | 380 | 302 |
| 67 | AUS | Peter Croft | Gary Rushton | 72 | 58 | (86.0 DNF) | 74 | 60 | 42 | 392 | 306 |
| 68 | AUS | Luke Rhodes | Andrew McCole | 64 | -72 | 70 | 68 | 62 | 44 | 380 | 308 |
| 69 | AUS | Grahame Tindall | David Johnson | (86.0 DNF) | 69 | 64 | 70 | 58 | 50 | 397 | 311 |
| 70 | DEN | Nikolaj Buhl | Henrik Buhl | (86.0 DNF) | 27 | 86.0 DNS | 29 | 86.0 DNF | 86.0 DNF | 400 | 314 |
| 71 | AUS | Tim Jeans | Tom Connell | 73 | 67 | (86.0 DNS) | 76 | 61 | 41 | 404 | 318 |
| 72 | AUS | Jonathon Ross | Ian Scholes | 69 | (86.0 DNF) | 86.0 DNS | 72 | 54 | 49 | 416 | 330 |
| 73 | AUS | Sarah Withall | Robert Gilchrist | 67 | 65 | 61 | 79 | 63 | (86.0 DNF) | 421 | 335 |
| 74 | AUS | Brett Bowden | Bradley Greenrod | (86.0 DNF) | 86.0 DNF | 55 | 66 | 57 | 86.0 DNF | 436 | 350 |
| 75 | AUS | Richie Gallimore | Bryce Penfold | 47 | 46 | (86.0 DNC) | 86.0 DNC | 86.0 DNF | 86.0 DNF | 437 | 351 |
| 76 | AUS | Gilbert Ford | James Ford | 66 | 60 | 69 | 71 | (86.0 DNF) | 86.0 DNF | 438 | 352 |
| 77 | AUS | Steve McConaghy | Nick Johnstone | 49 | 52 | (86.0 DNC) | 86.0 DNC | 86.0 DNF | 86.0 DNF | 445 | 359 |
| 78 | GER | Enno Wilts | Klaus Heeschen | 60 | (86.0 DNF) | 58 | 75 | 86.0 DNF | 86.0 DNF | 451 | 365 |
| 79 | AUS | John Paterson | Paul Greenwood | (86.0 DNF) | 68 | 63 | 63 | 86.0 DNF | 86.0 DNF | 452 | 366 |
| 80 | AUS | Richard McCulloch | Glen Stewart | 62 | (86.0 DNF) | 68 | 69 | 86.0 DNF | 86.0 DNF | 457 | 371 |
| 81 | USA | AJ Crane | David Parker | 68 | 66 | (86.0 DNS) | 67 | 86.0 DNF | 86.0 DNF | 459 | 373 |
| 82 | USA | Bruce Vandeventer | Scott Weiler | 74 | 70 | (86.0 DNS) | 77 | 86.0 DNF | 86.0 DNF | 479 | 393 |
| 83 | GBR | Patrick McGale | Chris Pearson | 71 | (86.0 DNF) | 86.0 DNC | 86.0 DNC | 86.0 DNF | 86.0 DNF | 501 | 415 |
| 84 | USA | Christian Pittack | Annie Fitzpatrick | 75 | (86.0 DNF) | 86.0 DNC | 86.0 DNC | 86.0 DNF | 86.0 DNF | 505 | 419 |
| 85 | AUS | Adrian Kiely | Darren Cooney | (86.0 DNS) | 86.0 DNF | 86.0 DNC | 86.0 DNC | 86.0 DNF | 86.0 DNF | 516 | 430 |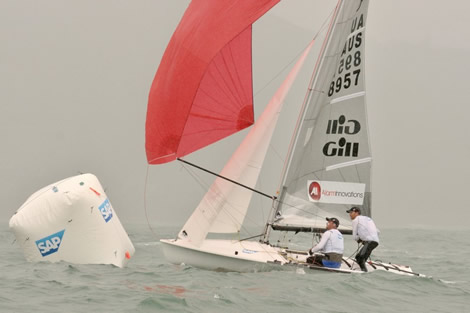 Back to top
Back to top