Winning ways
Scott Babbage, John Harris and Peter Harris took race 14 of the Australian 18 Footers League Club Championship today in Gotta Love It 7, but the overall champions are John Winning, Andrew Hay and Dave Gibson in Yandoo.

Going into today's final race of the championship, the Yandoo team had an unbeatable lead and their third place in today's race saw them take the title by 18 points from Gotta Love It 7.

Gotta Love It 7, skippered today by the regular sheet hand Scott Babbage, took line honours by 2m44s from Panasonic (Jonathan Whitty) with Yandoo a further 43s back in third place.

Final placings overall were: Yandoo 47 points, Gotta Love It 7 65, Red Claw Wines (Matt Searle, today Archie Massey) 76, Thurlow Fisher Lawyers (Michael Coxon) 79, Smeg (Nick Press) 94 and Rag & Famish Hotel (Jack Macartney) 119.

It was big rigs all around today as a light southerly wind greeted the fleet.

Smeg held a 7s lead at the windward mark, off Clarke Island, from Yandoo, Red Claw Wines, De'Longhi (Simon Nearn), Thurlow Fisher Lawyers, TF Collect (Mark Kennedy), Gotta Love It 7, and Appliancesonline.com.au (Jeremy Wilmot).

The two leaders gybed soon after rounding while the next group stayed on a port gybe and went to the right hand side of the course. The latter move proved the winning way as De'Longhi took the lead when the two groups crossed.

It was light and patchy as the fleet spread across the harbour on the spinnaker run to Oberlisk with those staying more to the south doing better each time they crossed. The experience of the 7 team (last season's Rag & Famish Hotel team) saw them grab a 1m lead at Obelisk from Kenwood-Rabbitohs (Evan Walker) and Appliancesonline.com.au.

From that point it was never a contest for the lead, even though Gotta Love It 7 had a 'quick swim' on the second spinnaker run from Shark Island back to the bottom mark.

While 7's lead was unchallenged the battle behind was gripping as several teams were in contention throughout the rest of the course. Kenwood-Rabbitohs held for almost one lap of the course but Yandoo moved ahead at Obelisk on the second lap. Working back into Rose Bay, Jonathan Whitty' Panasonic made ground along the southern shore and narrowly crossed Yandoo off Nielsen Park. Despite a challenge by Yandoo over the concluding leg, Panasonic held on to take second place.
Full results from today here
Championship results here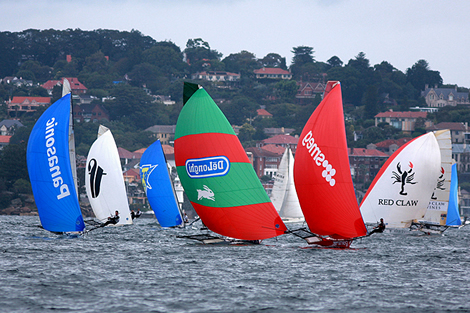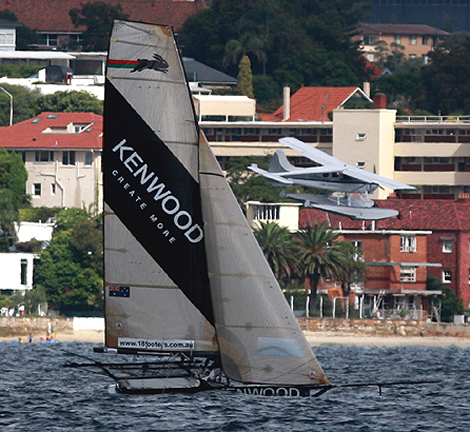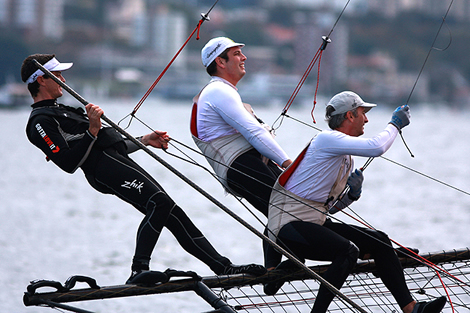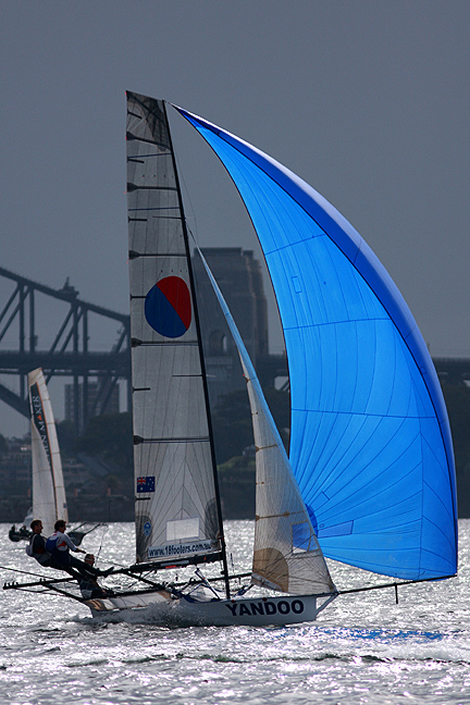 Back to top
Back to top