Early lead for defenders
Germany's Wolfgang Hunger and Julien Kleiner struck the first blow at the 2011 SAP 505 World Championship at Hamilton Island today, the defending champions winning the opening two races sailed in difficult gusty conditions on Catseye Bay.Hunger and Kleiner led Race 1 from the first mark and did not look back, extending their lead at each mark of the course in a 15 knot southeasterly breeze that produced waves and a big swell on the Bay.

South Australians Sandy Higgins/Paul Marsh finished the race in second, stopping an all-international assault on the opening race, with the USA's Mike Holt/Carl Smit taking third.

The rest of the 84 crews who sailed must be wondering what they have to do to overcome the Germans, who recovered after a bad start in Race 2 to pick of the eight boats in front of them one by one to take the lead and extend again, to finish with a sizeable margin over Ted Conrads/Brian Hughes (USA).

Double 49er world champion and Moth world champion Nathan Outteridge and his 2009 49er world champion crew, Iain Jensen, finished a remarkable third in their first 505 competition ever.

The southeasterly breeze had lifted a notch to around 18-20 knots by race two, throwing up some confused and lumpy seas, which threw a few competitors for a loop, including today's winners.

"It was challenging and mentally difficult to sail in that sea today," Wolfgang Hunger said. Julian Kleiner chipped in: "We are not used to those sorts of waves; they go everywhere! We are happy we overcame them to win the second race."

"Wolfgang was very concentrated – it was very hard to be the skipper on a day like this. We are happy to have such a good performance in bigger winds," Kleiner said.

Hunger added: "It is pleasing to start with two good results, and not a bad one that we have to discard already. We are happy with our boat speed, but there are places where we can make improvements. We were not sure if we would be good in the bigger winds, as we are one of the lighter crews who are happier in the light and mid strength winds."

Nathan Outteridge and Iain Jensen raised a few eyebrows with their top placings of ninth and third, which puts them sixth overall. They had better results than a number of former world champions, including Ian Pinnell (GBR) from 2008 and Mike Martin (USA) from 2009, who finished their day ninth and 11th overall respectively.

The two got great starts in both races, and in Race 2, picked off a few boats up the first work to round in fourth place. "Then we waited for mistakes from those in front of us," Outteridge said.

The mistake came when the Danish crew of Jan Saugmann/Morten Ramsbaek first dropped their spinnaker halyard down the run, then fouled the spinnaker during the drop. Ramsbaek had to go over the side to recover it.

"We're a bit shocked we did so well. How are we going to improve on today? We've never sailed a 505 before. We got this one from Iain Murray and spent a couple of days fixing it up to race. We didn't get much time on the water beforehand," Outteridge said.

He and Jensen are here for a bit of fun before going back to solid training in the Olympic 49er class. Then they will head off to Europe to compete in all the major events. "We also came to support one of our sponsor's, Hamilton Island – and it's such a great place to come and sail," Outteridge added.

Jensen remarked: "It felt really good being up amongst it. We didn't expect to be so fast in this breeze. The first time we sailed the boat was a day before the pre-worlds, for about an hour! We were lucky, Ayden Menzies (a former crew of Outteridge's) helped us set up the boat; he's sailed one for a while."

Mike Martin was not so happy with his day. An 11th in the first race, was bad enough, but he and Geoff Ewenson led Race 2 with a little comfort, only to lose that lead to the Danish crew of Jan Saugmann/Morten Ramsbaek and they in turn lost it to Hunger, who went off to the left during the race, when the rest of the front runners had gone right. It only went downhill from there.

"We lacked speed; we're not very happy. We had a big capsize at the turn mark. We made a few mistakes here and there, so we'll have to do some fine-tuning before we race tomorrow and we'll be analysing from the SAP analyses tonight," Martin said.

After two races, Hunger/Kleiner lead Ted Conrads/Brian Haines (USA) and Sandy Higgins/Paul Marsh in the overall standings, the latter two are on nine points each, both having scored second and seventh places.

In other news, Ian Burford/Dave Christie (AUS) ran into a turtle on the course area and ripped the transom of their boat out, rendering them non-finishers in both races.
Others were scored DNF in Race 2 when they did not make it through the start gate in the allotted three minutes, while some suffered spinnaker mishaps and capsizes, costing them valuable time.

Race 3 of the SAP 505 World Championship is set to get underway from 1.00pm tomorrow, Race Officer Kevin Wilson deciding to bring the race forward by one hour.

Provisional top 10 overall following two races:
1st GER 9027 Wolfgang Hunger Julien Kleiner 1 1, 2
2nd USA 8878 Ted Conrads Brian Haines 7 2, 9
3rd AUS 8946 Sandy Higgins Paul Marsh 2 7, 9
4th USA 9002 Mike Holt Carl Smit 3 6, 9
5th GER 8875 Jens Findel Johannes Tellen 5 5, 10
6th AUS 8626 Nathan Outteridge Iain Jensen 9 3, 12
7th USA 8762 Howie Hamlin Andy Zinn 4 10, 14
8th AUS 9036 Mike Quirk Sam Heritage 6 12, 18
9th GBR 9032 Ian Pinnell Charles Dywer 8 13, 21
10th GBR 9056 Luke Molloy Jim Turner 14 11, 25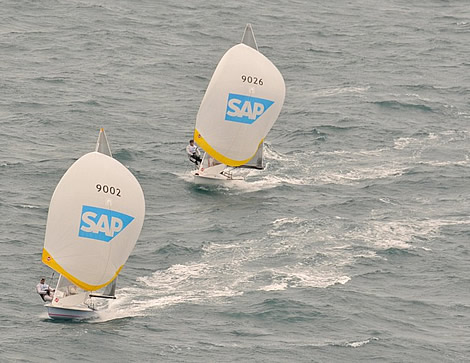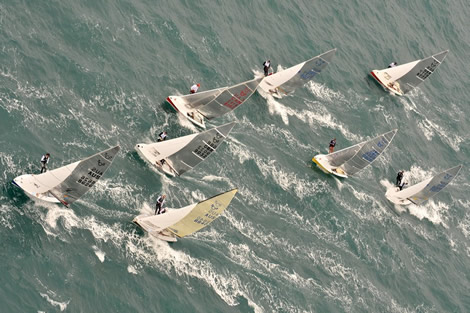 Back to top
Back to top