Hunger strikes early
Stumping up with a solid performance on Day 1 of the SAP 2011 505 Pre-Worlds at Hamilton Island appeared to be a prerequisite to getting a psychological advantage for the upcoming SAP World Championship, starting from 1300 hours on Saturday local time at Queensland's beautiful resort island in Australia.

Living up to his name, standing world champion skipper, Wolfgang Hunger, gave rein to his appetite with world champion crew Julien Kleiner. The pair came out with all guns blazing to lead around the course and claim the first win of the day from 2010 Worlds bronze medallist and 2008 world champion, Ian Pinnell, with his latest crew Charles Dwyer (GBR).

They were followed shortly after by Mike Martin and Jeff Nelson (USA), the 2009 World's title holders. Pinnell/Dwyer took some time on the Germans on the last work. "We had to cover Mike Martin and he went the wrong way, left, so Ian picked up, because he went right," Hunger explained.

The German skipper was pleased their handiwork in the first race, but not so in Race 2. "When you are in the lead, there are always possibilities to get away from everyone else, but when you start late, like we did in the second race, and then it gets shifty, then you end up at the tail end," Hunger said.

The big names might have controlled Race 1, but the Aussies fought back in Race 2, with one of the title favourites and reigning Australian champions Michael Qurk/Sam Heritage taking out the race, while the Race 1 champs were nowhere to be seen, caught out in the erratic pressure and shifts that played games with the fleet on Catseye Bay this afternoon.

The most consistent Australians were Nick Davis/Michael Duffield. Winners of multiple state championships in Western Australia, the two produced fifth and fourth placings in the two races completed.

Davis commented after racing: "We're happy with our day's work, but it's only the first day and not everyone is on top of their game yet. You really have to look out for the Hungers, Pinnells, Martins and people like Howie Hamlin (USA) – they're all always good sailors, always at the top.

"It's good to be consistent. We're pleased we did so well in Race 2; there were big lulls and big gusts up to about 16 knots and it was a bit shifty, so to finish fourth in that was great. The positives we take away from today are that our crew work was great and we're happy with our boat speed."

It was a spectators' heaven, with colourful spinnakers strewn across Catseye Bay under a blue sky on a hot day – temperatures peaking just over 30 degrees – and not a rain cloud in sight.

The SAP 505 Worlds fleet has representation from Australia, Germany, Great Britain, the USA, France, Denmark, Hong Kong and Sweden.

Racing continues tomorrow with officials hoping to get three races in starting from 1.00pm.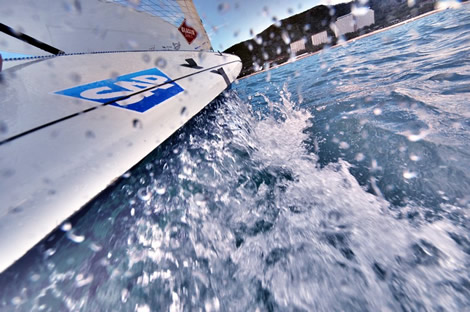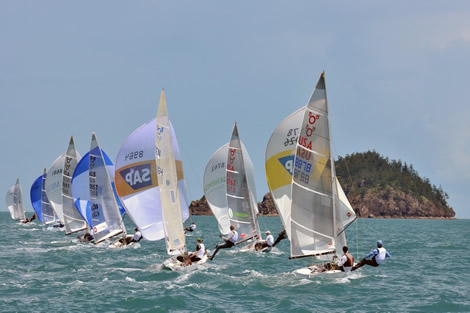 Back to top
Back to top