Boat of the RYA Volvo Dinghy Show
Thedailysail's boat of the show, aside from obviously the Invictus C-Class in Alexandra Palace's main entrance foyer, was the silver-painted Ellway 6 Cherub on the class' stand at last weekend's RYA Volvo Dinghy Show.
Hopefully we aren't so shallow to be saying this because the boat was silver-painted, but we were not alone to spot the irony in the Ellway 6 speedster, from a class notorious for its home-builds, was well finished and immaculately painted, while the main attraction on the International 14 stand, a Ting Tong 1 design, was home built, albeit an interesting design its own right (which we'll look at next week).
Known as Eleanor, Simon Jones and Dean Ralph's Ellway 6 is a development of the very similar Ellway 5 Cherub, the former built down in Banwell, North Somerset by Mike Cooke's Aardvark Technologies, the latter by Bloodaxe Boats in Cowes. The Ellway 5 was the first generation Cherub to go 'skinny' in order to properly adopt a T-foil rudder. This is a similar route the 14s went down when they adopted T-foil rudders however as Cherub class measurer Tom Kiddle points out: "because we don't have the beam restriction at the mid-point, our are skinnier and so they are a lot more twitchy."
In terms of hull shape the Ellway 5 has a harder chine, while the 6 sports more rounded sections and should be more of an all-round performer.
The Ellway 6 is available from Aardvark Technologies in either GRP or carbon fibre versions, but to date only the latter have been built. Some nice features of the boat are the carbon fibre tapered struts supporting the racks, which have 18ft skiff-style 'wheelie bars', the racks extending beyond the aft strut by around 0.6m. According to Kiddle "this one has the longest of the wheely bars because, as we get more efficient foils, you end up going upwind and downwind further and further back."
Under class rules no part of the hull can be more than 3.7m from the transom, so presumably there is more to be had here... We understand a new Ellway 6 currently in build at Aardvark has a bridgedeck moulding with the racks faired in.
Although it is not new, we liked the rudder T-foil articulating arrangement where the entire gantry into which the rudder slots, moves, and can be controlled from either side of the boat via a purchase system, pulling against elastic. On the next Ellway 6 we understand that the new owner has requested a fixed gantry and a pin that is used to move the rudder. As Kiddle describes it: "He is building a pod and the bar goes into there and all his control system is in there. It is just how he had it on his old boat and so that's how he wants it on his new one."
Eleanor has a C-Tech double spreader carbon fibre mast. The spec of these has started to be beefed up through the use of high modulus carbon fibre in order to stiffen the top of the spar due to the ever increasing size of the flat top mainsails being used. Eleanor's flattop is around 1m long, although Kiddle says some have gone as large as 1.1m. The Cherub has a maximum sail area limit of 15.5sqm, but there are no restriction on sail shapes.
Eleanor has an Aardvark boom featuring a 'Temple vang' (see the photos below) – which should have considerable grunt but looks heavy. Another option is to go for a CTech boom with a gnav.
Weight-wise, the latest Cherubs are getting below the 50kg minimum weight and according to Kiddle this is one reason why they can now afford to go for a more exotic (and heavier) paintjobs. In the case of Eleanor her silver finish was applied by a contact of her owners who paints cars professionally before they are presented at shows. At 50kg Cherubs are now being launched without the need for a trolley.
Aardvark are selling the 'Elite' version of the Ellway 6, including carbon construction and a high modulus carbon fibre mast, for £9,430 excluding sails, although all-up a top boat is likely to set you back £11-12,000.
This year the UK Cherub class has its Nationals in Leigh on Solent over 16-20 August and the Inlands at Queen Mary over 1-2 October as well as a traveller series. According to Kiddle they are expecting around 30 boats for their Nationals, based on their having had 28 when the Nationals were last held in the England three years ago (they rotate between England, Scotland and Wales) and there have been 10 new boats built in the interim.
You need Flash Player 8 or higher to view video content with the Kit Digital Flash Player. Click here to download and install it.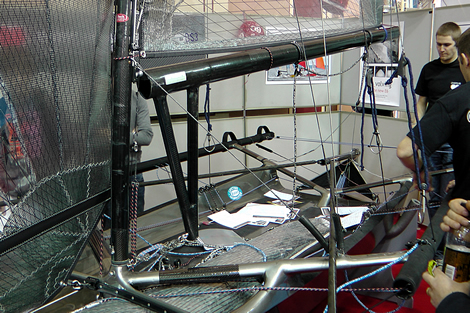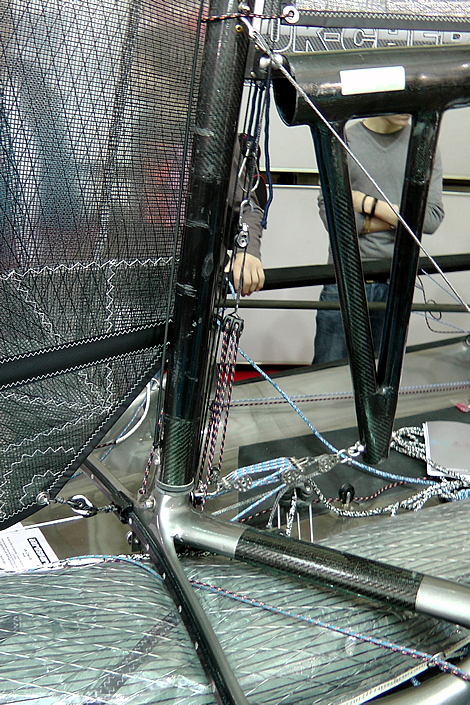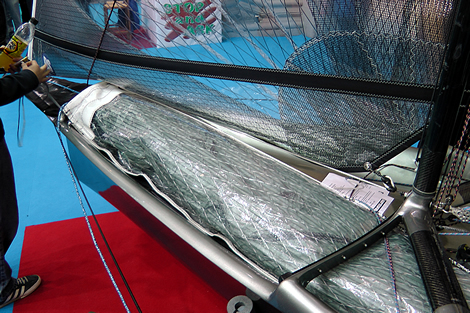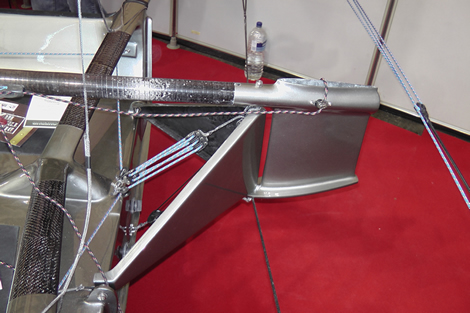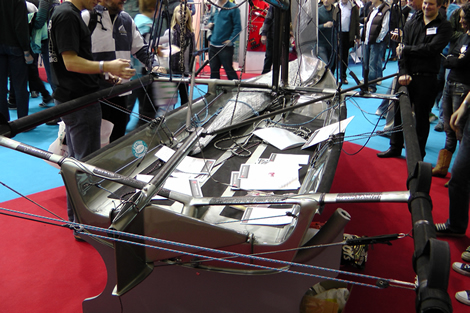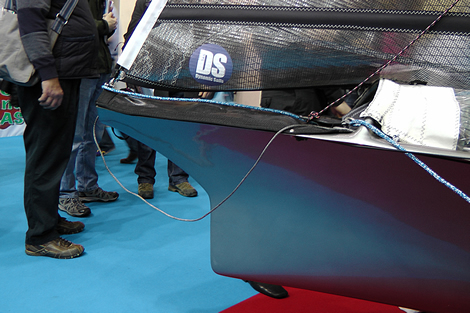 Back to top
Back to top