Youth sailor is the new Musto Skiff World Champion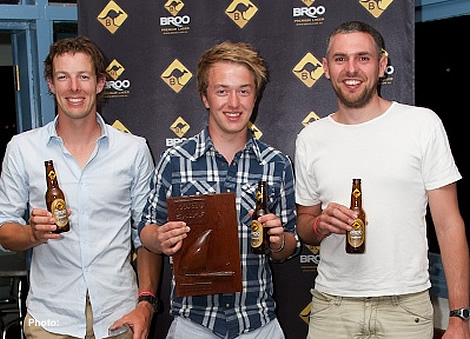 21-year-old British sailor, Daniel Henderson has won the Broo Premium Lager Musto Performance Skiff World Championship from another British sailor, Bruce Keen, and Australia's Marcus Hamilton

Following a brief postponement ashore today, the AP flag was lowered at 11:30 and the competitors launched onto Port Phillip Bay into an 8 knot southerly breeze.

Race 10 was general recalled at 12:32pm with the wind at 190 degrees and 5-6 knots. The second time around, the start went off without a hitch in 8 knots from 180 degrees.

The majority of sailors chose the pin end of the line and headed left. This proved to be a winning formula for Jono Neate AUS 440, who stormed into a one minute lead at the windward mark and extended to win by two minutes from Aussie team mate Jonathon Newman AUS 425.

Racing, especially at the front end, has been very close. Newman had Dan Ward GBR 286 and Tom Wright GBR 432 in close company, but held them both off to the finish for a well deserved second position.
Further back, event leader Daniel Henderson and his closest rival, Australia's Marcus Hamilton AUS 453, were fighting their way back up the fleet after both had conservative starts. Hamilton finished ninth and Henderson sixth, handing Henderson the Championship title with a race in hand.

With the breeze freshening to 12 knots at 170 degrees, the final race started at 2:35pm. Bruce Keen GBR 441 copied Jono Neate's moves from Race 10, by pulling clear to lead all the way and take the win by some 2 minutes from Julian Ramm GER 443.
Marcus Hamilton pulled through to take third place, dropping him from an overnight second overall to third by tie break with race winner Bruce Keen.

Overall winner, Henderson, started sailing in the Optimist class, but grew out of it and moved into the highly competitive 29er class. As with many kids of his age, the 21 year-old got too big for the 29er too, so moved into the Musto Performance Skiff at age 17, along with his 29er mates Tom Wright and Matt and Nick Hollis.
Like many kids his age, Henderson hopes to sail in the Olympics, but with a degree course on the go and other things to occupy him, that plan will have to go on hold for a while.
Forty two sailors contested the Broo Premium Lager Musto Performance Skiff World Championship hosted by Black Rock Yacht Club on Port Phillip Bay.

Final top five overall:
1 Daniel Henderson GBR 409 14 GBR 26
2 Bruce Keen GBR 441 19 GBR 37
3 Marcus Hamilton AUS 453 13 AUS VIC 37
4 Jonathon Newman AUS 425 25 AUS VIC 42
5 Jono Neate AUS 440 24 AUS VIC 44
Full results here

Back to top
Back to top