Wing exploding day at the Zhik Moth Worlds
24 knot gusts pumped down the race course for a full day of racing at the 2011 Zhik Moth Worlds' first day of the Final Series. Rarely dropping below a healthy 18 knot northeasterly, sailors across the fleet had their share of stacks, crashes and comebacks that has opened up the scorecard.
Outteridge was hot out the starting gate in Race 1, holding a sizable lead over a contentious second place held by Brad Funk (USA) and Scott Babbage (AUS). Funk spilled, and with record speed Babbage launched ahead of Outteridge in the final lap, ultimately losing it in a bad
rounding. Outteridge sailed in for the win. Funk and Kiwi favourite Peter Burling faced a swim-a-thon, Funk losing a Port-Starboard battle with Harris, and Burling started his swims at the gun. Joe Turner (AUS), Bora Gulari (USA) and John Harris (AUS) had serious pace around the course and carried into Race 2.
Gulari sizzled up the first beat of Race 2, swapped leads with Outteridge and Harris, and was ultimately edged out by both, finishing half a second behind Harris for 3rd. An unfortunate collision with another competitor sent Burling ashore with a ripped sail, while Outteridge took
another bullet.
Back in action for Race 3, Burling sent a message to the fleet by taking an early command that he held into the finish. Tom Slingsby (AUS) 5th at the first mark, climbed through the fleet surfacing with a 2nd, and Turner proved most consistent closing with a record of 3, 4, 3 (More consistent was Simon Payne (GBR) who had straight 22nd's). And Outteridge? He was deep off the line, but he ripped through the fleet for a 4th.
The Wing-sail 'piloted' by Charlie McKee lit up the first leg of the course in 7th place when it exploded at the mark – and right in front of Moth Class photographer Thierry Martinez. Pit crew and Wing-engineer Rob Patterson (CAN) pulled hero moves racing in for a rig-swap to get McKee back on the line for Race 2 without a second to spare.
The ladies held it down finishing all races, with Emma Aspington (SWE) now leading the 4-point spread.
Damage took its toll on Funk and Dalton Bergan (USA), Funk lost a rudder, Bergan a rig and now carries 2 DNFs.
Lochlin Byrne (AUS) leads silver, but it was standout James Phare (GBR) who won the day with a 2, 2, 1, and 15 year-old Jack Sherring finished with a 4th, now 12th overall.
Racers take a lay-day tomorrow – from the racing that is. Event sponsors SP-High Modulus will be busy providing carbon for the flurry of repairs. More action to follow Thursday, with the Final Series to close on Friday, 14 January.
Full Gold fleet results here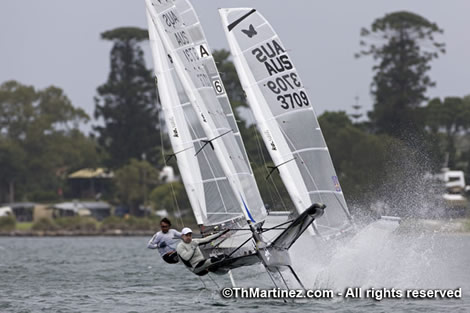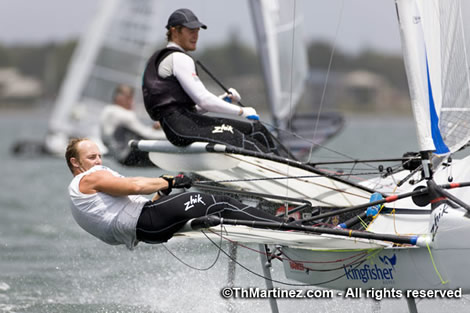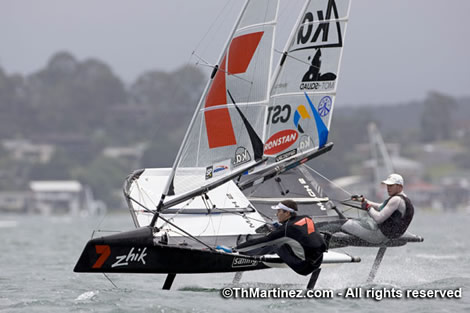 Back to top
Back to top