Tie for the top going into the finals
A better story for the final day could not be written. The top two teams who have dueled back and forth for the top spots during the 2011 29er Worlds are tied even going into the last day. Pepe Bettini and Fernando Gwozdz turned on the heat and made up the 2-point deficit in
today's racing and are now tied with Belen Tavella and Franco Greggi.
With an offshore breeze, the sea flattened out a bit, but was still quite confused, blowing directly into the swell. In the first race of the day, Tavella/Greggi had a bad start and used their 10th as the discard. Bettini/Gwozdz were leading the race, but overstood the layline and capsized losing the lead to Australians Byron White and Ash Rooklyn who took the win with the top youth team Gael Jaffrezic and Julien Bloyet crossing second. In the second race of the day, Tavella/Greggi won the race to make up the point lost earlier. Bettini/Gwozdz had to settle for fifth.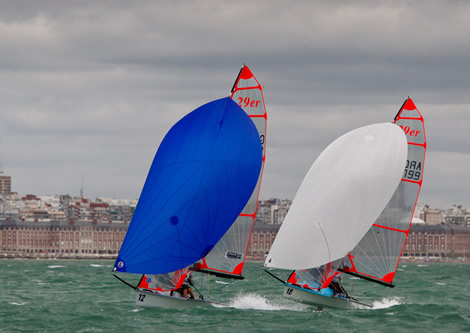 The wind increased with puffs recorded in the 27-knot range, but this did not stop racing on the gold fleet course. Bettini/Gwozdz came on strong and led the race to the finish while Tavella/Greggi could only manage 7th. Francisco Consentino and Tomas Wagmaister crossed second in this race and now sit third overall with a possibility to unseat the top two. Nahuel Martinez and Axel Vugdelija are fourth overall and had a brilliant day of 3-3-4 and also with a chance for the last day.
On the silver fleet course, conditions were quite tough and the Race Committee decided to send the sailors in after two races. Spaniards Luis Rodenas Lorda and Juan Martinez Ruiz continue to lead.
Racing continues on Friday, January 7 with three more races for the golf fleet and a possibility of four in the silver fleet of the final series. The prizegiving will be held in the evening following the final races on Saturday, January 8.
Results
| | | | | | | | | | | |
| --- | --- | --- | --- | --- | --- | --- | --- | --- | --- | --- |
| Pos | Sail no | Crew | R1 | R2 | R3 | R4 | R5 | R6 | R7 | Tot |
| 1 | ARG 1726 | BELEN TAVELLA / FRANCO GREGGI | 1 | 1-1.00 | 5-5.00 | 1-1.00 | (10-10.00) | 1-1.00 | 7-7.00 | 16 |
| 2 | ARG 0002 | BETTINI PEPE /GWOZDZ FERNANDO | 2 | 3-3.00 | 1-1.00 | 4-4.00 | (6-6.00) | 5-5.00 | 1-1.00 | 16 |
| 3 | ARG 1720 | COSENTINO FRANCISCO /WAGMAISTER TOMAS | 3 | 5-5.00 | 3-3.00 | 3-3.00 | 5-5.00 | (7-7.00) | 2-2.00 | 21 |
| 4 | ARG 0006 | MARTINEZ NAHUEL / VUGDELIJA AXEL | 9 | 2-2.00 | (10-10.00) | 10-10.00 | 3-3.00 | 3-3.00 | 4-4.00 | 31 |
| 5 | ARG 1314 | POLLITZER GONZALO /DIEZ JOSE MARIA | 4 | 6-6.00 | 6-6.00 | 5-5.00 | 8-8.00 | 10-10.00 | (DNC-26.00) | 39 |
| 6 | FRA 0009 | JAFFREZIC GAEL / BLOYET JULIEN YOUTH | 8 | 10-10.00 | 9-9.00 | (15-15.00) | 2-2.00 | 2-2.00 | 10-10.00 | 41 |
| 7 | ARG 1798 | REALI ETCHART VICTORIA/TERRAB GASTON | 6 | 4-4.00 | 2-2.00 | 2-2.00 | (20-20.00) | 16-16.00 | 14-14.00 | 44 |
| 8 | DEN 1732 | LUBECK MADS EMIL / LUBECK CHRISTIAN PETER | 13 | 8-8.00 | 7-7.00 | 12-12.00 | 9-9.00 | (DNC-26.00) | 6-6.00 | 55 |
| 9 | AUS 1535 | BYRON WHITE / ASHLEN ROOKLYN | 7 | 18-18.00 | 18-18.00 | (DSQ-26.00) | 1-1.00 | 8-8.00 | 5-5.00 | 57 |
| 10 | ARG 1316 | SIELECKI MICAEL / OCAMPO TOMAS | 11 | 7-7.00 | (15-15.00) | 11-11.00 | 4-4.00 | 14-14.00 | 11-11.00 | 58 |
| 11 | GBR 1702 | LLOYD WILLIAMS HENRY / BATTEN SAM YOUTH | 18 | 12-12.00 | 4-4.00 | 14-14.00 | (16-16.00) | 4-4.00 | 9-9.00 | 61 |
| 12 | ARG 1723 | KREVISKY JUAN / LOPEZ SEGURA BILLY | 5 | 9-9.00 | 12-12.00 | 7-7.00 | 13-13.00 | (18-18.00) | 16-16.00 | 62 |
| 13 | ARG 1799 | BILLOCH GERMAN / KOCOUREK PEDRO | 14 | (17-17.00) | 14-14.00 | 6-6.00 | 17-17.00 | 6-6.00 | 8-8.00 | 65 |
| 14 | USA 0005 | FRASER MAXWELL / LIEBENBERG DAVID | 10 | 16-16.00 | 23-23.00 | 13-13.00 | 7-7.00 | 11-11.00 | (DNC-26.00) | 80 |
| 15 | ARG 1719 | BRANZ SOL / ALVAREZ GALLESIO JUAMPI | 15 | 19-19.00 | (20-20.00) | 8-8.00 | 11-11.00 | 17-17.00 | 15-15.00 | 85 |
| 16 | ARG 1724 | TRAVASCIO VICTORIA / SEGERS MARIO | 12 | (23-23.00) | 17-17.00 | 20-20.00 | 12-12.00 | 9-9.00 | 18-18.00 | 88 |
| 17 | USA 0015 | TYLER MACDONALD / JAMES MOODY | 20 | 21-21.00 | (24-24.00) | 18-18.00 | 18-18.00 | 12-12.00 | 3-3.00 | 92 |
| 18 | ESP 1615 | TRITTEL FLORIAN / TRITTEL LUCAS | 17 | 13-13.00 | 16-16.00 | (DSQ-26.00) | 14-14.00 | 20-20.00 | 13-13.00 | 93 |
| 19 | ARG 1807 | LANGE SANTIAGO / LANGE KLAUS | 22 | (24-24.00) | 8-8.00 | 9-9.00 | 21-21.00 | 15-15.00 | 19-19.00 | 94 |
| 20 | ARG 1313 | AGUS BRANZ /FEDE TRAVASCIO | 16 | 15-15.00 | 11-11.00 | 21-21.00 | 19-19.00 | (22-22.00) | 17-17.00 | 99 |
| 21 | DEN 0010 | BAAD IDA / OLSEN MARIE FEM | 19 | (22-22.00) | 19-19.00 | 16-16.00 | 22-22.00 | 13-13.00 | 12-12.00 | 101 |
| 22 | ARG 1717 | BAUDOINO ALEJANDRO / CUBRIA MARTIN | 24 | 11-11.00 | 13-13.00 | (OCS-26.00) | 24-24.00 | 23-23.00 | DNC-26.00 | 121 |
| 23 | ARG 0436 | AUTELLI JUAN JOSE /PINI NICOLAS | 23 | 25-25.00 | 21-21.00 | (DNC-26.00) | 15-15.00 | 21-21.00 | 20-20.00 | 125 |
| 24 | ARG 1315 | GOMEZ LEANDRO / VILLAMBROSA FEDERICO | 25 | 14-14.00 | 25-25.00 | 19-19.00 | 25-25.00 | 19-19.00 | (DNC-26.00) | 127 |
| 25 | ARG 1184 | PIRAN CLARA / PELLEGRINO MARIANO | 21 | 20-20.00 | 22-22.00 | 17-17.00 | 23-23.00 | 24-24.00 | (DNC-26.00) | 127 |
Back to top
Back to top