Wings over Belmont
While they may have taken the world by storm over recent years with their airborne foiling antics, focus at the 2011 Zhik Moth Worlds to be held in just over a month's time in Belmont, Australia, will be on wingsails.
First the bad news. While C-Class enthusiast and Moth sailor/designer Adam May was 'first to market' with his wingsail Moth back in August (read more here), sadly he will not be in Belmont.
As he reports: "Sadly I am unable to go out to the Worlds in January. I've got a slightly unscheduled hospital appointment, nothing serious, but unfortunately it will keep me off the water, at a rather inconvenient time. My wing debut will have to wait for another time. Best of luck to all out there, and it is great to see so many entries. I'm sad to be missing it."
This is most unfortunate because over the last weeks May has been busy constructing a Mk2 wing which has shed a further 2kg over Mk1. The good news for the ex-Tornado Olympian and trained aeronautics engineer is that following the demise of TeamOrigin he has recently been confirmed as part of Artemis' design team for the 34th America's Cup.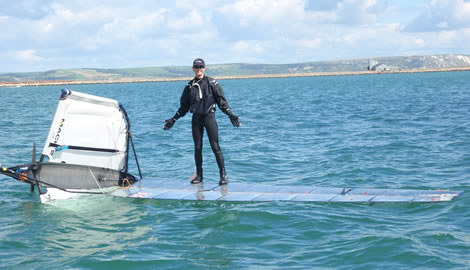 Meanwhile two Australian Moth sailors, David Lister and 18ft skiff sailor John Harris are believed to be pitching up at the Worlds with wings believed to around 6m tall, ie substantial higher aspect than the competition, but at present no decision has been made on their legality by the International Moth Class Association.
Aside from the Aussies and with no May, in Belmont all eyes will be upon American 2009 Moth World Champion Bora Gulari, who after unveiling his first effort in October has since built two substantially lighter Mk2 wings, all three of which have been shipped off down under.
Gulari's wingsail has been developed by the same Canadians who have been churning them out over the past two Little America's Cups for Fred Eaton's winning team (no wonder there is a Canadian team attempting to mount a campaign for the 34th America's Cup). Gulari's wings have been designed by Steve Killing and Eaton's crew Magnus Clarke and built by Object 2 Skiffworks in Toronto, a three hour drive from Gulari's home in Detroit, Michegan.
With his first wing Gulari carried out 10 days of training and testing on the water sailing against ex-ABN AMRO Two crewman turned Moth sailor, George Peet, but as Gulari reports: "The first one was a prototype to just get it out there – pretty similar to what Adam [May] said, within 30 seconds of being on the water I had all the changes I wanted to do figured out."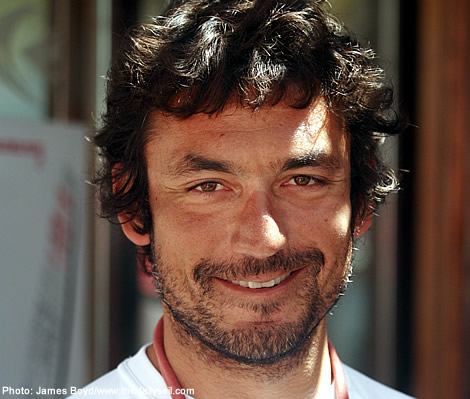 The American's Moth wings built to date share many moulds from those used on the Canadian C-Class cats. The issues designing a wing for a Moth are similar to those of a C-Class catamaran as both have maximum sail area limits only in the case of the 25ft catamaran it is 300sqft (27.8sqm) compared to the Moth's 8sqm. However the Moth rule contains additional requirements such as a maximum mast height of 6250mm and a luff length restriction of 5185mm and it is in this part of the rule, written obviously for a conventional mast and softsail set-up, where debate is due to take place over the legality of the Australian wings.
"I didn't want to go as high an aspect ratio as I possibly could just to take advantage of the loophole, because like Adam I wanted to do it through efficiency," says Gulari. The end result is that Gulari's Moth wing has a lower aspect ratio than those used on C-Class cats.
The significant difference between May's wing and Gulari's is that the former is a two element affair (like the BMW Oracle Racing tri) whereas the latter has a more efficient but more complicated (and thus heavier) three elements, with the additional flap on the back of the front element, as the wings on C-Class cats have. May argues that it isn't necessary on a Moth to have the added complexity, but Gulari disagrees. "It is largely based on the experience of the C-Class guys. You pay a bit of weight penalty to get the middle element in there."
No modifications needed to be made to his Mach 2 Moth to fit the wing – "plug and play operation" as Gulari describes it. "And we can take off quite a bit of stuff from the boat. There is a cleat farm at the base of the mast that you really don't need any more." As a result Gulari reckons that the net weight gain compared to his previous softsail set-up is minimal. "I think actually we are going to come out dead even."
Controlling the wing is easier than the softsail because the sheet load is substantially reduced and this has effected the way he hikes. "You settle into a dynamic set-up where the only thing we change is the camber and the sheet. So the controls are less. It is easier to handle in a blow because there is always less drag. You can shed power and just sit there luffing where you'd be there on your toes with a soft sail. You can just easily sit around."
Gulari adds that with the wing, the 'groove' upwind is ten times bigger. "You can point where you want. I think it is inherent with a soft sail where you have one entry angle, and when you have these nice big leading edges it instantly becomes very forgiving. Jim Antrim [yacht designer] wrote an article recently where he said the real advantage [of wings] is the big fat leading edge, where flow stays attached at a variety of angles, whereas with a softsail you have the one entry angle that works and everything else you are sacrificing." A side effect says Gulari, is that it is easier to perform foiling tacks with the wing.
The school is still out on whether the wing will improve lift-off speed. This is partly down to weight, but also technique. "It is going to be interesting. It will be a little bit trickier to kinetic up, which is now part of Moth sailing, just being able to ooch your way out in marginal foiling conditions."
However with the new wing they have shed a massive 15lb (6.8kg) compared to the first iteration and this will certainly improve lift-off speed. "The first version was a C-class wing that was cut to Moth size and we worked on that and made vast improvements in terms of laminates and secondary bonding," explains Gulari.
The Mk2 wing still uses the C-Class wing moulds, although Gulari says it would be straightforward to make some purpose-built, as it is not a complex shape. "We are starting to have tabs on some of our parts so we can snap them together like a model aeroplane kit."
Like the C-Class wings, the Moth equivalent can twist. As Gulari describes it: "We have modified the structure to allow flexibility where you want it and there are D-sections and C-sections and there are webs and all sorts of places you can take out material to let it breath a little bit." However the Moth wing doesn't have the same twist limiters found on the Cs. "Our span wasn't really that big to begin with so it wasn't really easy for us to put twist in with their control systems initially, so we softened some stuff up. Now we can rig up a twist limiter, but basically it is all auto."
Unlike C-Class wings the front element doesn't twist. "That came down to a weight and a control issue. To have a twisting front element, it is not auto-tacking. You have your hands full as it on a Moth and having to worry about tack controls is too much to ask for."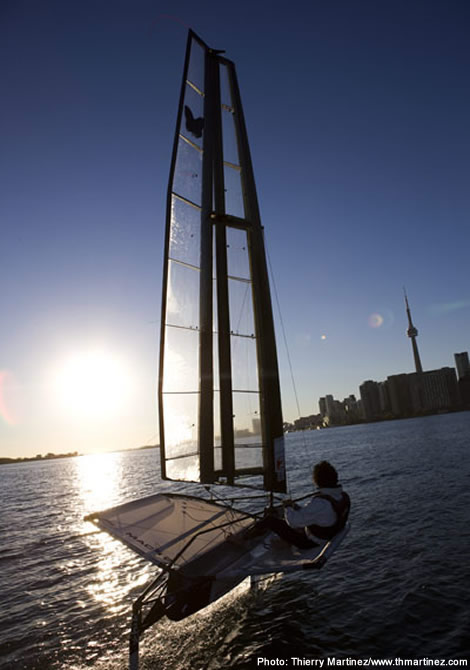 Speed

In terms of performance versus softsail rigs, the Worlds will give a much better indication of their relative potential between softsails and wings. However following his 10 days of trialling with George Peet, Gulari has already been able to make observations: "It was a lot quicker upwind, which was interesting because everyone was saying initially that the speed advantage should lie downwind. We started slowly downwind keeping the flow attached and making sure that everything was working properly - it is a little bit trickier because there are some fiddly controls and getting those right is pretty important. But once we worked that out and improved those systems a little bit we were able to get to the point where the wing was going just fine. It was beating the softsail every time down the run and we feel confident that we still have a lot more potential left in it."
So faster than the softsail all-round above a certain wind strength he reckons. "Our first prototype was a little bit on the heavy side, and there was some learning involved in it, but once we were up and going we felt pretty good in flat water that for sure. It is a weapon."
Gulari is keen on the top speed of his Moth and is one of few to have taken his above 30 knots. While the wing should provide greater efficiency at lower wind strength how about when it is cranking? "It does have the potential obviously downwind because it does generate more power. We have had it going 26 knots in not that drastic of conditions. It got a little bit cold up here by the end to be really sending it and to really be going full pace. Downwind as it gets windier I am guessing our CoG will be higher than with a soft sail, but as long as pitching doesn't come into a big play, I don't think the wing will ever be any slower than a softsail downwind."
The flatness of the water could be an issue, as the higher CoG and more weight aloft will increase pitching with the wingsail. This is a doubly important issue with a Moth that relies so much on its flying ability from the incidence of its lifting foils. "The first couple of days we were able to sail our first prototype in a bit more swell, and given that we didn't have the sail set up too well at that point, but you could feel the added weight quite a bit higher. But we were legitimately 16lb over a soft rig and put about 10lb at the hounds and it becomes a bit different." Again this should be less of an issue with the substantially lighter Mk2 wing.
At the Worlds Gulari and George Peet will be racing with wings and as yet it is uncertain as to whether there will be a taker for their third, or if they will keep it in reserve as a spare.
As to where this is all going, Object 2 Skiffworks are keen to take orders for further wings, but in terms of the future of wings in the Moth class this will depend on the class' reaction to it. Some believe it is a step too far likely to be banned by the class. Gulari very much hopes it won't. "I don't know. I don't think it will be banned. Based off what the Moth ethos is. I don't see that happening."
More images from Thierry Martinez can be viewed at www.thmartinez.com
Back to top
Back to top