Gotta Love It 7 wins with a race to spare
Gotta Love It 7's team of Seve Jarvin, Sam Newton and Scott Babbage secured the 2010-2011 NSW 18ft Skiff Championship win with another outstanding victory today in Race 4 of the five-race series being sailed on Sydney Harbour.

With four consecutive wins they obviously cannot be beaten as only four of the five races count towards each skiff's final pointscore.

In a fading northeast to east breeze, Gotta Love It 7 led from early on the first spinnaker run to win by 1m54s from Red Claw, being sailed today by replacement skipper Micah Lane, with Rag & Famish Hotel (Jack Macartney) a further 38s back in third place.

Jonathan Whitty's Panasonic finished fourth, followed by Project Racing (Andy Budgen) and Smeg, skippered by replacement for the day Trevor Barnabas.

After each skiff discards her worst performance to date, Gotta Love It 7's win gives the team a perfect score of 3, followed by Thurlow Fisher Lawyers (Michael Coxon) on 8, Red Claw (Matthew Searle) on 9, Yandoo (John Winning) 11, Rag & Famish Hotel 12 and Smeg (Nick Press) on 20.

After a tough battle to the windward Beashel Buoy, Thurlow Fisher Lawyers led by 25s from Gotta Love It 7, which had recovered well after being buried early in the race. Project Racing was third, then Red Claw, Rag & Famish Hotel, Panasonic, Smeg and Pure Blonde (James Francis).

Thurlow Fisher Lawyers' run of bad luck continued when the skiff was forced out of the race with a broken spreader.

Gotta Love It 7 had elected to sail to the left hand side of the course while most of the others chose to gybe early back to the middle. 7's move was a definite winner as the skiff raced to a big lead over Project Racing, Panasonic (which had followed 7's move), Red Claw, Rag & Famish and Smeg.

Gotta Love It 7's domination at the bottom mark was complete as her lead had doubled to 50s over Project Racing.

At the second windward mark Gotta Love It 7 had raced right away from the fleet to lead Yandoo, which had gained four placings on the work, by 2m15s.

Just when it looked as though 7 would clear right away from the rest of the fleet, the fading breeze went further to the east and allowed Yandoo and Red Claw to close up to just a few boat lengths at the bottom mark to conclude the second lap.

The last triangle was a slow race in very light wind and again the Gotta Love It 7 team showed their skills to increase their lead back to the race winning 1m54s.
Full results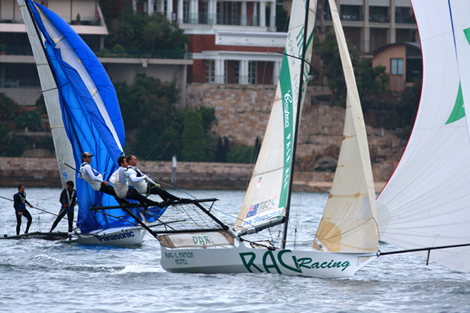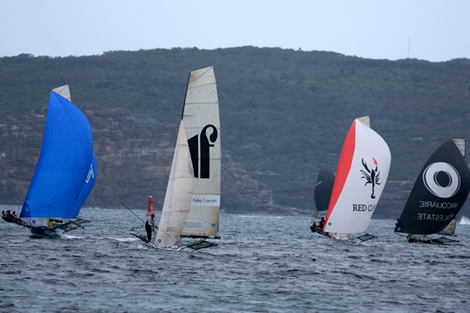 Back to top
Back to top