Third consecutive win for 7
Defending champion Seve Jarvin took a tight grip on retaining the title when he steered Gotta Love It 7 to her third consecutive win in Race 3 of the NSW 18ft Skiff Championship on Sydney Harbour today.
Jarvin, Sam Newton and Scott Babbage trailed Thurlow Fisher Lawyers (Michael Coxon) at the end of the first lap but dominated the fleet over the final two laps to score a 44s win.

Andy Budgen's Project Racing (Sponsor Wanted) finished second with Thurlow Fisher Lawyers a further 17s back in third place.

Rag & Famish Hotel, skippered for the day by former Australian champion Micah Lane, finished a very good fourth ahead of Yandoo (John Winning) and Asko Appliances (Marcus Ashley-Jones).

Gotta Love It 7's win has the skiff on three points, followed by Thurlow Fisher Lawyers on 8, Yandoo on 11, Red Claw (Matthew Searle) 14 and Rag & Famish 18.

With only two more races due to be sailed in the series and one discard allowed for each skiff, it will be extremely difficult for any team to overhaul 7.

Soon after the start Gotta Love It 7 opened up a break over Thurlow Fisher Lawyers, with Rag & Famish Hotel, Smeg (Nick Press) and The Kitchen Maker (Brett Van Munster) close behind.

Asko also recovered from a slow start and had good boat speed on the windward leg to Beashel Buoy.

While the 7 crew elected to sail a course near the northern shore, Thurlow Fisher Lawyers took a middle of the harbor line and reduced the lead to just 2-3 boat lengths when they met.

Thurlow Fisher Lawyers grabbed the lead just before the windward mark and turned for the spinnaker run with a 10s lead over Gotta Love It 7, with Rag & Famish Hotel a further 45s back in third place. Asko Appliances was fourth, followed by Smeg and Red Claw.

Thurlow Fisher and 7 gybed off Steel Point while the chasing group came at a deeper angle and gained on the two leaders.

The group was tightly bunched at the bottom mark where Thurlow Fisher still held a narrow lead over 7, closely followed by Rag & Famish, Asko, Smeg, Red Claw, Project Racing and Yandoo.

Thurlow Fisher and 7 eased away again on the next windward leg but this time it was Gotta Love It 7, which led by 25s as spinnakers were set for the following run down the middle of the course.

Gotta Love It 7 gybed soon after and headed for the northern shore while Thurlow Fisher chose to go south and didn't gybe until she was off Steel Point.

The 7 move proved a winner when the lead opened up to 1m25s.

It was unusual for the Thurlow Fisher team to lose so much time but later it was learned there was an excuse when the crew discovered a hat stuck on the centerboard.

Project Racing continued her move through the fleet and finally moved into second place over the final lap of the course.

Race 4 of the five race championship will be sailed next Sunday, with the last race due on Sunday, 5 December.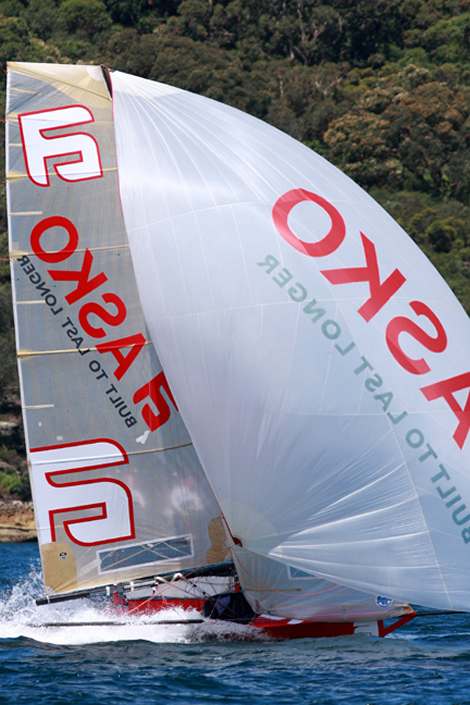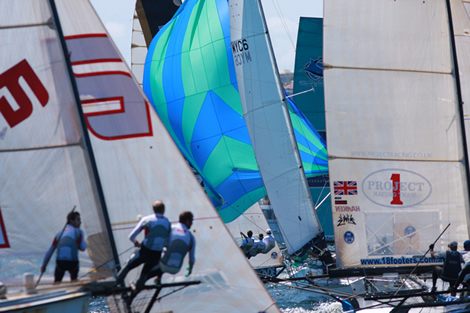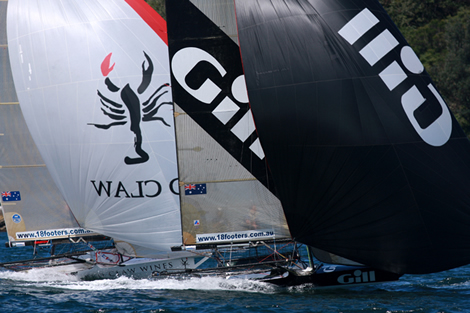 Back to top
Back to top