Gotta Love It 7 again
Seve Jarvin, Scott Babbage and Peter Harris made it two wins from two races when they took out Race 2 of the NSW 18ft Skiff Championship on Sydney Harbour today.
While their win in Race 1 was an all-the-way victory, today was a totally different story as they only grabbed the lead at the final windward mark.
Yandoo (John Winning, Andrew Hay and Dave Gibson) finished second, 20s behind the winner, with Thurlow Fisher Lawyers (Michael Coxon, Aaron Links and Trent Barnabas) a further 7s back in third place.
Gotta Love It 7 leads the progress point score on two points, followed by Thurlow Fisher Lawyers on five, Yandoo 6, Red Claw (Matt Searle) 7 and Rag & Famish Hotel (Jack Macartney) on 9.
Yandoo won the start from Gotta Love It 7 in a #2 rig northeast wind of around 17 knots and the pair soon moved ahead of the fleet. On the windward leg to the Beashel Buoy, Red Claw sailed extremely well and gained on the two leaders while a four-boat group of Rag & Famish Hotel, Sharks (Warwick Rooklyn), Thurlow Fisher Lawyers and Asko Appliances (Marcus Ashley-Jones) were close behind.
At the mark Yandoo held a 15s lead over Red Claw with Gotta Love It 7 in third place, followed by Thurlow Fisher Lawyers and Asko Appliances. The only change on the spinnaker run to the wing mark then back to Clarke Island was Gotta Love It 7, which had edged ahead of Red Claw. Meanwhile Yandoo's lead had extended to 30s.
At the following windward mark, Yandoo had further increased her lead to 35s and was looking a likely winner on the run down the middle of the course to the bottom mark at Clarke Island. She slowed off at Bradleys Head when the crew thought they had something caught on the rudder. Gotta Love It 7 was quick to pounce and the margin was only 10s as they headed back upwind.
Thurlow Fisher Lawyers was continuing to gain on the leaders and there was little between the three skiffs on the final windward leg back to the Beashel Buoy. Gotta Love It 7 grabbed the lead just before rounding while Thurlow Fisher Lawyers raced up alongside Yandoo.
The spinnaker runs around Shark Island then to the finish off Clarke Island provided spectators with a wonderful finish as only 27s separated the three teams as they raced to the finish line. Red Claw held on to finish fourth, ahead of Pure Blonde (James Francis), Smeg and Sharks.
Results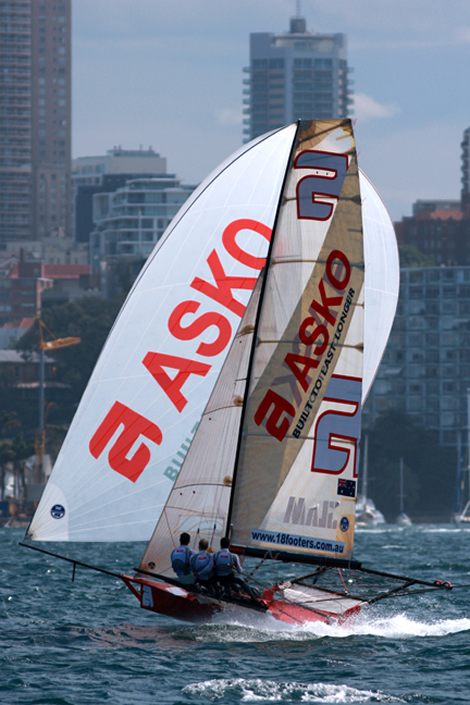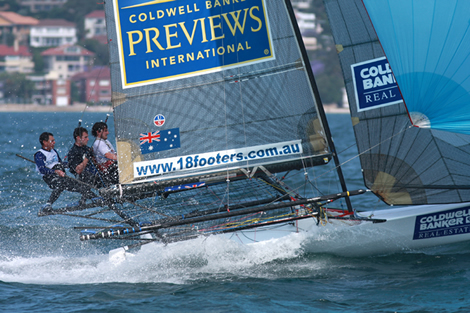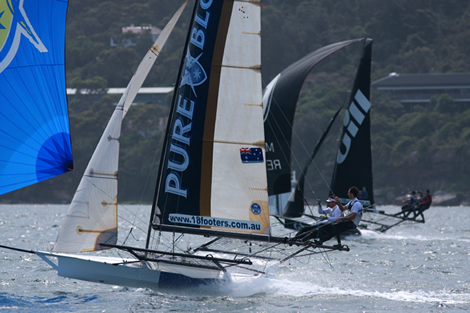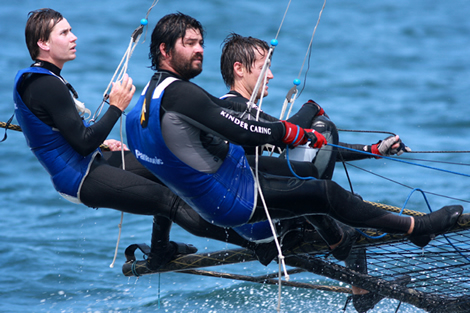 Back to top
Back to top