Skandia Team GBR's bird of prey
Skandia Team GBR today announced the appointment of Felix, the Peregrine Falcon, as an honorary member of the British sailing team. Felix joins the team alongside triple Olympic Gold medallist Ben Ainslie and double Olympic Gold medallist Iain Percy.

A bird of prey was first employed by Skandia Team GBR at a recent Olympic Classes regatta to scare away seagulls that were becoming a nuisance around the team accommodation block based next to the Weymouth and Portland sailing venue for the 2012 Olympic Games. The early morning squawking from the gulls was disturbing the sleep of many of the team, and their fouling was beginning to damage buildings and boats.

With the 2012 Olympics less than two years away, Skandia Team GBR's sailors will be spending more and more time training and competing in Weymouth in their quest for selection to the Games. With this in mind, Felix will now be brought in for two weeks before all major competitions at the venue, to patrol the sky and keep the seagulls at bay.

Felix joins the 35 strong support team at Skandia Team GBR - which includes specialist coaches, a meteorologist, a psychologist, physiologists and physiotherapists, a nutritionist and even a chef – who all work to help the sailors plan for the best in their quest to win medals for Britain.

However, just like the sailors, Felix will have to earn selection to make it to the Olympics. Team manager Stephen Park says, "Felix will have to deliver a consistent performance to guarantee his place in Weymouth in 2012. Seagulls are a natural part of the seaside environment but the sheer quantity of them around our accommodation block is a problem for us. Felix will have his work cut out to ensure the sailors' sleep isn't disturbed. If he does his job well, his place on the team is assured."

Peregrine Falcons are the fastest animal on the planet with a self propelled speed of up to 250mph during dives.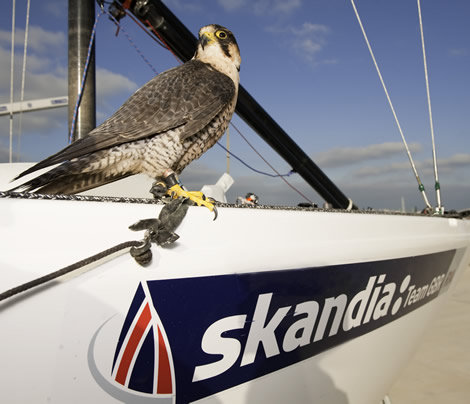 Back to top
Back to top