From boat to board
In Olympic sailing there is a typical progression from the Laser to the Finn or Star, from the Laser Radial to the 470 or Women's Match Racing. A move you don't expect is from the 470 to the RS:X windsurfer, particularly when the individual in question is a three time World Champion in the Olympic doublehander and an Olympic silver medallist.
Heralding from Hoorn in the Netherlands, Marcelien de Koning is a career Olympic sailor having started out in the Europe when she was just 16 in 1994. At 60kg she admits she was too light for the Olympic singlehander of the day. "I was doing well in the light breeze and in the middle I didn't do well and when it was really strong I was happy again because then everyone has to survive...I was surviving from 20 knots up," she says.
De Koning moved on to the 470 in 2001, teaming up with towering Lobke Berkhout. "I had to learn how to sail all over again, because of the angles with the spinnakers, sailing with two people in the boat and all the trim possibilities," she recalls. "But I really enjoyed it and it was good fun. We were a team for strong breeze, because we are both tall and my crew [Berkhout] is even taller."
Despite regularly posting top 10 places, the duo missed on out on going to the Athens Olympics, beaten to the slot by Lisa Westerhof and Margriet Matthijsse. It wasn't until the next Olympic cycle that the duo became the class act in the Women's 470, winning three back to back World Championships from 2005-2007. During this period de Koning says they set themselves different goals each years – 2005 was about communication while in 2006 and 2007 it was about learning how to win races.
Communication? She explains: "There are four eyes in the boat and who is good at what and how do you say stuff – you can say 'there is a boat on the right' or you can say 'there is a boat with more speed on the right'. There are lots of different ways to say things and different stress. It is not easy. Communication is a big thing."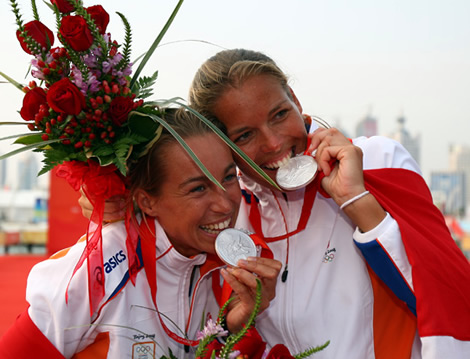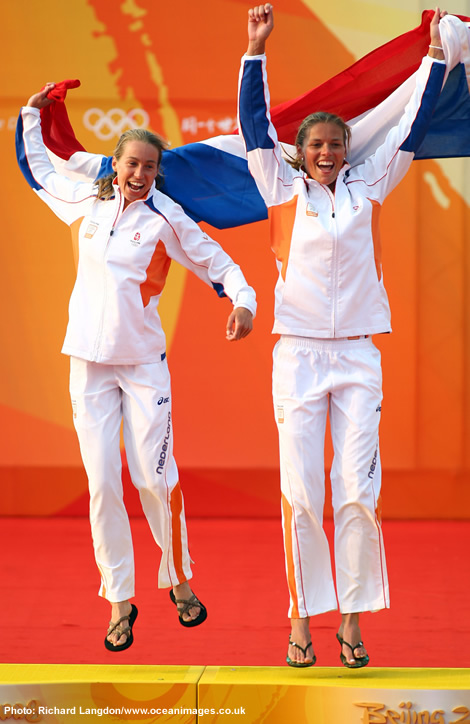 While they came home with the silver from Beijing, this was at a cost. Two of the larger crews in the 470, before the regatta they had to go on a severe weight loss regime, as de Koning describes: "I was 54kg and I was like a ghost. People were talking to my mum because they were worried about me. And Lobke was the same - she lost a lot of weight and in the end we were still 12kg heavier than the girls who won the Gold. It is not all about kilos of course, but it helps, it is easier to keep the speed more alive."
Coming home with silver, the obvious decision for de Koning would have been to continue and aim for Gold at London 2012. This is an objective which her former crew, Berkhout, and her new helm Lisa Westerhof (who went to Athens) are lining themselves up for – already they have won two back to back World Championships.
Instead de Koning opted to move into the Olympic sailboard. Why? Not the first time she has been asked this... "Because of the weight loss and because I always like to be active. In Beijing I had to sit still. If I wriggled my toe, it was too much, so I just couldn't get rid of my energy in the boat." Even sitting down during our interview, she is charming and engaging, but it is evident she is also a little hyper-active, a fidgeter. "Also I felt like I have been three times World Champion, and you know where you are going wrong. I think I performed at 96% of what was possible to do, so I needed 4% more for London and that wasn't going to make me happy. I get happy learning lots of stuff and getting better. It is really hard to go out every day and learn very little. That is the biggest goal in life – to learn."
She says that even before she went into the Games in Beijing she knew she was going to quit the 470, regardless of the result. "Eight years was enough."
Just when it seemed her Olympic career might be over, she went off travelling with her boyfriend for several months but half way through had her road to Damascus moment. "I thought 'I need to be back on the water', I need to be racing and challenge myself in a different way. I really miss the racing and being physically active. We spoke about it before. Our coach is a surfer, he doesn't know how to sail. He said 'you should be surfing'."
Initially this was something of a joke, because de Koning had never been on a windsurfer before. She tried it a little when she went travelling. Plus she was less than enamoured with the other options. "I thought I'm not going to do Laser Radial where the boat is too big for the sail, nor another 470 campaign with somebody else and I'm not going to do three women in the boat [match racing] and being hunted the whole time - I don't like that. And the Elliott didn't sound that much fun. I want speed, so here I am."
A women's high performance skiff might have kept her in a boat but she says even the 29erXX didn't get her pulse rate up. "It would have to be something more spectacular. The 49er would be too much - I tried that with Lobke and it was big fun, but it was too much."
She remains a big fan of the 470. "It is a really good youth class and it is good for big boat sailing or the America's Cup. And it is the only boat where you can train with the guys. Sven and Calle [Coster – the Dutch Olympic 470 veterans] would never say it, but we were matching them the whole time. Sometimes we won, sometimes they won. In the end of course, they won more."
Last year de Koning was ill and it was only, after much speculation, in September, almost exactly a year ago, that she came clean about her latest Olympic aspiration.
From being at the sharp end of the 470, de Koning has had to face returning to ground zero in the RS:X fleet where even many of the 18 year olds have ten years more experience than she has. She knows how to be a professional sportswoman, but when it comes to RS:X technique, she admits she is still on a steep learning curve. But this she thoroughly enjoys: "It is really good fun, because I'm starting from scratch and I need to work my way up. Even if there is no breeze I like to be physical and I like to have my heart rate up and I love that stuff. But it is hard. I thought there would be some wind direction where it would be a little less physical, but it is physical all the time."
While she is decidedly still a newbie, parts she is picking up well. Upwind she goes like a rocket, but she is painfully slow reaching and downwind, something she plans to focus on in training this winter. "We looked at race 4 [at the present World Championship in Denmark] on the tracking and I was the fastest person upwind and I was definitely the slowest person downwind - I lost 2.5 minutes downwind!
"On the downwinds sometimes I make things more difficult – on the 470 you can do a little gybe, and wiggle yourself downwind. [On the RS:X] it doesn't help, because you are slowing down too much if you gybe too much."
And compared to the 470 the RS:X sails horrible angles upwind and down. And her turning of corners isn't pretty at present. "Someone put in the slalom [at the end of each RS:X this is a short slalom stretch prior to the finish line], but it is killing my life. You should not look at my track around the marks!"
There are other quirks of the class. "Starting - the first time it was like 'what are all these people doing? They are all over the line.' But then people sink down and then they start. In the 470 you would never ever be over the line because you'd never get back. So that was weird."
Then there is the extreme speed. Even at the World Championship this week they have been hitting 25 knots. "I thought all the chicks were really cool because they were used to the speed. But I spoke to some of the top girls and some of them said they sometimes closed their eyes because they were going so fast. They are scared as well...I like to be in control and when I am going really fast downwind I am not in control."
The physical effort in the RS:X, compared to what is required from helming a 470 has also required a re-think of how she approaches regattas – how much does she need to rest beforehand, if at all, how much she should be out on the water, etc?
"I haven't been so happy in these last 10 years. I am now 60kg - I was 54 and that [the gain] is almost all muscle. 58-59kg is normal for the RS:X, but I am kind of tall. There are girls of 50kg and others who are 67. I think 59 is average – that's what they keep telling me."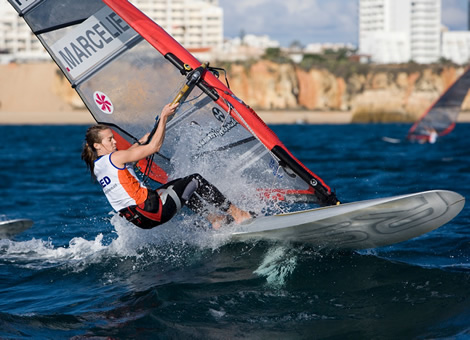 While Dutch RS:X Man, Dorian van Rijsselberge, is lining up to win this year's World Championship, the women's side of the Dutch team seems to be in slightly more disarray. According to de Koning last year they started off with 18 girls, then five were selected and, after training over last winter, three were finally selected – de Koning and the de Geus twins, Lilian and Esther (interestingly there are two sets of twins presently in the RS:X Women class, the de Geuses and the French Bosch twins, Leonore and Sybille). However... "We continued with this as a project, but the [Dutch] federation didn't have enough money and then we said 'okay, we'll just continue as the three of us'." Now the de Geus twins and de Koning are part of 'Team Marcelien'.
Then there is a major additional problems - within the Dutch Olympic sailing infrastructure if you change class then your funding returns to zero. "It should be different I think but I am not living in Greece or Hong Kong or whatever," says de Koning. "We just need to find sponsors to take it a little further."
Compared to the 470, she says the RS:X class itself is quite different. The individual sailors, men and women, are all 'ripped'.
De Koning says there is also the exchange of information. "In Miami, that was one of my first races, people were coming up and telling me what I was doing wrong. I was going 'what is this?' In the 470 you keep everything close to your chest. You don't share you tuning or anything. Here if I ask 'why didn't I plane' they say 'move a little bit forward' or 'you should put your sail like this'."
De Koning says she was also expecting the Worlds to be held in some more interesting places. Fiji had been mooted for the 2012 Worlds but instead Cadiz now seems to be on the cards.
Personally we were a little disappointed not to find in the RS:X class more body piercing, tattoos and dreadlocks and sailors with nicknames such as 'Swampy'. Instead there is one sailor with a Mohican and the rest seem well-groomed Olympic types.
Aside from the RS:X, de Koning also does some F18 sailing and has competed in the Round Texel several times with Dutch Hobie dealer Sander de Boer. "The level is pretty high and you can still do some races - it is fun." Coen de Koning, the double F18 World Champion, is her cousin.
Several 40 somethings such as Alessandra Sensini and Australian Jessica Crisp are proving this week to still be highly competitive, but de Coning says she isn't keen on the idea of still competing at this age, even though she likes the prospect of competing in Rio appeals. She admits: "I didn't even see myself doing this when I was over 30 when I was younger. I do it because I like it, because I like the performance, being physically active, I love to race and if I do something I want to do it perfectly and not do it half. So I need to do a lot of hours on the water. If I think it is not possible to qualify myself for Weymouth I'll quit."
What then? "I have absolutely no clue. I think sailors should give something back to the class once they have stopped, so I should stick around. I am on the Athlete's Commission now for the 470. You should give something back."
Will de Coning make it in the RS:X? She has done the hard yards already in two Olympic classes and knows what it takes to win both in a class and, crucially, at the Games itself. The jump between Olympic boats is not nearly as big a leap as from a boat to a windsurfer, but time on the water and practice will solve this and we've rarely come across someone with as much determination and flare. You wouldn't bet against her.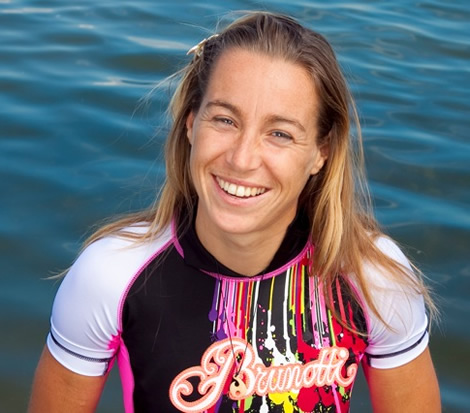 Back to top
Back to top