The C-Class guru's assessment
C-Class guru Steve Clark is still reeling from the destruction on first day of Little America's Cup racing last week of the solid wing sail from his catamaran Cogito, the aerodynamic masterpiece that won him the event in 1996.
"It was a dear old friend. I was thinking I should have had a moment of silence at one of the briefings or presentations. We may have a memorial service," says Clark. We point out that he was lucky that the new wing he has been developing over these last months was not ready in time, as it might have become matchwood on its first outing.
"The sequence of events that resulted in the tipping over was certainly freakish: We had a puff, a lull, and for the first time in some number of years Oliver [his crew] gets washed off his trapeze hook, and the sheet happens to get wrapped around his leg, so I have no steerage. It might have come back down if we hadn't been hit by the next puff... So it could have happened in 4 knots of breeze or 15 knots. And once I fall on it [the wing], it is all over, although I was trying hard not to..."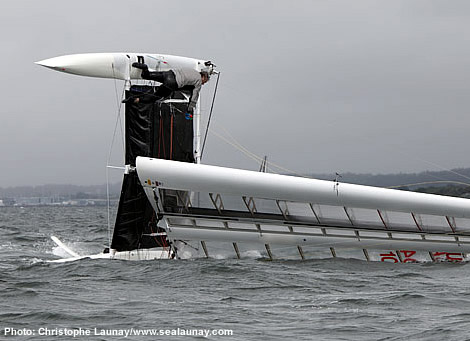 So Clark suggests, stick the bits in a dumpster with full military honours.
Last week, Cogito's wing was not the only one to touch the water, however as Clark points out it was the only one to be 'totalled'. Due to them having lighter touch downs the other wings survived – the French team on Patient Lady VI did most damage to theirs when a daggerboard fell through it.
As someone who has championed the C-Class and the Little America's Cup (in fact he is second generation - his father Van Allan Clark campaigned Beverley in the second LAC in 1962), Clark was pleased with last week's turn-out. "I don't think we have ever seen six or seven wings in the same time in the same place. We've had four wings up at once, more than once. There were certainly more C-Cats in the 1978 US trials - there were 15 boats entered of which only three were wings. There have been large collections of C-Cats, but not larger collections of wings and not a larger collection of C-Cats in many years."
Clark attributes the size of fleet to Fred Eaton, the Canadian defender. "Fred was willing to build lots of boats and was willing to loan them out. He bought four of the five boats that finished racing."
Hopefully this will have sown some seeds. The UK's Team Invictus would like to go again with a new boat. The French team led by Antoine Koch has Patient Lady VI and intends to build anew next time. Will we see a return of James Spithill and Glenn Ashby, to whom Eaton lent his 2007 winner Alpha? Clark points out that Ashby has a home in Macrae, where the Yellow Pages team (which he prised the LAC off in 1996) is based, so there is a possible union there. "It is a question of people picking things up and making them happen. The good news it that Fred [Eaton] has got boats for sale and with the new unrestricted entries, everything doesn't have to be from one country. I could sail on a Canadian boat and be legal."
AC34

Of course, the C-Class is firmly in the public eye at the moment in anticipation of BMW Oracle Racing's announcement that the 34th AC will be held in 72ft long solid wingsail catamarans. As a result many AC big guns were to found lurking around last week including Brad Butterworth, Paul Cayard, ex-Alinghi sailmaker and A-Cat sailor Luc Dubois, designers Juan K and Olympic Tornado medallist Santi Lange, Alinghi-turned-BMW Oracle - personnel rig expert Murray Jones and engineering genius Dirk Kramers - BMW Oracle Racing wing trimmer Dirk de Ridder, Emirates Team New Zealand's Grant Sailton and Kevin Shoebridge and representing TeamOrigin Adam May and Dan Bernasconi.
"The fish are circling!" states Clark. "It will be interesting to see how that all shakes out. The challenge for us is to take advantage of their interest and not get screwed by it, because they will happily plunder the class and leave it and not really care. On the other hand I am working hard to make sure that, for example, the C-Class doesn't get called a 'surrogate' [in the Protocol] because we are bigger than one fifth scale. If someone decided that anyone who contributed to a C-Class America's Cup design was costing an America's Cup sail number, then we wouldn't be able to take advantage of the interest. On the other hand we might be able to take advantage of it very well! Someone who wants to find out about wings can come and experiment in our class and at our level. There is a real sporting opportunity there."
Paul Larsen has made the point that if Cup teams come in with zillions of dollars then they may spoil it for everyone. However Clark didn't cut too many corners financially with his Cogito campaign and Fred Eaton when we spoke to him after his winning 2007 campaign reckoned he'd spent about the same as you might on a Farr 40 program.
"The only thing an America's Cup program gives is more opportunities to try more things," says Clark. "To give you a classic example: it took me 18 months to get a new boat on the water and it is a case of trading time for money. If I have to produce stuff at a significantly faster rate than that it is going to cost me more."
So in 2011 will Cup teams be giving up TP52 campaigns in favour of campaigning C-Class catamarans? And if the aim within the C-Class is to hold the next Little America's Cup in Weymouth in two or three years time as has been mooted, would more racing be laid on if there was a sudden influx of willing entries from the Big Little America's Cup?
"I don't know what their program really is," admits Clark. "No one has said to me 'we are going to do C-Class cats for the next 18 months and then bump up to 70 footers'. I am pretty certain that's not what they are going to do."
Last week BMW Oracle Racing was again trying to recruit campaigns for the 34th America's Cup as they had at the Extreme 40 event in Cowes. "Someone thought I should put a syndicate together or something like that!" says Clark, who confirms that at present he still hasn't been signed up by an AC team. From 1986 until 2007, Clark ran Vanguard Sailboats, the largest dinghy manufacturer in the USA's northeast building everything from Oppies to 49ers. "Ian Burns gave a little Pointpoint presentation. He was trying to recruit owners from the International C-Class to go and play America's Cup stuff. I am only short of $120 million!"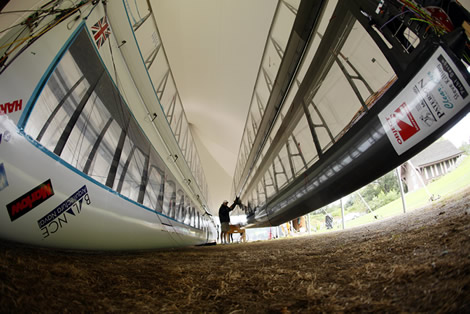 New wing time

As mentioned Steve Clark has been busy over these last months building his new C-Class Aethon. New features of her platform include high aspect rudders and curved daggerboards that can be canted inwards to develop vertical lift. While they saved a little weight, they lost this again in beefing up the foils with the end result that the platform in total weighs the same as Cogito.
Clark was pleased with the result: "I thought it was a rocket. I thought on Wednesday that we only had to sail around the course to win! The boat does some very cool things in terms of how it handles wave encounters and trim changes - they are different to most of the things I've seen catamarans do."
However most anticipated is Clark's new solid wingsail. With Cogito he took a design team approach to the wing, but on this occasion Clark did all the hard work himself, although he says he consulted with designer Duncan MacLean (his original Cogito crew, who worked for Alinghi during the 33rd AC)
The principle innovation with the Aethon wing is that instead of using panels made from heat shrink plastic over a comprehensive frame system, it has solid skins and less frames - an idea which designer Damian Smith tried with the Australian Team Ronstan wing in 2003.
"I always look at the back of the fleet to see where the good ideas are!" says Clark. "Damian Smith's wing was not completely stupid, there is some value to having skins that don't deform under air pressure. So rather than the heat shrink and ribs, I went for a complete composite structure, with fewer frames inside of it."
The plan form of the wing has changed a little but Clark says 'in a predictable way' ie it is narrower, and the aspect ratio has grown slightly but not to the same degree as Canaan's tower. At 41ft the new Aethon rig is the same height as Fred Eaton's 2007 winner Alpha. "Some things are a little different. Because we have got banana boards, we don't have quite the stability we might have, because they reduce stability a bit, so there is some merit to not going skyscraper."
Clark adds that there have also been some changes to the control systems as they attempted to make the structure lighter (it has come out at 142lb (64.5kg), 30lb (13.6kg) less than Cogito's wing) and allowing it naturally to bend more. "So you needed to tie it together in more places, which means that you needed more control arms which means that the control arms weren't so highly loaded which means you could reduce the size of them - it was a case of loop the loop the loop, etc. So it is a lighter bendy, fairly loppy wing with solid composite skins on it."
The reason it wasn't ready was that some of the skins and frame buckled, partly due to how they were structured and lined up with each other, but also due to stretch in the composite rope he used in the control mechanism which loaded up incorrectly.
A significant difference with the new wing is that it allows twist to be induced up the entire height of the front element. Clark states the reasons for this: "There is a compromise made on the other wings as to how they twist for mechanical simplicity, and we think we can do a little bit better than that. It is driven as much as anything else by having additional control arms - we needed to have a way of proportioning those foundations, so once you have agreed to do that it led to the next step."
Outcome

So was Clark surprised by Canaan's performance last week? "Actually I was not surprised at all. In my assessment it was almost all down to practice time or familiarity with wingsails. The business of getting downwind with wings is a little bit trickier than it first appears. If it was blowing more than 10 knots, Glenn [Ashby] could just use his standard small catamaran expertise to his advantage, but when it got lighter than that he couldn't keep the boat down – he didn't have the ability to go into the super high lift mode and keep the boat flying in the slightly lighter stuff [downwind]. That is really tricky gear and it is a gear that Fred [Eaton] is really good at. And the taller rig and the slightly more practised crew - it takes very few minutes of that to win a race like that. Then at that point they aren't in the driver's seat any more and they had to take risks and they just weren't going to get there."
And his view of Invictus? "I think Invictus did very well. I think they achieved everything they set out to achieve. Invictus is now a C-Class catamaran. In 2003 it was not. They had moments of being very close to being in the pack – they had good downwind speed a lot of the time, particularly in the more moderate conditions and were able to compete quite well. They have learned and I think they are viable. Someone ought to walk up and give them enough money to do the next boat."
All of the solid wings in Newport last week were of the three element style with the flap on the back of the front element and the slot between the rear two. There were no radical departures from this. Clark thinks this is all part of the natural cycle and says that going forward it may not be necessary for a modern C-Class rig to develop the maximum amount of lift (ie the route the Canadians have gone with Canaan). "When you go downwind in these boats, the induced drag from the wing, which is a function of the high lift co-efficiency, turns into the third largest drag factor on the boat. So you chip away at the first one or two - wave making and wetted surface - and that maybe gets you going a little bit faster and then the next thing you have to look at is wing induced drag. If you can get going faster you pull the apparent wind further forward, you don't need the high lift , etc etc etc and you are getting closer and closer to the ice boat configuration and you can start getting cleaner and faster."
So in his view the towering, high aspect ratio wing is still valuable in the light conditions, experienced towards the end of the regatta, but could have been surpassed in stronger winds by something shorter and less ultimately efficient. "I think there are still a lot of things that need to be done. I'm not convinced that we have the best compromise at this point."
Thus the three element wing is still the best solution until someone has the time, energy and resource to create something better. But with France, a nation known for its ingenuity and design flair, not to mention its strong background in multihulls, getting involved next time around, one wonders if we will see something new from there?
"The good news is that I don't have to wait to build another wing, so I can just keep going with the next wing, a seamless development project," concludes Clark. "It is not quite what I had in mind but it is a pretty good way to go. And the second thing is I don't have to decide which ^%$^%$ museum Cogito's wing goes into!"
Read more about Steve Clark's involvement in the C-Class/Little America's Cup here
Cogito images below courtesy of Helena Darvelid/Team Invictus/www.vestassailrocket.com
Back to top
Back to top