Coxon closes
It was a different look for sailing on day three of the ninth annual 18ft Skiff International Regatta on San Francisco Bay.

On The City's hottest day of the year no locals could recall offhand when their thermometers last touched 96 degrees, especially following what they were calling their coolest summer in years. The breeze felt like Waikiki and the beach at Crissy Field overrun with sun-soakers, dogs and joggers looked like Mardi Gras at Rio de Janeiro - but, no, that was the Golden Gate to the west without the usual shroud of fog, and after a two-hour wait for decent wind the most skilled sailors made the most of it.

Three Australians led by Herman Winning, the son, with eight points, Michael Coxon, 10, and Woody Winning (the dad), 13, and the USA's Howie Hamlin from Long Beach, 14, cut themselves a 10-point gap from the other 10 entries with four races remaining over the next two days.

Those include this evening's madcap 7.5-mile Bridge to Bridge Race when the 18s will be joined by the best of the local windsurfers and kite boarders. Following the 18s' seventh race at 3pm, they'll start all at once from under the Golden Gate and race 7 1/2 miles to the Oakland span around the corner of San Francisco's city front.

Tuesday's races were won by Coxon - his third in a row - and Hamlin, who broke the Aussies' domination and has no finish worst then fifth, which he discarded after five races.

Coxon also cashed in a serious throwout - eighth in Race 1 when he flipped - and young Herman Winning's uncharacteristic seventh in Tuesday's first race was his only finish worse than second but was rendered virtually painless.

With the high-pressure system hanging over the bay, the wind was only a late arriving 10 to 15 knots, and solving the channels of wind puffs and currents in the week's persistent ebb tide was a challenge. For the second race it produced an odd spectacle of half the boats starting on starboard tack at the committee boat end of the line and half starting on port tack from the pin end.

Although port tack starts had led to all victories up until then, Hamlin and his crew of Fritz Lanzinger and Matt Noble worked their way out of the conventional gang to lead at the windward mark near the bridge. Then, instead of jibing back to the far side of the course, as almost everyone does, they went for the beach, avoided the dogs chasing tennis balls in the water and delayed their gybe before shooting back across the fleet and covered the Winnings, father and son, the rest of the two-lap race.

Lanzinger, whose chores include watching the conditions as guides around the course, said: "We played a few puffs along the shore, and our ability to be patient helps, especially when you're doing 14 knots and the other guy is doing 20."

They made one bold call on the second lap to tack away from their followers short of the layline to the mid-course gate, but it paid off. They rode the ebb tide expertly and sailed higher than their rivals who tacked on the layline but soon were directly behind again.

Lanzinger said, "We have a real high [pointing] mode … that's been our strength. We use it to our advantage."

Current leaders
(13 boats; after 6 of 10 races; discards after 5 and 9 races)

1. Appliances Online, Herman Winning/Peter Harris/Euan McNicol, Australia, 1-1-2-2-(7)-2, 8 points.
2. Thurlow Fisher Lawyers, Michael Coxon/Aaron Links/Trevor Barnabas, Australia, 8-3-1-1-1-4, 10.
3. Yandoo, John (Woody) Winning/David Gibson/Andrew Hay, Australia, 3-2-3-(5)-2-3, 13.
4. CST Composites, Howard Hamlin/Matt Noble/Fritz Lanzinger, USA, 2-4-(5-4)-3-1, 14.
5. Maersk Line, Graham Catley/Riley Dean/Nick Catley, Australia, 5-(15/DNF)-4-3-6-6, 24.
6. CT Sailbattens, Alex Vallings/Chris Kitchen/Josh McCormack, New Zealand, 4-5-(14/DNF)-7-4-5, 25.
7. JF Hillebrand, Phil Airey/Murray England/Sam Tretheway, New Zealand, 6-7-6-6-(8)-7, 32.
8. Panasonic, Jonathan Whitty/James Hozack/Tom Anderson, Australia, 7-6-(15/DNF)-10-5-8, 36.
9. Harken Black, Skip McCormack/Paul Allen/Jodi McCormack, Australia, 9-9-7-8—(12)-12, 45.
10. Tangles' Harken Express, Patrick Whitmarsh/Joe Penrod/Mark Breen, USA, (15/DNF)-8-8-145/DNF-9-9
11. Skiff Foundation Red/Hogin Sails, John Gilmour/Pike Harris/Cooper Dressler, USA, 10-(15/DNF)-9-9-13-11,
12. skiffsailing.org, Chad Freitas/Dan Morris/Tangles, USA, (15/DNS)-14/DNF-15/DNF, 15/DNF, 11-10, 66.
13. Harken Grey, (crew names not available), (15/DNS)-15/DNS-15/DNS-15/DNS-10-13, 68.
14. Chad's Angels, Mallory McCollum-Bozina/Yvonne Galvez/Katie Love, USA, no finishes, 75.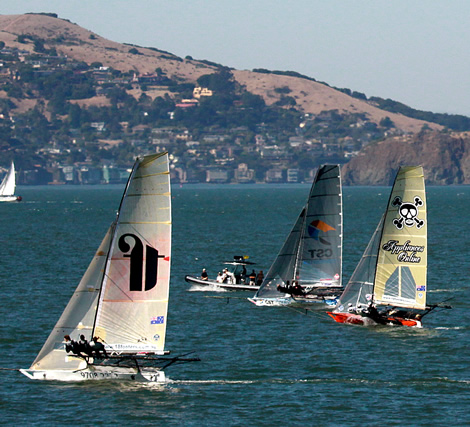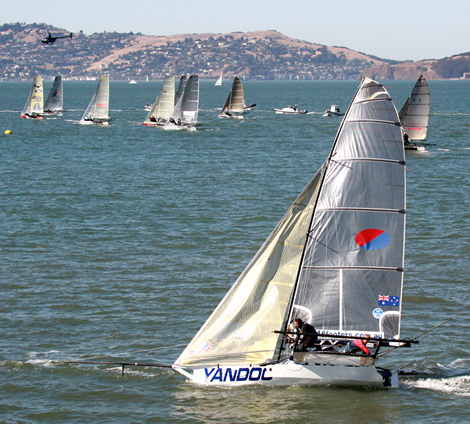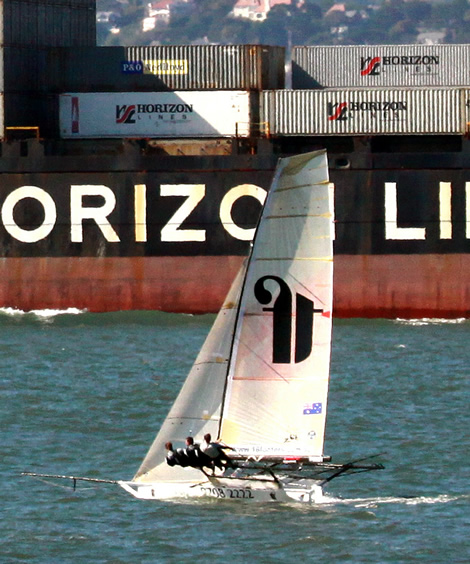 Back to top
Back to top