Return of the sailing giant
Skandia Team GBR may still be the force to be reckoned with among Olympic sailing teams, however for 2012 several other nations are on the rise. One of the most potent of these is the American US Sailing Team Alphagraphics.
According to Dean Brenner, Chairman of the US team's Olympic Sailing Committee, change has been underway in the American team since his leadership group of 10 came into existence in the autumn of 2004.
"It is important to understand why we have done what we've done," says Brenner, who himself narrowly missed selection to go the Sydney Games with Ed Baird in the Soling. "Until 1992, the US was the top by a lot. The whole world up until that time was competing as amateurs. But then it changed and the US didn't change with it. It took the US a few years to realise that a change had occurred. We won nine medals in 1992. The next time around we won only two. If you are running a business and you just had a massive success and then the next time you have a disappointing outcome – maybe you change everything or maybe you think it is an anomaly. So nothing changed after 1996. Then in 2000 in Sydney we won four medals and that delayed any change even further because it was like 'how bad is it? We won four medals'. So that delayed any significant change for another four years. Then we had two medals in Athens so then it was no longer a blip – it was a trend."
Brenner also points out that over the last three or four Olympiads there has become more parity between the top nations. While the US team's performance relative to that in past Games over 1996 and 2004 was 'down', they still came home with the second most medals of any country, behind Team GBR.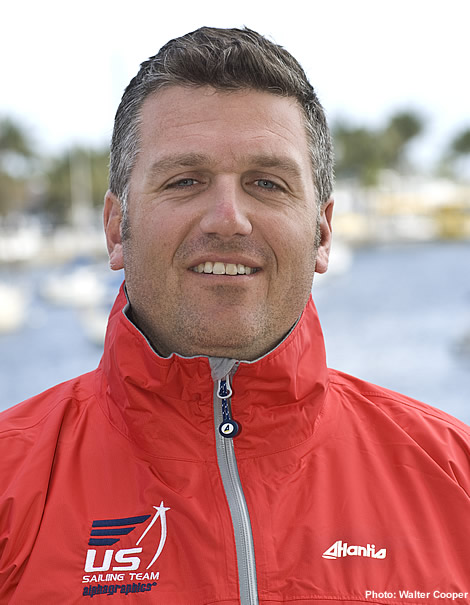 Structure

In comparison to Team GBR, the make-up of the US team's management structure is very different. In addition to the volunteer advisory group led by Brenner there are eight or nine full time staff including Olympic Director Katie Kelly and head coach Kenneth Andreasen (who replaced Gary Bodie after Beijing). However there are also five sailors who are elected by the sailing team on to this group.
When they set up in 2004 Brenner says they were aware that their existing model was broken and set about making changes from the bottom up. They were not so proud as to avoid 'borrowing' good ideas from other nations and they have defined their objectives in an impressive long 20 year plan – a "weather mark" as Brenner puts it. "The first things on the list to change were to clean out any wasted expense and start fund raising like crazy. We spent 2005-2008 raising a lot of money – mostly private money first. We didn't really try any commercial venture, because we didn't feel we had a product yet that we could sell." They managed to raise several million dollars from $25,000 gifts.
Other key developments leading into Beijing were building their trust between them and their athletes and transferring the focus from how their sailors stood nationally to how they stood internationally. "We used to give out money based on being no1 on our team nationally, even if you were last in the Worlds. We changed all that," says Brenner. "It was fortuitous because at the same time as we were doing all this a lot of the older veterans of US Olympic sailing moved on and we had a whole new generation of talent - like Paige Railey, Anna Tunnicliffe and Andrew Campbell and Stu and Graham in the 470.
"In Beijing we won two medals. We could have won three or four, but 15 of our 18 athletes were first time Olympians. We only had Lovell and Ogletree and Chris Rast who had been in the 49er for Switzerland. And other than John Dane all of them were really young. We knew we were going to have a bunch of them back this time."
The trust between US Sailing and the sailors was vital for previously Olympic sailors in the US had been largely left to their own devices not only to secure funding for their campaigns but also to run them, their logistics and coaching, etc, with US Sailing essentially stepping into the frame for the selection process and the lead up to the Games.
"This current crop of athletes - we have given them a seat at the table, they have a voice," says Brenner. "We don't always do what they want, but we always listen to them. Our athletes don't feel like they are employees, or that they are driven by some unknown committee that sits off in an office somewhere. When I come to these events I am not here as a coach - I am here to pat them on the back, hear what they have to say."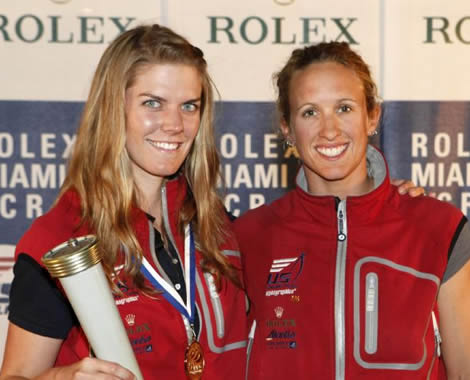 A difference between the USA and Europe is that over there there is more philanthropy from individuals and less from corporations. Today Brenner says that around 40% of their funding comes from the US OC, still their biggest backer (whereas it used to be 90%) with the remaining 60% more or less equally split between private and corporate backing.
Following Beijing, Brenner says they had the product in place and the time had come to ramp up their corporate backing. The US team has been supported by Harken since the 1960s while Rolex is also a long term sponsor. The most ground breaking sponsorship though came prior to Beijing when Alphagraphics, a company belonging to Pindar, stepped in in a major way as the sailing team's title sponsor – US Sailing Team Alphagraphics. "We called the US Olympic Committee and said we were thinking of creating this type of relationship with a title sponsorship and they said 'let us know how you get on!' Among the US OC sports, we are the only one with a national team with a title sponsor," states Brenner.
Going into Beijing they created a new logo around Alphagraphics and as part of the deal Brenner and his commercial man Dan Cooney regularly visit Alphagraphics conferences with their athletes, who also do appearances for the company on special occasions. Alphagraphics' involvement in sailing before this included backing Helena Darvelid's all female Open 60 team in the EDS Atlantic Challenge and Emma Richards' entry in Around Alone (Velux 5 Oceans).
While Alphagraphics is the title sponsor, Rolex and their clothing provider Atlantic Weather are the US team's Gold partners.
Developing the relationship with the sailors was also vital because in the US the law works differently than elsewhere as Brenner explains: "We had the logo, but we weren't allowed to make the sailors wear it until we could provide them funding for it. In the US the Ted Stevens Amateur Sport Act requires that if you are going to force an athlete to wear national team branding you must compensate them for it, because it is their advertising space to sell."
So sailors who now receive money centrally from the team have to sign a contact agree to wear the team clothes and carry the team branding. To date, says Brenner, all the sailors have signed this contract. "We just decided that if we were going to be a viable property commercially we had to look and act like a team, otherwise there is nothing to sell."
Sailor funding has increased substantially and the US team has four levels – A1 through to A4. As Brenner says, this is all based on performance at a set list of events on the international circuit, rather than the sailor's standing domestically. A1 sailors have achieved a podium place at their class' world championship, while A2s have to get three top five places on the list of events. For A3 it is three top 10 places and for A4s it is three top 20s.
"In some classes such as the Laser even making A4 is not easy," advises Brenner. "But once you break into it and the money starts to flow then it gets easier to train more, etc. It is completely objective. The sailors understand how it works and they trust it. No one feels there is any back room favouritism."
Brenner says that the Team GBR system where there are selection criteria, but ultimately the choice can become the subjective decision of a selection committee, would not fly in the US. "Technically we might get it approved, but it would be an absolute guarantee of lawsuits" – as happened over the Australian team's 49er selection for the Sydney Olympics.
Typically for a 470 team, not doing any other sailing, Brenner reckons that around 70% of their budget is now being provided centrally from them. With more expensive campaigns such as the Star it might be 50%.
Brenner says that their fund raising, both privately and commercially has been success. They have raised their budget by 400% in five years and of this 76-80 cents in every dollar heads directly to the sailors. "I'd like to give them more than that. Compared to GBR's budget - I don't have the details but you only have to look around and make some judgements - they are probably still outspending us three or four to one but they used to outspend us ten or 12 to one! Every regatta we go to there are more GBR RIBs, more cars, more staff wearing Team GBR gear than any other country."
Part 2 of this article where Dean Brenner discusses their new selection procedure and the make-up of their development squad will be published tomorrow
Back to top
Back to top