A world first: Adam May's solid wingmast foiling Moth
Finally he has done it! Former Olympic Tornado sailor Adam May last weekend went for his maiden voyage in the first ever solid wingsail-powered foiling Moth.
"It is something I've had in my head for years," says May. "I've always been interested in C-Class cats. In a way, C-Class cats and the Little America's Cup was more of a sailing aim than the Olympics or the America's Cup and I've managed to be involved in those other two before Little America's Cup. The technical side of sailing had always intrigued me, which is why I did my degree in Aeronautical and Astronautical Engineering and I did some time at Airbus in the wind tunnel and design office – all things that are quite relevant."
May has been out to the last two Little America's Cups and on one occasion C-Class guru Steve Clark let him sail his solid wingsail LAC winner, Cogito.
The obvious issue with the solid wing on the foiling Moth is the capsize problem. As Fred Eaton's C-Class team recently discovered, solid wings don't like collisions with water, particularly at speed. And that was on a stable catamaran platform. A solid wing, precariously perched on top of a foiling Moth???
May says that this has been foremost in his mind. "I thought if you could make one light enough you could make it survivable in terms of the structure. If you do a full-on crash, then yes it probably won't survive. But then I thought 'when was the last time I did a full-on crash?' And actually the boats have got controllable enough now, that most of the capsizes now are more silly ones, like you get a tack wrong and it is a very gentle lay down. So I planned that it would be able to survive casual use. You need to be able to capsize and clear weed off the foils and launch it, etc. But I mainly wanted to do it because it would be bloody cool!"
The design of the wing is actually more akin to the BMW Oracle Racing trimaran's solid wing in that it is simpler than a typical C-Class rig, comprising just two 'elements' (vertical components) instead of the C-Class' aerodynamically more efficient three.
May says mid-way through the process he also chose to take a step back from the Moth class's sail area maximum of 8sqm and the effective maximum luff length restriction of 5.3m. That was partly due to weight but also because sailing with a conventional Moth rig, the boat is already over powered in 10 knots. He hasn't measured the area of the wing but reckons it to be 7-7.5sqm.
"I thought I would play it safe," admits May. "This was more a case of being first to do it. It was a science project in many ways to see what it was like, so I went a bit small."
The solid wing is fitted to May's Mach 2 platform and as this wasn't designed to carry a solid wing, it compromised the design in several ways. Firstly the shroud base is narrower than May would have liked. The cord of the wing is shorter because the main sheet has to be aft far enough so that it loads up allowing the wing to fold [camber] naturally. May says he could have gone for a transom-mounted mainsheet (as some Moths have), but he wasn't used to this set-up and didn't want to have spend time getting used to it.
Balance is also not perfect as due to the constraints of the Mach 2 platform and the shorter than ideal cord of the wing, the centre of effort has moved forwards. To improve matters the pivot for the wing is slightly back from its leading edge, and he can still carry more rack than he did on Sunday, but ideally the centreboard case should be further forwards and May says he was reluctant to start hacking into his pristine all-carbon Mach 2.
"The good thing is that on a normal boat the balance would be quite an issue, but on a foiling Moth, because you can play with the angles, you can get away with it being slightly out of balance. So I can live with it."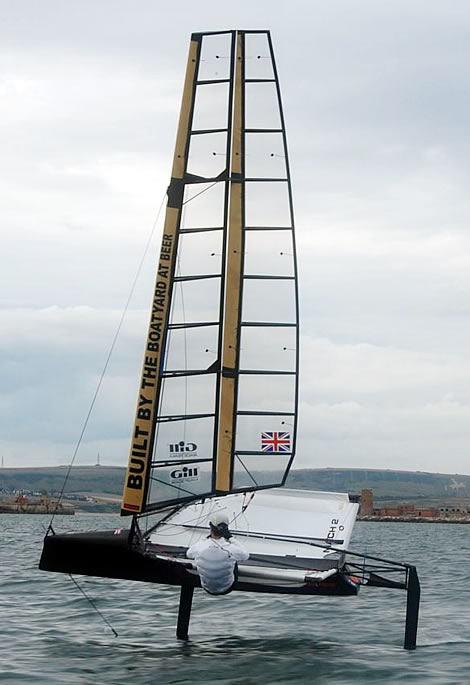 As mentioned May reduced the span of the wing because he was worried about weight and in this respect the end result is impressive – it has come out at 9.5kg, just 1kg more than the standard Moth rig components. And with this first attempt May says he knows have been overbuilt in some areas. "I am pretty sure that I could do a Mk2 rig at the same weight or lighter [than a standard Moth rig] - which is quite scary! But the great thing is that traditionally boats heel and all that extra weight goes the wrong way, but the Moth is the one class which goes the right way [ie sailing upwind it is heeled to weather like a sailboard, rather than to leeward]. However May opted to keep this first wing light. "I was worried about the swing weight, for example when you gybe, so I wanted it minimum weight, but so far I haven't noticed the difference."
An area where he will try and save weight is in the rear element which he reckons he made too bulletproof, because as a result it has ended up too stiff. However he has already conceived ways he can replace the bulkhead in the rear element with one with a revised lay-up, which in turn would also save weight.
"You can get caught up in design for ages, so I thought 'no, I'll just build one.' In 20 minutes out on the water I have learned so much. There is loads of potential just in this," he says.
While solid wingsails might look fiendishly complex in fact when it comes to sail controls they are very simple. There is a main sheet, as normal, and then there is the camber control to adjust the relative angle of the vertical elements (May used the Mach 2's existing Cunningham control lines to adjust this). There is no longer a need for the kicker so this can be removed. Finally there is the twist control – the twist occurring up the rear element - and this is the one which during Sunday's short trial May says was proving too stiff. So on that occasion he was sailing only with main sheet and camber control.
How does it tack? Simple. You just tack and the wing flops over on to the new tack much in the same way as a mainsail with slightly stiff full-length battens does.
The question of course is also how the solid wing foiling Moth performs compares with the standard rigged one. 30 minutes on Portland Harbour has not been enough to come up with any hard numbers, however May's day job is to analyse boats' performance and he gained a small insight when Simon Hiscocks lined up against him in his 49er on Sunday. Typically foiling Moths are a little higher and faster upwind than a 49er, although he says you have to work at it. Downwind the foiling Moth is faster but not able to sail as low.
"With the wing I lined up downwind and I was definitely faster and, when I was in the groove, I was lower, but when I lost flow I had to come up and re-attach. I was playing a lot with camber control and I still have a lot to learn with that, but every now and then I got it dialled in right and I got every tell tale attached and 'bang', I was 10 degrees lower. Upwind was the biggest surprise, because it felt like a weapon - I had definite height and pace on a 49er, so I could take quite big distance out of them."
While solid wingsails such as this are typically used on multihulls - in fact this is almost certainly the first that has ever been fitted to a monohull – there is one significant bonus in fitting one to a foil-born Moth. While they are relatively stable laterally, multihulls usually suffer from pitching (unless this is dampened by foils, as some of the C-Class are doing) and this has an adverse affect on the flow across the wing. With the Moth the foils on the centreboard and rudder effectively lock the boat in the water fore and aft and pitch is minimal in comparison.
In terms of construction, the wing is made from carbon, Kevlar and heat shrink film. May had originally designed the wing so that he could get the major components built and he would assemble it himself. In the end due to his time commitments with his RYA coaching, Iain Percy and Andrew Simpson's Star campaign and more recently with TeamOrigin, Kevin Driver down in Beer ended up building most of it. A female mould was made for the leading edge of both elements, which then made using wet lay–up and 100 gram Kevlar (carbon was too expense), although the frames were made from a pre-preg carbon panel and subsequently jigsawed out by May.
In terms of cost, now the tooling is done, May reckons that the solid wing could come out at a similar price to a conventional Moth rig package. "The great thing is that you could build one in your garage by just buying the kit – leading edge, the ribs and the bits and glue it together. That is quite exciting as it opens up to the homebuilder again."
However the build still needs some development. May says that he will spend more time looking at the heat shrink plastic. Paul Larsen has come to the rescue with his experience with this on the Vestas SailRocket and Invictus Challenge C-cat wings, but do you take the weight hit from using bulletproof plastic which has a high grab that would require the frames to be beefed up? May reckons that you might do this on some of the more vulnerable top panels.
Another potential development is to make the wingsail unstayed. This would certainly require a tailor-made platform to park it in. There is certainly an attraction to having a foiling Moth that takes less time to rig than it does to put your wetsuit on.
The main issue is certainly capsize. This type of rig would only be suitable for foiling Moth sailors confident enough in their ability to avoid serious wipe-outs. May says that he would also think twice about the venues he would sail it at. Protected Portland Harbour is fine because it is flat water but probably not Saunderford, where they have in the past held the Moth Nationals where they were launching into breaking waves.
So is this the future of the foiling Moth? May says that in no way does he want to compromise the success of the class. "People have agreed it is in the spirit of the class just to development to see how much faster we can go with such a tiny little boat."
If it gets the thumbs up from the class as it seems to be then they could go into production with the solid wing sail in the future, but they haven't really planned anything. "I could have still been pulling carbon splinters out of myself right now!"
Otherwise he is perfectly prepared for it to be banned or limited by the class - he has a vision for some point this autumn when Invictus Challenge has returned from the Little America's Cup in Newport and Paul Larsen's new Vestas SailRocket Mk2 is launched, that they can have a line-up in Weymouth - all the UK's solid wingsail fleet.
In the meantime May plans to sail his new weapon every day in Weymouth at Skandia Sail For Gold next week, before taking it to the European championship in Silvaplana, a hopefully flat water venue in Switzerland.
"It is my classic 'doing less than a week of training and see what happens' approach," says May. "The sensible plan would be to do more time in the ordinary boat and come in the top five – but where is the fun in that? Or I can go radical and pull out a wing rig and send it! I have always said, if the class doesn't like it we will ban it in some way, whether it is a box rule. But I have been staggered how well it has been received so far."
Photos from Adam May and Ben Rhodes
| | |
| --- | --- |
| | |
| | |
| | |
| | |
| | |
| | |
| | |
Back to top
Back to top