The Medal Maker
One of the not so secret weapons behind the success of the Australian Olympic team is their Ukrainian born Head Coach, Victor Kovalenko.
In true Aussie tabloid style Kovalenko has been dubbed 'the medal maker' thanks to his impressive record. Since Seoul in 1988, he has contributed to five Gold medals and three Bronze, twice scoring 'double gold' with the Australian team – in Sydney with Tom King/Mark Turnbull and Jenny Armstrong/Belinda Stowell and in Beijing with Nathan Wilmot/Malcolm Page and Elise Rechichi/Tessa Parkinson.
There are probably other coaches out there with a medal tally approaching his score, but in the circles he operates Kovalenko is considered something of a guru, more than a mere coach. Certainly you perceive this when you meet him – he has an endearing sparkle and a modesty that instantly warm you to him, but also has the piercing insight of a top psychologist and, one suspects, the ability to probe alarmingly deep into your soul.
According to American Morgan Reecer, who coaches the British 470 squad, and has observed him since 1985 when Kovalenko was coaching the Soviet Union team, Kovalenko is unique in that he trained from the outset as a coach. "To be honest it probably wouldn't matter if he was a sailing coach or a track coach. He has a very good mental style for sailors. Some sailors like Nathan Wilmot took years to finally buy into Victor's system."
Heralding from Dnipropetrovsk, Kovalenko as a sailor competed as a crew in the Flying Dutchman and also the 470, and was set to go the Olympic Games in Los Angeles as part of the Soviet Union team until Soviet Union chose to boycott it. But this incident galvanised his move from sailor to coach.
So what was it like being part of the Soviet team? "It was a unique environment. It was a university in sport because East Germany and the Soviet Union they had such strong sports histories and they had a high education in sport," states Kovalenko.
All of the Soviet sailors in the pre-Glasnost 1980s were full time and in this period Valentin Mankin was the leading light - by 1980 he had become one of the most successful Olympic sailors of all time having won three golds and a silver, uniquely in a range of classes from the Finn, the Tempest to ultimately the Star.
"It was the life university, because when we were sailing and I was in the national team, Valentyn Mankin was sailing and a lot of other legends and I was learning from them, their spirit and their attitude and their knowledge," reminisces Kovalenko. "We had a system with a scientists group and psychologists, and we were always on the edge."
He continues: "We were a unique squad. Sport at that time was very important and very political. It was the fighting between the two systems – capitalism and communism. And the communists always were trying to show their power. That is why the Soviet Union was winning all the time at all the Olympic Games with 50-60 gold medals."
Following his success with the Ukrainian team in Savannah, he accepted an offer from the Australia Yachting Federation and moved to Australia in October 1997.
"The first time I went to Australia was in 1991 for the 470 World Championship in Brisbane," recounts Kovalenko, who now lives in the Fairlight district of Sydney, just inland from Manly. "It was a fantastic time. We lost the Worlds - we were second, but it was okay. I was really impressed by the country –unique conditions for sailing, but most of all by the people: friendly, open, easy. I have lived in Australia for 12 years and I am impressed every day. I can meet people on the street, as soon as you meet their eyes you know – they say 'good day – how are you?' And it is not just me. If you meet the eyes in other countries they hide their eyes. In Australia, there is contact, they talk to you."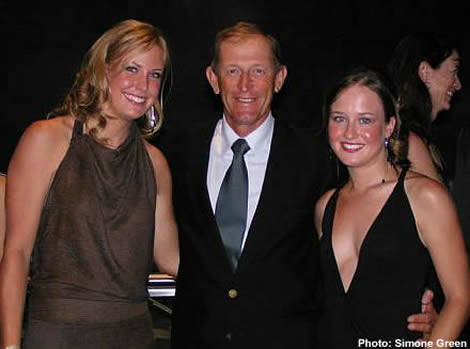 Following his team's double 470 gold at the Sydney Games, Kovalenko was appointed Head Coach, but his speciality remains the 470, a class he ardently defends. "To be top in 470 you have to be very special, you need unique abilities and then you build your skills. If you look at all the top coaches in the world, of the top 50 half of them work in the 470. The boat is perfect, but the family, the people, the coaches, the athletes, they are so brilliant. In the Finn maybe three are good. In the Laser maybe eight of them are good. In the Star a lot of them are stars, but not all of them are good. In the 470 to be good, if you are top 15 in the world, you are almost an Olympic medallist."
The 470 is the hardest Olympic sailing medal to win? "Oh yes. This is a university of sailing. If you are good in the 470, you are good in all classes."
Being a complex character, to get to the bottom of exactly how Kovalenko ticks one would have to spend considerable time with him. As Malcolm Page, the 470 Beijing Gold medallist who has had Kovalenko as a coach for the last 13 years, points out, Kovalenko is not the kind of coach who can come in for one regatta: "He takes everyone as an individual and works on them. As he always says, he likes them to grow up as a person. He has had success with so many different teams. He can make people magic. He can see very well and knows how to action it. He is a special person. He is the sort of guy who thinks out of the box all the time. He comes up with these weird and wonderful training drills. Some of the courses he sets up – normally you don't do triangles and sausages and figures of eights and weird shapes. He thinks it is good idea – and then it passes thankfully! He is a lateral thinker."
Kovalenko reckons his secret is that he loves his job to the extent that not a waking hour goes by without thinking about what to do to make his sailors improve. Phil Jones, the Chief Executive of Yachting Australia, says that initially when Kovalenko moved to Australia they lost half of the 470 squad since they couldn't live up to the commitments he demanded of them. "When you talk to a lot of our guys and you ask them for what they look for in a coach, the reaction is 'we just want someone as committed as we are to the outcome we are trying to achieve'. I think Victor epitomises that and more. He is absolutely singleminded. As Victor says 'if you want to win a Gold medal you have to commit all your time, all your effort and all your money'."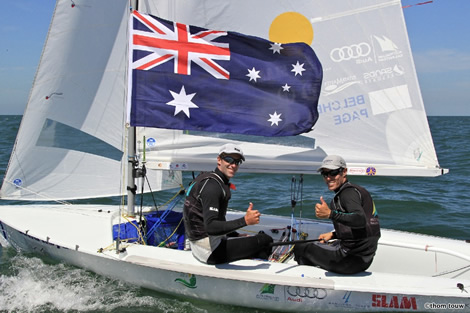 However Jones reckons that Kovalenko's skill is his ability to get the best out of his sailors mentally, but significantly, at the right time. "Obviously his technical training is very good. He was trained in the Eastern block, but he is just really good at pressing the right buttons at the right time. At Olympic level no one is going that much faster than anyone else, it is about making the decisions at the right time and he seems to get people into the right frame of mind to be able to do that."
Morgan Reecer agrees. To Kovalenko Grade 1 events are just training, about getting better gradually in order to perform at the big events. "He doesn't tell his athletes with where they go on the course, although he helps them a bit with how they are sailing the boat. They are set up with how they approach the regatta rather than how they sail the boat."
Kovalenko says there is no formula to his approach. All of the sailors he has worked with and had success with are different and have required individual input from him. "Sometimes it is logical and sometimes it is very strange. It is all about chemistry, in fact not chemistry, alchemy. Sometimes to send a message to a sailor you have to wait for months because if you rush, it won't work. If you wait and 'now is the time', you are able to change them.
"Sometimes I use my tricks instead of saying it myself to them, I am asking friends to tell them because it will work more effectively and I know exactly who I have to ask because if it is on a very personal level, can you tell this guy just this one sentence and sometimes it can change their life. That is why I call it alchemy. That is job no1 because you are working with characters, personalities. It is not just about teaching them to pick up the shifts, because they are much better than me at that."
Sailing, for Kovalenko, is also not just a sport, but a philosophy. Phil Jones has an anecdote of attending a Junior event with him where Kovalenko was asked to give a speech. After he addressed the sailors he turned to their parents and pointed out if they want their children to be strong they could send them to the gym. If they wanted them to be agile of mind they should play games like chess or cards. "If you want them to be both of those things and well rounded as people it is very easy – you buy them a boat!" Jones continues: "I think that is a big driver for Victor: It is not only about the result, it is about the people that come out at the end of the journey."
Kovalenko's career has not been continuously successful. The performance of the Australian team in Athens was dire and they came home with no medals. But in Beijing they turned this around.
As Phil Jones says: "China was a big deal for him, because he went into Athens in 2004 not overly confident, but Victor thought we'd medal in at least one of the events and of course we came back with nothing. That wasn't quite devastating, but that had him questioning a bit about what to do next, and after a few months he shrugged his shoulders and buckled down and got on with it. His reaction was 'I am not going to let that happen again'. I think in 2008, with the boys, given their history and the level that he managed to get them to and the level they'd been sailing at they weren't even favourites. The girls, Elise picked up an infection in China and she was really sick for a long time. But again he just got them to the point in that week where they just shone. I think those two gold medals were him proving to himself that he could do it again. It is testimony to his fortitude and his approach as much as anything else."
For Kovalenko his success in 2008 was probably the highlight of his career as a coach. "I think the best moment was before Beijing. I was extremely happy before the regatta. I was much more happy then than after the regatta, everyone noticed that. Why? Because I was 100% sure that we were ready. For the first time in my life I said to my sailors 'don't worry about the Games guys, you are ready'. So that was the top moment. I was very confident they would get the gold."
There is talk that 2012 could be Kovalenko's last Olympiad. While he is Head Coach, one gets the impression he is spread too thinly and he would much prefer focussing his energy on one or two sailors. During Skandia Sail for Gold, Kovalenko will turn 60 – in fact it will be party week as it is also his wife Tatiana's 60th as well as their 30th wedding anniversary, all on three consecutive days.
So who is his top coach? "In sailing there is Valentyn Mankin." Then he thinks for a bit. "My last hero is the Spanish soccer coach, Vicente del Bosque. He is unbelievable. First of all his vision of the future – the future of soccer and secondly his ability to see the game and understand his assets and he was able to control his temper because that was the key to success. If he was more emotional, he never showed that to his athletes and was very constructive for his players. If I could meet anyone now – it would be him. I have maybe six questions for him."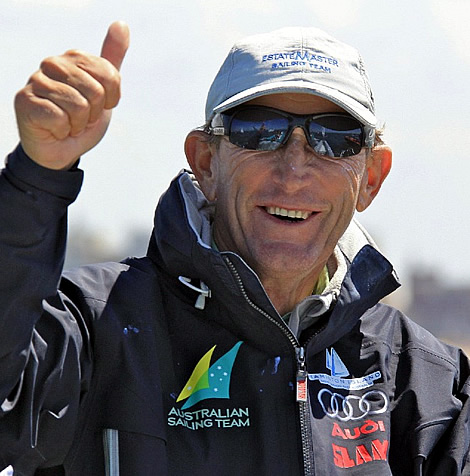 Back to top
Back to top