Dutch duo win the day
Mother nature played ball for the last day of the Delta Lloyd 470 World Championship, with brilliant sunshine and a 12-18 knot southwesterly breeze for the Men's and Women's medal races, held directly off the beach at the Hague.
In the Men's race Australians Matt Belcher and Malcolm Page had secured gold through their 20 point lead yesterday to claim the Men's World Championship title. "This is my fifth World Championship win and every one of them has been hard," commented Page. Belcher added: "This year our goals were to win one event outside of Europe, one grade 1 event and to win the World Cup and to medal at the Worlds. This has been a marathon and by day three it felt like we had run 30km already..." They have more than achieved on their objective for in addition to their latest title, Belcher and Page have also sewn up the 2010 ISAF Sailing World Cup, with an event to spare.
With gold secure, the fight was fully on for the remaining podium positions between six boats. In the end it was France's Beijing bronze medallist Nicolas Charbonnier, sailing with Baptiste Meyer Dieu, who won the men's medal race to take the silver, passing the medal race's early leaders, Croats Sime Fantela and Igor Marenic, who took bronze. Second going into the medal race, Greece's Panagiotis Mantis and Pavlos Kagialis came home ninth, dropping them to fifth overall behind Skandia Team GBR's Nic Asher and Elliot Willis.
"We were thinking we could win if it was light, but finally we got second and it was quite windy - we were thinking we weren't that fast in those conditions," said Charbonnier. "That is new for us and we are really happy about this - it is good for the future."
While Fantela and Marenic were first around the top mark, the French team gybed early and pulled into the lead on the first run, never relinquishing it.
"It was a difficult race," admitted Fantela. "We had a good start and first upwind." But on the run they chose to continue on starboard gybe. This took them closer to the beach where in theory the tide against them at this point should have been less, but according Marenic this proved not to be the case and contributed to Charbonnier and Meyer getting through.
"We are very pleased," concluded Fantela, the out-going World Champion. "Any medal was a success for us."
However the class act of this regatta has been the newly crowned Australian World Champions, Beijing Gold medallist Malcolm Page and his new helm Matt Belcher.
"They are really good, especially when it is windy," said Charbonnier. "We have a lot of work to do if we want to compete with them." This view was shared by Fantela and Marenic. "They sail really consistently with good speed and good tactics and strategy. If they didn't start well or the first upwind isn't good, they can really pass many more boats than anyone else. And Viktor has many many medals," confided Fantela, referring to Viktor Kovalenko, the Australian team's Ukrainian coaching legend, who has been dubbed 'the medal maker' thanks to the part he has played in five Olympic gold 470 medals.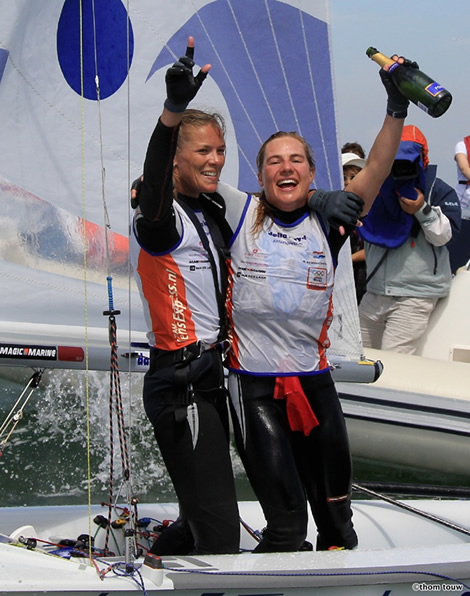 470 Women
While Belcher and Page were secure in first place going into today's medal race, the case was the opposite in the Women's medal race where leaders New Zealand's Jo Aleh and Olivia Powrie were one slender point ahead of the powerful Dutch defending World Champions, Lisa Westerhof and Lobke Berkhout.
In the end, the Dutch got a good start off the pin end of the line while Aleh and Powrie were forced to tack away early and duck transoms. The Dutch pulled into the lead on the first run with the New Zealanders mid-fleet and while the two boats match raced up the second beat this was not enough to bring the New Zealanders back into contention. The run saw the Dutch overtaken by France's world no1 Ingrid Petitjean and Nadège Douroux and third placed Italians Giulia Conti and Giovanna Micol, but the Dutch still had four boats between them and the New Zealanders. Victory was theirs, their second 470 World Championship win as a team, and Lobke Berkhout's fifth, a record that now exceeds the four wins of Greece's Sofia Bekatorou and Emilia Tsoulfa.
Even before they had reached the finish line the celebrations had begun on the Dutch boat, as it had in the spectator fleet, jubilant that their sailors had taken Gold. "Winning a title in our own country in home waters was definitely something extra," said Berkhout.
While disappointed not to have won, Jo Aleh and Olivia Powrie were more than satisfied with second, given that their objective had been a top five finish in this World Championship. Aleh reckoned the Dutch had got away from them on the first run. "We got in a lane but were then held up by a few other boats," she admitted.
Going into the medal race, Giulia Conti and Giovanna Micol were reasonably secure in their bronze position, a second place finish in the medal race making little impression on the outcome. So disappointed/happy? "Both of them," said Conti. "I am happy to get third, which is a great result; disappointed because of the disqualification yesterday which took us out [of contention for gold]. But still I am pretty satisfied and if I had to mark myself out of 10, I would give myself 9."
Winning the medal race caused France's Ingrid Petitjean and Nadège Douroux to knock Skandia Team GBR's Sarah Ayton and Saskia Clark out of fourth place. The French team, like the Italians, were hard hit with a black flag penalty for being over the start line early yesterday in race 10. "We didn't train too much in the wind this year - in fact we didn't train too much at all," admitted Petitjean. "Usually we love strong winds, it is just we were not so comfortable."
This is the first major championship The Hague has hosted since the International Sailing Centre has opened. However the city is gunning hard to host the ISAF World Sailing Games prior to the 2016 Olympic Games.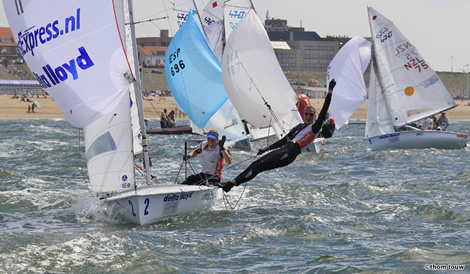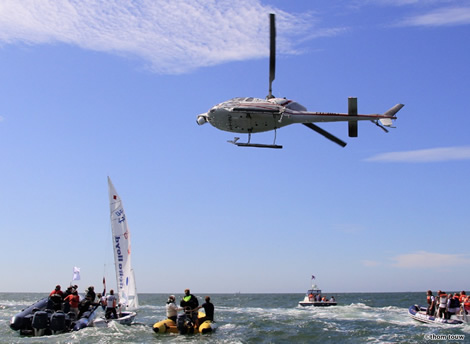 From Richard Langdon/www.oceanimages.co.uk

Back to top
Men's medal race:
| | | | | | | | | | | | | | | | |
| --- | --- | --- | --- | --- | --- | --- | --- | --- | --- | --- | --- | --- | --- | --- | --- |
| Pos | Name | Sailno | R1 | R2 | R3 | R4 | R5 | R6 | R7 | R8 | R9 | R10 | R11 | R12 | Tot |
| 1 | BELCHER Mathew, PAGE Malcolm | AUS 11 | 1 | 1 | 1 | 5 | -15 | 7 | 7 | 1 | 14 | 1 | 2 | 2 | 44 |
| 2 | CHARBONNIER Nicolas, MEYER DIEU Baptiste | FRA 7 | 2 | 3 | 2 | 7 | 10 | 18 | 6 | (bfd) | 5 | 7 | 3 | 1 | 65 |
| 3 | FANTELA Sime, MARENIC Igor | CRO 83 | -14 | 5 | 5 | 11 | 2 | 10 | 2 | 2 | 11 | 8 | 5 | 4 | 69 |
| 4 | ASHER Nic, WILLIS Elliot | GBR 854 | 1 | 1 | 11 | 7 | 2 | 6 | -18 | 9 | 1 | 18 | 12 | 5 | 78 |
| 5 | MANTIS Panagiotis, KAGIALIS Pavlos | GRE 1 | 7 | 9 | 4 | 1 | 12 | 4 | 3 | 3 | -18 | 6 | 11 | 9 | 78 |
| 6 | COSTER Sven, COSTER Kalle | NED 1 | 10 | 2 | 6 | 4 | 16 | 2 | 1 | 5 | -27 | 11 | 10 | 6 | 79 |
| 7 | MARINHO Alvaro, NUNES Miguel | POR 1 | 3 | 5 | 13 | 6 | 1 | 17 | 16 | (bfd) | 4 | 12 | 1 | 3 | 84 |
| 8 | PATIENCE Luke, BITHELL Stuart | GBR 844 | 4 | 5 | 8 | 2 | 9 | 1 | 5 | 4 | 2 | (dnf) | dns | 7 | 95 |
| 9 | ZANDONÀ Gabrio, ZUCCHETTI Pietro | ITA 2 | 6 | 10 | -18 | 13 | 15 | 3 | 4 | 6 | 8 | 4 | 13 | 10 | 102 |
| 10 | KLIGER Gideon, SELA Eran | ISR 7 | 2 | 1 | 20 | 4 | 18 | 15 | 13 | 12 | -26 | 9 | 4 | 8 | 114 |
Women's medal race
| | | | | | | | | | | | | | | | |
| --- | --- | --- | --- | --- | --- | --- | --- | --- | --- | --- | --- | --- | --- | --- | --- |
| Pos | Helm, crew | Sail no | R1 | R2 | R3 | R4 | R5 | R6 | R7 | R8 | R9 | R10 | R11 | R12 | Tot |
| 1 | WESTERHOF Lisa, BERKHOUT Lobke | NED 11 | -19 | 5 | 1 | 2 | 5 | 1 | 1 | 1 | 5 | 2 | 1 | 3 | 30 |
| 2 | ALEH Jo, POWRIE Olivia | NZL 75 | 2 | 2 | 1 | 4 | 3 | (dnf) | 3 | 2 | 2 | 1 | 3 | 7 | 37 |
| 3 | CONTI Giulia, MICOL Giovanna | ITA 23 | 6 | 3 | 3 | 1 | 1 | 6 | 18 | 3 | 1 | (bfd) | 9 | 2 | 55 |
| 4 | PETITJEAN Ingrid, DOUROUX Nadège | FRA 4 | 21 | 3 | 9 | 14 | 2 | 5 | 2 | 5 | 8 | (bfd) | 6 | 1 | 77 |
| 5 | AYTON Sarah, CLARK Saskia | GBR 842 | 4 | 17 | 6 | 10 | 5 | 3 | 8 | 6 | 4 | (bfd) | 4 | 9 | 85 |
| 6 | KONDO Ai, TABATA Wakako | JPN 4151 | 6 | 6 | 7 | 3 | 6 | 12 | 5 | 9 | 13 | (bfd) | 7 | 10 | 94 |
| 7 | SOFFIATTI GRAEL Martine, SWAN Isabel | BRA 187 | 10 | 4 | 2 | 11 | 7 | 17 | 12 | 19 | 3 | 8 | -28 | 4 | 101 |
| 8 | CLARK Penny, HUGHES Katrina | GBR 850 | 15 | 10 | 2 | 5 | 12 | 8 | 4 | 10 | -19 | 9 | 14 | 8 | 105 |
| 9 | SESTO María Fernanda, MONSEGUR Consuelo | ARG 8 | -25 | 14 | 8 | 13 | 1 | 16 | 15 | 4 | 6 | 7 | 12 | 6 | 108 |
| 10 | PACHECO Tara, BETANZOS Berta | ESP 696 | 13 | 15 | 13 | 4 | 16 | 10 | 16 | 7 | -23 | 3 | 2 | 5 | 109 |
Back to top