Day for the Dutch
Finally after an unorthodox few days off the Hague, with the wind and wave states severely disrupting the race schedule, so for the first time at the Delta Lloyd 470 World Championship the organisers were able to hold three races back to back, on time, allowing crews to return to shore by mid-afternoon.
Today for many the 'real' competition began, the fleets now divided into three – gold, silver and bronze in the Men's class and two in the smaller Women's class. With winds starting out at 20-25 knots with gusts of up to 28 and decreasing slightly through the day as the waves began to be churned up by the tide, so crews returned to the Hague's new International Sailing Centre soaked to the skin, salt encrusted and utterly exhausted.
Undoubted class act of the day were defending World Champions and local heroes, the Netherland's Lisa Westerhof and Lobke Berkhout, who won all three races in the Women's Gold fleet.
"In these conditions we are the strongest team," said towering blonde Berkhout. "If we have a good start and we have a good game plan and good speed, and no risk, then we end up at the top. That happened today. Everything fell in the right way."
But why? "In windy conditions you can make a big difference speed-wise. We have trained in almost every condition and in the wind we have a very good technique, good sail trim, etc."
The Dutch duo definitely looked fastest today among the Women, a combination of talent, local knowledge but also benefitting from being at the heavier end of the crew weight spectrum in the strong conditions. "We have lost some weight for this season, because we thought we could gain something in lighter conditions, but I am still really tall," admitted Berkhout. "The NZ girls are pretty fast as well. The French girls have good speed in these conditions - she has been sailing for a really long time. A lot of speed you can gain is through technique."
The duo have also been training with the rest of the Dutch 470 squad, including the Coster brothers, off the Hague since last autumn. Do they beat the Costers occasionally? "Sometimes! But that triggers them to go faster again, so we can climb up on each other."
While Westerhof and Berkhout's three wins have put them into the lead, they are just one point ahead of yesterday's leaders, New Zealanders Jo Aleh and Olivia Powrie. They posted a 3-2 in today's last two races, a sound recovery after their main halyard disastrously snapped halfway up the first beat in race one. "You do need a main! We checked it all yesterday, but it just snapped right at the top," explained Aleh. "We flipped it over and tried to get it back up, but it is a three person job." They now have a 'DNF', blemishing a scoreline where their lowest score is otherwise a fourth. "We were a bit tired after the ordeal of the first race," Aleh continued. "The waves were a bit crazy. After the tide turn the waves just stood up from the second race and it got worse and worse."
Overall in the Women's Gold fleet the Dutch and New Zealanders together with Italy's Guilia Conti and Giovanna Micol, now in third, remain close, separated by seven points, the lead three now extending ahead from fourth placed Ingrid Petitjean and Nadège Douroux from France.
Another team to have a good day was double Olympic gold medallist Sarah Ayton and Saskia Clark, who are now seventh after a 5-3-8 today. "It was great to get out there and start on time and bash three races in in some awesome conditions...and not have to go straight to bed!" commented Clark, who was feeling a little battered by waves. "There were a few that just took you off the side. We had two – one upwind and another on one of the reaches that took me straight back into Sarah's lap."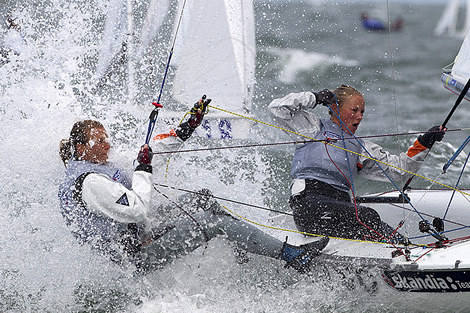 "It was the sea state that is the tricky bit," added Ayton. "So far we've done a little bit, but it is always hard to find big waves and 20 knots. In the first race was more about sailing the boat and then it was more about racing." Ie race one was on the verge of survival while races two and three could be properly raced. Ayton says they were starting better today than they have been earlier in the week.
In the men's division, today's three races have resulted in some reshuffling of the top boats. Australia's Matt Belcher and Beijing gold medallist Malcolm Page continue to hold the top spot and a win in today's final race has provided them with a small cushion ahead of second.
"Winning the last race was nice - good for confidence," said Belcher. "There are still three races to go, but in this fleet you can easily come away with three 20+s. We are happy to still be in there and tomorrow we'll keep on fighting for the lead."
The Aussie duo had had to fight hard in the final race, coming from behind to take the win. "We didn't have the best of starts," said Belcher. "We got ourselves tangled and struggled to hold our lane. Quite a few people tacked on us, but towards the end of the regatta it was bound to happen – but we were happy we held on when we needed to hold on and kept our rhythm."
But the heroes of the day in the Men's class were the Coster brothers Sven and Kalle from the Netherlands, who posted a 2-1-5 elevating them from 11th into third place overall and the young British pair Luke Patience and Stuart Bithell, who surprised everyone (including themselves) when they won silver at last year's 470 World Championship in Denmark. Winning today's first race and following it with a 5-4, has resulted in Patience and Bithell taking over second from Skandia Team GBR teammates, Nic Asher and Elliot Willis, the double World Champions now down to fifth.
"It was our conditions," enthused Patience. "We love the breeze. We love the waves. It is something we are very confident in, so we can push a bit more and pull through the fleet if we are maybe slightly back. We had three good races – we are dead happy."
The 23-year-old Scot added that when the sea got up from race two onwards it had started to get brutal for the crew out on the trapeze wire. "It was very difficult for Stuart to not get hit by every wave, regardless of how high we was wiring. It was hard to get in the groove upwind, but if you could do that it was huge gains."
Also on form in the Men's gold fleet were Greece's Panagiotis Mantis and Pavlos Kagialis, who since this morning have risen from 10th to lie currently fourth, just three points from second. "We like these conditions," said Mantis, adding that they are similar to the Meltemi wind in Greece. "We have done a lot of waiting, but today it was okay – three races, good wind, we finished early. I hope the same for tomorrow."
Similarly performing well in today's big conditions were the experienced Italian 470 sailor Gabrio Zandonà (who's first World Championship was back in 1998) and his new crew since February, Pietro Zucchetti. a
"I enjoyed myself today - it was a very good," said Zandonà. "Conditions were really strong, but we like that. I have a very good crew now - Pietro is strong in strong wind – it is easy to sail with him."
Results
Men's gold fleet
| | | | | | | | | | | | |
| --- | --- | --- | --- | --- | --- | --- | --- | --- | --- | --- | --- |
| Pos | Helm, crew | Sailno | R1 | R2 | R3 | R4 | R5 | R6 | R7 | R8 | Tot |
| 1 | BELCHER Mathew, PAGE Malcolm | AUS 11 | 1 | 1 | 1 | 5 | -15 | 7 | 7 | 1 | 23 |
| 2 | PATIENCE Luke, BITHELL Stuart | GBR 844 | 4 | 5 | 8 | 2 | -9 | 1 | 5 | 4 | 29 |
| 3 | COSTER Sven, COSTER Kalle | NED 1 | 10 | 2 | 6 | 4 | -16 | 2 | 1 | 5 | 30 |
| 4 | MANTIS Panagiotis, KAGIALIS Pavlos | GRE 1 | 7 | 9 | 4 | 1 | -12 | 4 | 3 | 3 | 31 |
| 5 | ASHER Nic, WILLIS Elliot | GBR 854 | 1 | 1 | 11 | 7 | 2 | 6 | -18 | 9 | 37 |
| 6 | FANTELA Sime, MARENIC Igor | CRO 83 | -14 | 5 | 5 | 11 | 2 | 10 | 2 | 2 | 37 |
| 7 | CHARBONNIER Nicolas, MEYER DIEU Baptiste | FRA 7 | 2 | 3 | 2 | 7 | 10 | 18 | 6 | (bfd) | 48 |
| 8 | DAHLBERG Anton, ÖSTLING Sebastian | SWE 341 | 1 | 12 | 6 | 3 | 1 | 9 | -22 | 17 | 49 |
| 9 | CALABRESE Lucas, DE LA FUENTE Juan | ARG 7 | 10 | 3 | 3 | 3 | 3 | -26 | 14 | 14 | 50 |
| 10 | ZANDONÀ Gabrio, ZUCCHETTI Pietro | ITA 2 | 6 | 10 | -18 | 13 | 15 | 3 | 4 | 6 | 57 |
| 11 | HARADA Ryunosuke, YOSHIDA Yugo | JPN 4396 | 9 | 20 | 2 | 11 | 1 | -32 | 9 | 7 | 59 |
| 12 | MARINHO Alvaro, NUNES Miguel | POR 1 | 3 | 5 | 13 | 6 | 1 | 17 | 16 | (bfd) | 61 |
| 13 | KLIGER Gideon, SELA Eran | ISR 7 | 2 | 1 | -20 | 4 | 18 | 15 | 13 | 12 | 65 |
| 14 | LINDGREN Joonas, LINDGREN Niklas | FIN 7 | 8 | 8 | 1 | 19 | 3 | -36 | 11 | 16 | 66 |
| 15 | LEBOUCHER Pierre, GAROS Vincent | FRA 44 | 2 | 2 | 9 | 2 | 7 | (dns) | 10 | bfd | 73 |
| 16 | Zellmer Lucas, SEELIG Heiko | GER 49 | 8 | 17 | -20 | 2 | 8 | 19 | 8 | 11 | 73 |
| 17 | MCNAY Stuart, BIEHL Graham | USA 1713 | 7 | 2 | 16 | 4 | 17 | 20 | -26 | 8 | 74 |
| 18 | BARREIROS Onan, SARMIENTO Aaron | ESP 9 | -15 | 11 | 10 | 7 | 10 | 12 | 12 | 15 | 77 |
| 19 | SAXTON Ben, KOHLER David | GBR 846 | 21 | 16 | 3 | 5 | 5 | 14 | 17 | -23 | 81 |
| 20 | KIM Daeyoung, JUNG Sungahn | KOR 100 | 3 | 6 | 33 | 12 | 4 | 8 | 20 | (bfd) | 86 |
| 21 | SNOW-HANSEN Paul, SAUNDERS Jason | NZL 212 | 16 | 9 | 15 | 10 | 6 | 11 | -19 | 19 | 86 |
| 22 | KIVELL Sam, RYAN William | AUS 13 | 12 | 17 | 12 | 1 | 20 | 21 | -25 | 13 | 96 |
| 23 | MATSUNAGA Tetsuya, IMAMURA Kimihiko | JPN 4326 | 12 | 6 | 21 | -29 | 14 | 5 | 21 | 18 | 97 |
| 24 | BOUVET Sofian, MION Jeremie | FRA 27 | 25 | (dsq) | 8 | 5 | 7 | 16 | 15 | 21 | 97 |
| 25 | SHEREMETYEV Mikhail, SHEREMETYEV Maxim | RUS 2 | 9 | 4 | 11 | 9 | 28 | 13 | 24 | (dsq) | 98 |
| 26 | SANTURDE Pablo, RAMOS Alejandro | ESP 68 | 11 | 12 | 6 | 16 | 6 | 22 | -28 | 27 | 100 |
| 27 | ZEPUNTKE Daniel, BALDEWEIN Dustin | GER 74 | 13 | 17 | 7 | 3 | 11 | 28 | 27 | -29 | 106 |
| 28 | NAOKI Ichino, RYOUHEY Yosimi | JPN 4318 | 5 | 22 | 1 | 28 | 6 | 31 | -36 | 20 | 113 |
| 29 | MEE Matt, DOBSON Ian | GBR 853 | 3 | 8 | 24 | 15 | 16 | -25 | 23 | 25 | 114 |
| 30 | CHAUS Vladimir, GRIBANOV Denis | RUS 7 | 4 | 4 | 28 | 17 | 12 | 24 | 31 | (dns) | 120 |
| 31 | WOOLLEY Geoff, WILLCOX Daniel | NZL 98 | -37 | 12 | 5 | 14 | 5 | 27 | 35 | 22 | 120 |
| 32 | MIKULIN Mitja, PRINCIC Sebastian | SLO 21 | 4 | 4 | 26 | 25 | 5 | -38 | 33 | 24 | 121 |
| 33 | YOSEF Yogev, AMIR Yam | ISR 11 | (bfd) | 7 | 15 | 13 | 17 | 29 | 32 | 10 | 123 |
| 34 | LEFEVRE Steven, KROL Steven | NED 77 | 24 | 28 | 4 | 11 | 3 | 23 | (raf) | bfd | 134 |
| 35 | PILLAR Fabio, THIESSEN Gustavo | BRA 37 | 33 | (ocs) | 2 | 12 | 2 | 33 | 30 | 26 | 138 |
| 36 | NAUJOCK Denny, SCHROEDER Nils | GER 75 | 11 | 3 | 15 | 13 | 26 | 30 | (dns) | dns | 139 |
| 37 | LEVINE Eyal, HAMBURGER Ayal | ISR 9 | 6 | 26 | 30 | 6 | 8 | 37 | 29 | (bfd) | 142 |
| 38 | BERTOLA Niccolo, ALCIDI Danilo | ITA 22 | 5 | 13 | 21 | 16 | 14 | 35 | (dnf) | dns | 145 |
| 39 | CATTANEO Paolo, ZAOLI Vittorio | ITA 70 | -36 | 9 | 17 | 9 | 15 | 34 | 34 | 28 | 146 |
| 40 | KAMPOURIDIS Panagiotis, OROLOGAS Gerasimos | GRE 165 | 17 | 6 | 36 | 8 | dnf | (dnc) | dnc | dnc | 165,8 |
Women's gold fleet

| | | | | | | | | | | | |
| --- | --- | --- | --- | --- | --- | --- | --- | --- | --- | --- | --- |
| Pos | Helm, crew | Sail no | R1 | R2 | R3 | R4 | R5 | R6 | R7 | R8 | Tot |
| 1 | WESTERHOF Lisa, BERKHOUT Lobke | NED 11 | -19 | 5 | 1 | 2 | 5 | 1 | 1 | 1 | 16 |
| 2 | ALEH Jo, POWRIE Olivia | NZL 75 | 2 | 2 | 1 | 4 | 3 | (dnf) | 3 | 2 | 17 |
| 3 | CONTI Giulia, MICOL Giovanna | ITA 23 | 6 | 3 | 3 | 1 | 1 | 6 | -18 | 3 | 23 |
| 4 | PETITJEAN Ingrid, DOUROUX Nadège | FRA 4 | -21 | 3 | 9 | 14 | 2 | 5 | 2 | 5 | 40 |
| 5 | AYTON Sarah, CLARK Saskia | GBR 842 | 4 | -17 | 6 | 10 | 5 | 3 | 8 | 6 | 42 |
| 6 | KONDO Ai, TABATA Wakako | JPN 4151 | 6 | 6 | 7 | 3 | 6 | -12 | 5 | 9 | 42 |
| 7 | CLARK Amanda, CHIN Sarah | USA 1736 | 5 | 6 | -26 | 2 | 13 | 2 | 13 | 8 | 49 |
| 8 | WANG Xiaoli, HUANG Xufeng | CHN 248 | 1 | 13 | 7 | (ocs) | 4 | 4 | 6 | 15 | 50 |
| 9 | CLARK Penny, HUGHES Katrina | GBR 850 | -15 | 10 | 2 | 5 | 12 | 8 | 4 | 10 | 51 |
| 10 | MAXWELL Erin, KINSOLVING FARRAR Isabelle | USA 1757 | 1 | 1 | 5 | 10 | 4 | 19 | -20 | 14 | 54 |
| 11 | SOFFIATTI GRAEL Martine, SWAN Isabel | BRA 187 | 10 | 4 | 2 | 11 | 7 | 17 | 12 | -19 | 63 |
| 12 | ROL Emmanuelle, DEFRANCE Hélène | FRA 12 | 9 | 1 | 21 | 6 | 3 | 18 | 7 | -22 | 65 |
| 13 | SESTO María Fernanda, MONSEGUR Consuelo | ARG 8 | -25 | 14 | 8 | 13 | 1 | 16 | 15 | 4 | 71 |
| 14 | PACHECO Tara, BETANZOS Berta | ESP 696 | 13 | 15 | 13 | 4 | -16 | 10 | 16 | 7 | 78 |
| 15 | YOSHISAKO Yuka, OKUMA Noriko | JPN 4321 | 11 | -19 | 11 | 8 | 17 | 11 | 9 | 12 | 79 |
| 16 | KADELBACH Kathrin, BELCHER Friederike | GER 21 | -27 | 8 | 14 | 12 | 15 | 7 | 11 | 13 | 80 |
| 17 | FOKKEMA Margriet, JONGENS Marieke | NED 6 | 3 | 2 | 17 | 9 | 2 | -28 | 26 | 24 | 83 |
| 18 | ERICSON Lisa, GABRIELSSON Astrid | SWE 344 | 20 | 12 | 3 | 5 | 17 | 14 | -27 | 21 | 92 |
| 19 | KRAVARIOTI Virginia, TSIGARIDI Olga | GRE 224 | 19 | 7 | 5 | 19 | -23 | 15 | 10 | 17 | 92 |
| 20 | CAI Liping, GAO Yang | CHN 660 | 10 | 13 | 16 | 12 | 16 | 9 | 17 | -18 | 93 |
| 21 | OLIVEIRA Fernanda, BARBACHAN Ana Luisa | BRA 177 | 15 | 10 | 15 | 3 | 8 | 20 | -23 | 23 | 94 |
| 22 | WAGNER Annina, STEINHERR Marlene | GER 66 | 8 | 16 | 6 | 11 | 20 | -24 | 14 | 20 | 95 |
| 23 | HENSHAW Melinda, BARBARICH-BACHER Bianca | NZL 202 | 5 | 12 | 9 | 19 | 12 | 25 | -28 | 16 | 98 |
| 24 | GALLEGO DURAN Marina, RITA ROMAN Julia | ESP 133 | 11 | 4 | 4 | 22 | 22 | 13 | 25 | -29 | 101 |
| 25 | LUTZ Tina, BEUCKE Susann | GER 61 | 21 | (dnf) | 10 | 7 | 8 | 26 | 21 | 11 | 104 |
| 26 | FENG Huimin, HUANG Lizhu | CHN 600 | 14 | 9 | 12 | 7 | 10 | 27 | -29 | 25 | 104 |
| 27 | MILLS Hannah, CUMMING Claire | GBR 847 | 4 | 25 | 12 | 8 | 9 | 23 | 24 | -26 | 105 |
| 28 | LECOINTRE Camille, GERON Mathilde | FRA 9 | 3 | 11 | 4 | 16 | (ocs) | 22 | 19 | dnf | 107 |
| 29 | COHEN Gil, MAMRIEV Dana | ISR 311 | 2 | 18 | 22 | 21 | 7 | 21 | (dns) | 28 | 119 |
| 30 | WEGUELIN Sophie, AINSWORTH Sophie | GBR 840 | 14 | 8 | 18 | 23 | 9 | -29 | 22 | 27 | 121 |
| 31 | KOLOMIETS Anastasiia, DMYTRENKO Kateryna | UKR 7 | 23 | 5 | 20 | 9 | 18 | (dnc) | dns | dns | 139 |
Images from Richard Langdon/www.oceanimages.co.uk
Back to top
Back to top