Israeli special forces
One of the longest serving members of the 470 class currently competing (and lying 14th) at the Delta Lloyd World Championship, is Israeli Gideon Kliger.
Kilger has been racing the Olympic doublehander since the class' World Championships were held in his hometown of Tel Aviv in 1997, around the same time as recently retired Nick Rogers started his long career in the class.
The event taking place this week off the Hague is Kliger's 13th 470 World CHampionship, his best results having been a trio of third places over 2006-8 – not bad for a country with a population of just 7.6 million (around the same as Greater London). He has represented Israel at the last two Olympic Games – finishing 15th in Athens and 14th in Beijing. Despite his long tenure in the 470 class is only 30 years old, having started racing the Olympic doublehander while still in his teens.
"It is hard to continue in Israel for so many years in the Olympic class, because it is hard to get sponsors," says Kliger. "We get budget if we make a good results. Every year I say 'there is no chance I will continue any longer in the 470, but every year I have been lucky to get some good results, so every year we get a budget again and so we continue…"
As to their performance at the Delta Lloyd 470 World Championship, Kliger is still smiling, while being decidedly unhappy with their performance. "We have had our ups and downs - we are really unstable. Some races were really good for us and we made some huge mistakes - mistakes that normally we don't do and also not always do you pay so much. Here it showed us how bad it can be when you make a mistake!"
Kliger is referring to this week's strong tides off the Hague, which have been amplifying any errors sailors have been making, however instead of this working against him and crew Eran Sela, he feels quite the contrary - it has been working for them. "For us it is easier with the tide because especially in the qualification races there are a lot of younger, inexperienced sailors who make more mistakes and it is easy to pass them. So even if you are in the back of the fleet it is easier to come back."
So with the tide roaring up the race course, has he been surprised how there have been so relatively few OCSes? "I think all the experienced sailors are taking it carefully in the starts in the qualifiers, but in the finals it will be different."
Typically Kliger spends most of the summer months on the Olympic circuit around the world, and since a disappointing 20th place finish last year at Skandia Sail for Gold, he hasn't had a result out of the top 10, including a second at Princess Sofia in Palma and a third at the Rolex Miami OCR. He only tends to sail back home in Israel over the winter. Usually this has been out of Tel Aviv, but since hooking up with Sela – previously Israel's national 420 coach – at the beginning of this year, the duo have been sailing from the Sdot-Yam kibbutz near Haifa. "It is a very beautiful place next to the sea," describes Kliger. "It has a very nice club and you can go inside with the boats without having to take the sails down and there is a white sand beach with a reef that blocks the waves."
Aside from the 470 – they have three entries in the Men's division and one in the Women's – Israel is also strong in the RS:X. Their sailors are ISAF rankd in 4th and 5th in the Men's sailboard (Nimrod Mashich was second at the RS:X Worlds last year, while Shahar Zubari won the bronze in Beijing) while Maayan Davidovich is ranked 5th in the world in the RS:X Women. "The RS:X is really popular in Israel," confirms Kliger.
However when it comes to Olympic sailing Israel focuses all its effort on their two classes, so there are no Lasers, Finns, etc. "Our federation has their strategy set for them - because we are a small country, if we spread across all the Olympic classes we will never succeed in getting medals," says Kliger. "So they taraget only the 470 and RS:X. Then you get more people in the same class and training partners and things like this. So if you do the Laser or 49er you need to pay for your own way."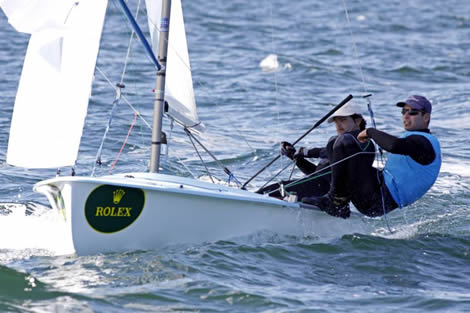 Back to top
Back to top