Multala successfully defends her title
It is never an especially satisfying way to win world titles, but with no racing on the final two days of the Laser Radial World Championships at Largs Finland's Sari Multala and Poland's Marcin Rudawski prevailed and were piped up on to the podium this evening as the 2010 world champions.

Both sailors successfully defended the championship titles they won last year at a breezy regatta in Japan. This time it has been all the more challenging not just for the variety of wind strength but for the difficult shifts in direction which made consistency all the harder to achieve. And perhaps a true reflection of the Clyde's comprehensive test is that five of the top six women are current or past Laser Radial World Champions.

Across the five qualifying heats and one Finals race which were completed Multala's one finish outside the top five was her discarded 49th, gained when the late Sunday afternoon breeze was at its most fluky.

She finished seven points clear of Holland's rising star Marit Bouwmeester. The pair have been regular training partners and credit each other partially for their successes here, and will work again in the build up to next month's Skandia Sail for Gold Regatta at Weymouth and Portland.
Both have been on carefully structured and executed programmes, even if there are contrasts between their approaches which mostly reflect their different ages and experience.

Multala, 33, has done just the two World Cup regattas Miami and Hyeres this season, both light wind events, and came to Largs charged up to retain her title again. Bouwmeester, 22, has been racking up the miles and learning venues, strategies and scenarios for the future with coach Mark Littlejohn.
Multala commented: "I am pretty happy really. It was a pretty nervous day for me. Except for the one race for me the best thing has been able to sail consistently and that means being able to come back when I have maybe been not right in the top group at the beginning of races and in all kind of conditions. It's been about both speed and tactics, but perhaps mostly about tactics. A little bit of boatspeed at times.
"At least here there has been a variety of conditions whereas Japan was pretty much the same conditions all the time, and here the waiting does make it all a bit harder mentally. But then it is all the same for everyone. It was colder here with the same amount of rain.
"I have done a little training in Palma, Hyeres but if I compare what I did as a 20 years old then I have done maybe a bit less but then the quality has been higher. I have been training with Marit who came second and we have definitely both gained from it.
"I have not done that much racing, I did Miami and I did Hyeres and that is all the world cups I did. In one sense I do think it is important to be able to be really charged up for the big events. Not having too many made this really important. It is becoming quite a big thing in Finland where we have the Europeans next summer. I have a training camp in Weymouth with Marit and then do Sail for Gold and then that is it for me for the season."

Marit Bouwmeester added: "I am happy. It has been a fun week. I found the racing really hard because the standard is high and the girls are really good and that is what I enjoy. I like the pressure, the tight racing and my level coming up, getting punished for every mistake you are making. It is a bit of a shame that the racing ended the way it did because more racing would have been good. I think I have to learn to race a little bit better, but really that comes down to experience and I have not been racing near the front for very long and so it is very different racing up near the front, and I feel like I am still trying to figure it out. I started two years ago making that transition, having a few good races, and then last year a little more consistency and now even more consistent. That for me is about being able to now recognise situations and the weather. And it is great sailing against Sari, she is an awesome sailor. I would have liked to have more races so that I could have had a good shot at winning but that is the way that it goes sometimes."

A fitting finale would have been most welcome, but the racers stayed on hold since Monday. Yesterday there was next-to-no wind and today there was too much. The Clyde was a mess of marching, charging white horses and flecks of spume whipped up by the muscular easterly of more than 30 knots with many angry gusts of 42-44 knots making racing impossible.

Finishing in third place was the USA's 2005 world champion Paige Railey tallied on the same points aggregate as France's Sarah Steyaert, the 2008 champion.

Best of the Skandia Team GBR women sailors was Ali Young who finished in 12th place.
Full results here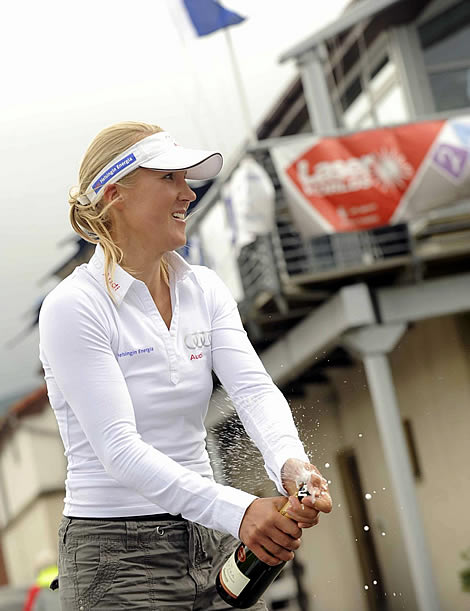 Back to top
Back to top