Largs glass out
More than five hours of frustrating drifting on the Clyde off Largs today proved to be in vain for the sailors awaiting racing at the Laser Radial World Championships.

The mirror-like waters were only occasionally ruffled by light airs from conflicting directions, and only – as the race officers' version of Murphy's Law would have it – as the appropriate signals were made, was there anything close to a breeze.

Sari Multala, Finland's defending world champion goes into the final day of scheduled racing with a lead of seven points over Marit Bouwmeester (NED).

It will be an interesting finale. Forecasts conflict as to how much or how little breeze there will be and the opinions seem to be towards either extreme.
Even if there are three races for the Women's gold fleet there can only be one discarded result and Bouwmeester has not finished outside the top ten so far, whilst Multala has a weighty 49th from Race 4 as her throwout.
Sari Multala commented: "It was pretty strange. I found the decision to cancel when they did a little strange but of course it is always frustrating to sit around for the whole day. It is nice to be going into the last day with a seven points lead, but I still have to sail well because it looks we will only get one discard so every race is going to count. But almost everyone is in the same position. Marit who is behind me is in a good position as she has no bad races. It would be nice to get some more races for sure. But for me it will be about managing the risks and a top 5 result could be enough."

Marit Bouwmeester added: "It is a shame because it is always better to get racing. I think it will be all down to tomorrow I think it is better for everyone to get more races in. I am pretty happy with the way it has gone and I don't think I could have gone any better. I'm not too worried about what the weather does tomorrow but I do like to sail in strong winds."

Standings: Laser Radial Womens World Championships
Gold Flight Overall After race 6 Inc. 1 discard
1 S Multala (FIN) 4,3,1,(49),2,5, Nett = 15pts,
2 M Bouwmeester (NED) 2,1,5,(7),6,8,= 22pts,
3 P Railey (USA) 3,1,4,16,(17),3 = 27pts,
4 S Steyaert (FRA) 23,4,1,3, 15,4, = 27pts,
5 T Drozdovskaya (BLR) 1,5,14,3,(32),13, = 36pts,
6 T Mihelic (CRO) 15,8,3,8,(35),6, = 40pts,
7 A Tunnicliffe (USA) 1,2,37,(49),5,2, = 47pts,
8 E Van Acker (BEL) 6,11,(21),14,1,15, = 47pts,
9 G Scheidt (LTU) 13,19,2,4,(40),11, = 49pts,
10 M de Kerangat (FRA) 18,7,15,5,(19),10 = 55pts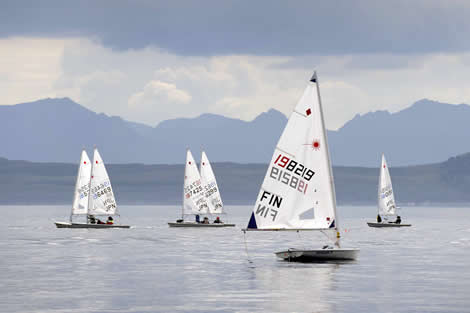 Back to top
Back to top