Multala edges into the lead
With a second place from today's only race on the Clyde off Largs, Finland's reigning champion Sari Multala has emerged at the top of the leaderboard of the Laser Radial World Championships as the fleet move into the Finals phase.
Multala commented: " I was starting in the middle and had clear air and so could choose where I wanted to go. There looked to be some pressure on the right and in fact the people who were in it actually did not seem to get very far in it. So actually I got into the first pressure from the left, and there were actually a couple of boats from the far left who did better. So both the sides were OK. On the run I got from third to second where I stayed. I needed a good race and got one. I had hoped we could have got out a little earlier because really it was not so strong and it would have been good to get a second race."

Holland's Marit Bouwmeester was a woman in a hurry despite the fading breeze. She staged a great comeback after lying very deep in the fleet after struggling on the very difficult opening beat, but making great gains on the downwind legs she rallied to sixth place which keeps the world ranked two sailor just four points behind Multala.

Not only was Bouwmeester quick and smart enough in the testing, shifty and increasingly fluky conditions, with the breeze dying from 12 to 5 knots, to rescue a solid finish but the Dutch sailor was ashore and tidied away sufficiently rapidly to be just ready on cue to watch the start of her nation's football world cup final challenge.

Patience was required over the duration of what proved to be a very long day ashore, with successive postponements required from morning until the strong westerly breeze subsided to allow racing. It was only at 1700hrs that both Men's and Women's fleets had their warning signal finally scheduled.

The breeze died progressively leaving big differences in strength across the race tracks on both race areas and, once again, shifts in wind direction offered opportunities for big gains and losses.

Evie Van Acker (BEL) started off the pin end of the start line and was able to get into the best of the early wind pressure, leading the yellow flight race from start to finish with Multala second and Poland's Joanna Maksymiuk taking third.
Van Acker commented: "I had a good start at the pin end of the line. There were not so many people there and I was able to pull out a little bit. I tacked again to get the fresher pressure and then I was leading at the first mark from Laura Baldwin and Sari Multala behind her. Downwind I was really fast and on the right side with the current. When the wind dropped and dropped the current became more and more important and from there I was just defending."

While the yellow fleet got away with perhaps the better breeze, the blue fleet suffered a big left wind shift immediately after the start and then a big shift to the right at the top end of their beat. But the most important challenge was to knit together the strands of best wind pressure.

Singapore's Elizabeth Yin won the blue flight race ahead of Spain's Fatima Reyes, while fifth place for Mexico's Tania Elias Calles Wolf ensures her consistent string of scores remains intact and she now lies third.

Largs has proven a testing challenge in brisker winds, but with the breezes now expected to drop to the lower end of the scale for the second half of the regatta, perhaps it is only likely to get more difficult. In a very high standard of fleet the stakes get higher and higher.

The host country's Skandia Team GBR sailors had a mixed day. Ali Young finished in 28th but holds 12th overall, whilst Scotland's Charlotte Dobson's 20th leaves her lying 23rd overall.

Dobson said: "It was very patchy off the start line and I managed to miss the first puff and then struggled from there but managed to catch up from there, and had a good last beat. But really with the forecast we have I think racing pretty much starts all over again."
Top 50 results:
| | | | | | | | | | |
| --- | --- | --- | --- | --- | --- | --- | --- | --- | --- |
| Pos | Helm | Nat | R1 | R2 | R3 | R4 | R5 | Tot | Net |
| 1 | Multala Sari | FIN | 4 | 3 | 1 | -49 | 2 | 59 | 10 |
| 2 | Bouwmeester Marit | NED | 2 | 1 | 5 | -7 | 6 | 21 | 14 |
| 3 | Elias Calles Wolf Tania | MEX | 4 | -10 | 7 | 5 | 5 | 31 | 21 |
| 4 | Steyaert Sarah | FRA | -23 | 4 | 1 | 3 | 15 | 46 | 23 |
| 5 | Drozdovskaya Tatiana | BLR | 1 | 5 | 14 | 3 | -32 | 55 | 23 |
| 6 | Railey Paige | USA | 3 | 1 | 4 | 16 | -18 | 42 | 24 |
| 7 | Fenclova Veronika | CZE | 17 | 5 | 3 | -22 | 3 | 50 | 28 |
| 8 | Lihan Sarah | USA | 8 | 3 | 10 | 10 | -25 | 56 | 31 |
| 9 | Van Acker Evi | BEL | 6 | 11 | -21 | 14 | 1 | 53 | 32 |
| 10 | Mihelic Tina | CRO | 15 | 8 | 3 | 8 | -35 | 69 | 34 |
| 11 | Scheidt Gintare | LTU | 13 | 19 | 2 | 4 | -41 | 79 | 38 |
| 12 | Young Alison | GBR | 6 | 9 | 6 | 17 | -28 | 66 | 38 |
| 13 | Romero Steensma Susana | ESP | 7 | -26 | 6 | 13 | 16 | 68 | 42 |
| 14 | Tenkanen Tuula | FIN | 11 | 10 | -21 | 1 | 21 | 64 | 43 |
| 15 | Ross Lisa | CAN | 5 | -32 | 27 | 2 | 9 | 75 | 43 |
| 16 | Brugger Nathalie | SUI | -39 | 7 | 10 | 19 | 8 | 83 | 44 |
| 17 | Tunnicliffe Anna | USA | 1 | 2 | 37 | -49 | 5 | 94 | 45 |
| 18 | Reyes Lucia | ESP | 13 | 11 | 17 | -42 | 4 | 87 | 45 |
| 19 | de Kerangat Mathilde | FRA | 18 | 7 | 15 | 5 | -19 | 64 | 45 |
| 20 | Murphy Annalise | IRL | 8 | 12 | 18 | -35 | 7 | 80 | 45 |
| 21 | Clapcich Francesca | ITA | 14 | 24 | 7 | 2 | -42 | 89 | 47 |
| 22 | Yin Elizabeth | SIN | 10 | 18 | 20 | -23 | 1 | 72 | 49 |
| 23 | Dobson Charlotte | GBR | 22 | 6 | 2 | -32 | 20 | 82 | 50 |
| 24 | Cebrian Alicia | ESP | 9 | 15 | 11 | 15 | -27 | 77 | 50 |
| 25 | Goltz Franziska | GER | 18 | 14 | -35 | 9 | 10 | 86 | 51 |
| 26 | Baldwin Laura | AUS | 9 | 14 | 25 | -51 | 4 | 103 | 52 |
| 27 | Lindberg Alberte | DEN | 7 | 4 | 9 | 34 | -49 | 103 | 54 |
| 28 | Blom Claire | NED | 12 | 2 | 13 | 29 | -38 | 94 | 56 |
| 29 | Reyes Fatima | ESP | 12 | 19 | -30 | 26 | 2 | 89 | 59 |
| 30 | Winther Sara | NZL | 23 | 6 | 14 | -27 | 17 | 87 | 60 |
| 31 | Helbig Anke | GER | -33 | 25 | 12 | 10 | 13 | 93 | 60 |
| 32 | Makowska Ewa | POL | -36 | 33 | 8 | 1 | 20 | 98 | 62 |
| 33 | Olsson Josefin | SWE | 5 | 8 | 32 | 17 | -40 | 102 | 62 |
| 34 | Edelman Nufar | ISR | 22 | 13 | 17 | -46 | 10 | 108 | 62 |
| 35 | Powrie Miranda | NZL | 11 | 16 | 23 | -52 | 14 | 116 | 64 |
| 36 | Dennis Claire | USA | 15 | 20 | 26 | 7 | -48 | 116 | 68 |
| 37 | Brien Tiffany | IRL | 25 | 15 | 19 | 9 | -54 | 122 | 68 |
| 38 | Rindom Anne-Marie | DEN | 21 | 9 | 15 | 24 | -31 | 100 | 69 |
| 39 | Brewster Andrea | GBR | 10 | 21 | 26 | 12 | -40 | 109 | 69 |
| 40 | Fasselt Lisa | GER | 26 | 13 | 27 | 4 | -38 | 108 | 70 |
| 41 | Basevi Rachel | NZL | 20 | 22 | -51 | 6 | 22 | 121 | 70 |
| 42 | Hall Cathrine | DEN | 34 | 17 | -45 | 15 | 7 | 118 | 73 |
| 43 | Weir Krystal | AUS | (DNF [58.0]) | 12 | 8 | 25 | 28 | 131 | 73 |
| 44 | Marie Menaldo | FRA | 16 | 29 | 20 | 8 | -37 | 110 | 73 |
| 45 | Mileviciute Ausra | LTU | 17 | 27 | 19 | 11 | -50 | 124 | 74 |
| 46 | Carmo Sara | POR | 19 | 22 | -33 | 33 | 6 | 113 | 80 |
| 47 | Steiner Paula | GER | 25 | 16 | -28 | 16 | 23 | 108 | 80 |
| 48 | Zhang Dongshuang | CHN | 28 | -37 | 24 | 6 | 25 | 120 | 83 |
| 49 | Gunni Sarah | DEN | 31 | 21 | 9 | 22 | -33 | 116 | 83 |
| 50 | Schutt Maiken | DEN | -30 | 25 | 25 | 19 | 14 | 113 | 83 |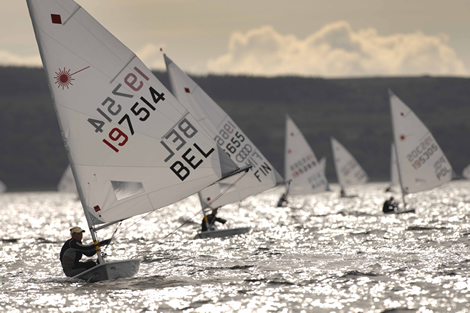 Back to top
Back to top