Dutch duo take the lead
The Zwitserleven Dutch Open Catamaran sailing 2010 had a rough start today. The northeasterly wind increased to over 20 knots with high waves off the Texel beach. As a result, many sailors spent a lot of time swimming instead of sailing. Coen de Koning and Thijs Visser (NED) thought they climbed to the top of the ranking, but they were disqualified. That is how Willem Geijssen and Sascha Larsen (NED) took the lead. It is the girls' Hobie 16 duo Anneloek Rauwerdink and Ingrid Bakker, that is leading the smaller boats.
The ruling F18 world champions De Koning and Visser were full of enthusiasm when they arrived from the water. After they had won silver at the Nacra 2010 Int. Championship in the morning, the duo scored a first and a second place. 'We hardly made any mistakes and we were very sharp." But their euphoria disappeared when they saw the results list. The sailors had forgotten to put the number, given by the organization, in their sail. Consequently they were disqualified from both races.
Willem Geijssen did recognise the humour in this mistake of his rivals: 'It's all part of the game." In spite of problems with their spinnaker halyard, Geijssen and his crew for the event, Sascha Larsen, performed well today. "The outer case of the halyard had come off, so we couldn't fasten it in the cleat. Sascha had to knot it around the cleat, and meanwhile stay cool. But it was wonderful. Especially reaching from the top mark to the offset buoy, we passed the others full speed."
"In the first race, it was a close finish with Coen (de Koning) and Darren Bundock (AUS). If you win after such a fight, that's great. Right after the finish, the bridle of the spinnaker boom broke and their full rigging went overboard. 'We only just managed to save everything, so we're going to be busy fixing this tonight", says the leader of the ranking.
Rob Wilson and Marcus Lynch (GBR), the overall winners of Zwitserleven Round Texel 2009, took the second place. The Boskalis team Hugh Styles (GBR) and Ferdinand van West (NED) are third overall.
Failing record attempts

Today two teams challenged the TNG Round Texel Record. Currently Herbert Dercksen (NED) and Mark Bulkeley (GBR) hold the record. They managed to round the island of Texel in 2 hours, 7 minutes and 2 seconds last year. Dercksen now tried to improve this time with an extra wide M20, just like his English opponents William Sunnucks and Oli Egan. The only difference was that Sunnucks and Egan sailed with a straight daggerboard, whereas Dercksen and Barney opted for a bent daggerboard. It turned out that Sunnucks and Egan had an edge over their rivals, as they could sail more closely hauled. They were one mile ahead at the lighthouse, when their mast suddenly broke. "One moment we were sailing with 13 knots speed on the flat water and the other moment we were suddenly swimming." Sunnucks took the Zwitserleven Round Texel line honours in 2009 and will do everything he can to join the race again on Saturday. "If necessary, we will use a wooden pole as the core", he says determinedly.
Dercksen and Barney arrived after 2 hours, 57 minutes and 27 seconds. "It was heavy, let me take a seat", sighs Dercksen. "The waves were enormous. A couple of times we took off from the water with those bent daggerboards. Sailing under spinnaker between the Island and the mainland was magnificent. This was a good practice race for the Zwitserleven Round Texel."
Flying America's Cup helmsman

That F18 cat sailing is a different game from helming a bizar 90ft trimaran, experienced James Spithill (AUS) today. The helmsman of BMW Oracle lost his balance while wiring on the run and he took a flyer. "The crew has a lot on. It is only my second day racing a Wild Cat and I am really enjoying it, although I wasn't a big help for Glenn", said Spithill, while having a dry training on how for using a chicken wire. According to multiple World Champions Glenn Ashby, they had lots of fun and the boat is going well: "We just have to learn how to sail her together." This new Aussie team is in eight position after day one.
Mischa Heemskerk and Bastiaan Tentij from the Netherlands pushed a little bit to hard as well. They capsized twice in the last race, but they are still in fourth place overall, followed by the all female team of Carolijn Brouwer and Liz Wardley (AUS). Brouwer triumphantly: 'We did not swim! Downwind was ok, but we struggled upwind. We had something on."
Top five after two races:
1. NED, Geijssen/Larsen, F18 Nacra Infusion, 4 points

2. GBR, Wilson/Lynch, F18 Shockwave, 8 points
3. GBR, Styles/Van West, F18 Nacra Infusion, 10 points

4. NED, Heemskerk/Tentij, Hobie Wild Cat, 16 points
5. AUS, Brouwer/Wardley, F16 Viper, 16 points
The weather forecast for tomorrow looks pretty much the same as for today, so windy. But with slightly higher temperatures.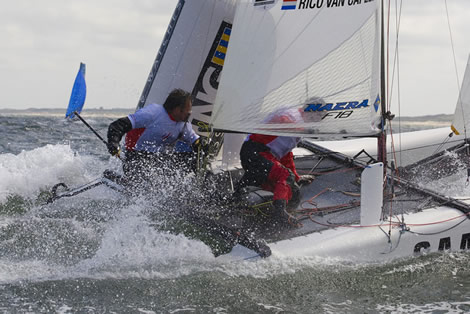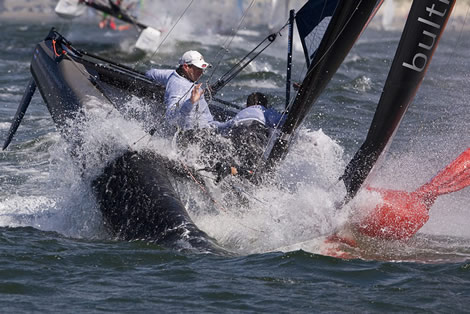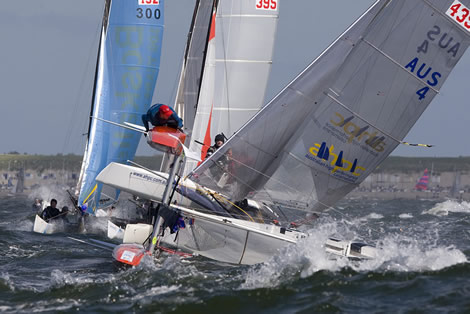 Back to top
Back to top