Development squad sailors ahead in the 49er
Shifty but building breeze provided for tactical racing during the opening day of the 2010 Delta Lloyd Regatta in Medemblik, the fifth event in the ISAF Sailing World Cup.
For Skandia Team GBR the surprise leaders after day one is in the 49ers where development squad duo Dave Evans and Ed Powys are in the top spot after four races, while teammates Dylan Fletcher and Alain Sign also saw a solid start to their regatta, posting two bullets in the opening two races, but ended up fifth overall.
"We had a good first couple of races," said Fletcher. "We just set our goal pretty simple of keeping a clean start and go fast. We've been working of starting at the pin and it sort of paid off – we got two good starts, went pretty fast and won the first two races which was pretty good as we've never won back to back races at a Grade 1 event before."

"It's quite important for us [to do well here]," added Sign. "We've just been training back in Weymouth with John Pink, trying to get our settings right, trying to get back in the right frame of mind. After Palma we had a few goals to work on so we've been working on them, and now bringing it here to Holland it all seems to be paying off so far, but it's still early days."

In second, five points off the lead are France's world number 1's Manu Dyen and Stephane Christidis, who won the third race.
"The conditions were very tough today, the wind was shifty and there was lots of pressure difference on the racing area which can result in great speed difference. In the 49er, you need to be very reactive and be ready to take quick decisions," said Dyen.
The French pair has had a strong start to the year winning both the Rolex Miami OCR and the Trofeo Sofia Mapfre in Palma. "We were tired in Hyères and didn't perform our best," Dyen continued. "We hope to regain our earlier good form and be ready for the European Championship in Poland next July. We will be racing also in Kiel and hope to do well to claim the Sailing World Cup title."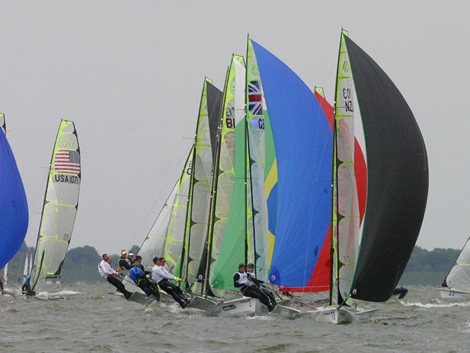 Britain's double world championship winners Nic Asher and Elliot Willis also lead in the 470 Men, two points ahead of Germans Jan-Jasper Wagner and Lennart Scheufler, now seven points ahead of third placed Brazilians Fabio Pillar and Gustavo Thiesen.
"It was a really good day for us," Asher explained. "The wind was pretty shifty with a few big holes but we stayed pretty conservative in our approach, stayed towards the middle of the course and didn't make any big mistakes. It was good to have some speed out there – we're trying some new things and we've got a new boat for this event which we've done a few days of training in down in Weymouth. It's all going well so far – but a long way to go yet though!"
In the 470 Women three boats have broken away with France's Hyeres winners Emmanuelle Rol and Helene Defrance two points ahead of 2009 World Champions, the Netherlands' Lisa Westerhof and Lobke Berkhouf, tied with Britain's Penny Clark and Katrina Hughes.
"The first race was very shifty and you had to be very careful," reported Rol and Defrance. "The wind increased by the third race and everybody enjoyed it. The Delta Lloyd Regatta last year was our first event together and we finished second!"
The high profile duo of double Olympic gold medallist Sarah Ayton and Saskia Clark are currently 18th.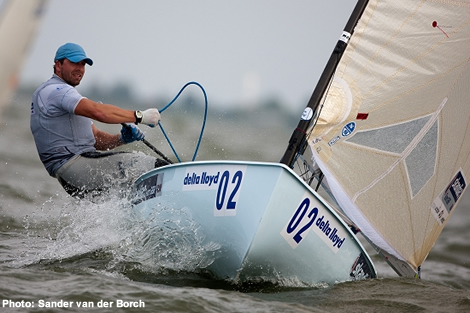 Spain's Rafa Trujillo is ahead in the Finn, posting a 1-2 putting him three points ahead of the USA's Beijing Silver medallist Zach Railey. With the wind increasing throughout the day provided the best conditions ever this year for the Finn sailors.
"This is the first event when we race on the first day!" commented Railey, sentiments echoed by the leader: "This is the first time this year that my legs are aching! The first windy day!" said Trujillo.
Skandia Team GBR sailors remain poised with European silver medallist Ed Wright holding three, four points off the lead, six ahead of Giles Scott in fifth.
In the Laser Trofeo Princesa Sofia Mapfre winner, Javier Hernandez has already pulled ahead of seven points to second placed Australian Tom Slingsby and Chilean Mattias del Solar both on 15. Britain's all-conquering Paul Goodison won the second race of three but scored a DNF in race three, dropping him to 30th overall.
The Radial also has a run-away leader after day one with local favourite Marit Bouwmeester posting two bullets to finish the day on six points, seven ahead of joint second placed Veronika Fenclova from the Czech Republic and Belgium's Evi van Acker.
"On this kind of day, you have to stay close to the other boats," said Bouwmeester. "The conditions were hard and the wind wasn't clear. I didn't have a strategy, I was careful to react to the wind shift and go along with what happen. I have a good speed downwind so that helped me a lot."
The Star has a reasonable turn-out for a European circuit regatta with 16 boats. Here Ericsson 3 sailor, Norwegian Eivind Melleby and Petter Morland Pedersen lead, two points ahead of Poland's long term Olympic campaigner Mateusz Kusznierewicz and Dominik Wycki after two races. The Norwegians have already won Rolex Miami OCR and Hyeres.
'Some of the top teams are back in the circuit," said Melleby. "The Polish are very strong and won the first race. We were leading at the top mark but the pressure left and we fell into a hole with nearly no wind. The fleet caught up. In the second race we chose the wrong side, we came back slowly, gaining one boat at a time to place second to Marin Lovrovic and Sinisa Mikulicic (CRO)."
Medemblik sees the return of the Poles Kusznierewicz and Zycki: "We like to come and race in the Delta Lloyd Regatta in Medemblik," said Kusznierewicz. "This year we have decided to take it easy and sail only three events. This is the first one this year and we are still a bit rusty. We have made some small changes to our boat and need to test them before the Star European Championship early June."
The Poles won today's first race but were fifth in the second. "We were leading the first race but collected a penalty and dropped to 5th. We managed to pass two boats and got lucky on the finish when the top two boats crossed the line on the wrong side!"
The women's match racing aboard the Elliott 6s saw four flights sailed. In Group A, Lucy MacGregor and Spain's Silvia Roca remain unbeaten, while this was also the case for Russia's Ekaterina Skudina in Group B and the Netherland's Renee Groeneveld in Group C.
On this occasion Lucy Macgregor is competing with regular Ally Martin and stand-in crew Nicky Muller, with Annie Lush umpiring at the Louis Vuitton Trophy in La Maddalena.
2009 RS:X Vice World Champion, Israel's Nimrod Mashiah enjoyed today's conditions to lead on five points after three races sailed in the two RS:X groups. He is two points ahead of France's Alexandre Guyader and 2009 World Champion Nick Dempsey. In the women's class Spain's Bianca Manchon is leading while Britain's Bryony Shaw is sixth.
The 2.4mR fleet in Medemblik is one of the best represented at all the Olympic class regattas so far this year with 18 boats from eight countries. This is because the IFDS World Championship is to be held in Medemblik in July promoting top sailors to attend the Delta Lloyd Regatta to gain some good practice on the Ijsselmeer. With the Sonar not included in the event, many Sonar sailors have decided to race in the 2.4, like John Robertson from Great Britain.
Dutch sailor Thierry Schmitter has made the most of the training sessions in Medemblik with the Dutch team, winning two races and leading the scoreboard: "Training here did make the difference today. Racing was tricky, real Ijsselmeer conditions. The waves were short and steep and plenty of wind shifts. If you miss the first one you are gone!"
It was the same comment from France's second placed Damien Seguin who has found the conditions pretty testing, especially in such a low boat. 'The waves here make it hard; this place is very different from other racing area."
Britain's Helena Lucas holds third with Megan Pascoe fourth and Sonar helm John Robertson sixth.
Unfortunately The wind is forecast to be very light on Thursday.
Full results here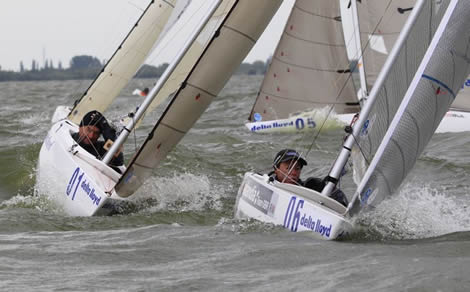 Robert Deaves' Finn focus:
Following his disappointment at the Europeans in Split just over a week ago, Rafa Trujillo (ESP) has bounced back to take the early lead in the Finn fleet at the 2010 Delta Lloyd regatta in Medemblik, Netherlands, the fifth leg of the ISAF Sailing World Cup.
Though lighter winds were forecast, the fleet enjoyed two physically testing races in perfect conditions, rising to 12-14 knots for the second race of the day with a typical Medemblik chop running.
Race one went to Trujillo from Gasper Vincec (SLO) and the recently crowned European Champion Ivan Kljakovic Gaspic (CRO). Zach Railey (USA) who skipped the Europeans because of other commitments then went on to win the windier race two with Trujillo close behind and Ed Wright (GBR), the current leader of the ISAF Sailing World Cup for Finns, in third.
Trujillo said, "I had a great day with a first and a second, but more importantly I enjoyed the time at sea and I returned to shore with aching muscles for the effort but with a smile that all the time in the gym has paid off. Tomorrow we have little wind again and we must continue fighting. "
Medemblik has finally broken the curse of losing opening days at major regattas. This is the first major regatta this year that the fleet has managed to get racing in on day one, and also perhaps the windiest racing day of the year so far. But it doesn't look like the sailors good fortune will continue. The forecast for Thursday is for very light winds again with risk of showers.
Back to top
Back to top