Croatia dominates the Finn
Conditions still haven't improved even on the penultimate day of the 42nd Semaine Olympique Française in Hyères. The fourth event in the Sailing World Cup has been consistently dogged by unusually light winds.
In the Finn class it is Croatia in 1 and 2. Marin Misura (above) is enjoying the conditions this week, consolidated his lead today after claiming one more race. "I am very fast in these conditions," he said. "I had good starts which is important to have clear winds. Hyères is my first regatta this year and it's a good preparation for the Europeans next week in my hometown, Split!"
Misura's team mate and last year's winner, Ivan Kljakovic Gaspic will start the medal race in second place. Meanwhile Britain's Ed Wright saw his hopes of a third straight World Cup win slip from his grasp – now in fifth place overall, with the top spot of the podium out of reach.
Two races were sailed in the RS:X classes, the light conditions not permitting a third. Greece's Byron Kokalanis continues his good form after winning at Princess Sofia in Palma. A victory and a fifth see him increase his lead and raise his chances of securing Gold tomorrow as he takes the top place.
In the RS:X Women, Scandia Team GBR's Bryony Shaw continued her near perfect scoreline with a first and a second today and now leads her training partner, Spain's Bianca Manchon, by 18 points and is all but assured of coming home with the gold tomorrow.
"It's been a really demanding week – physically and mentally – not just on the water with the light winds we've had, but the delays are pretty draining as well," Shaw explained. "It's great to be in such a strong position going into the medal race. I knew that I was strong in the light winds so that's been a bonus, but it's also encouraging to know that the work that Dom and I have been doing on technique has really paid off and we've seen the benefits of that this week.

The medal race is all about putting on a good show for the media and spectators, so I'll go out with the hope of winning it tomorrow."
In the 470 Men Gold the French team of Nicolas Charbonnier/Baptiste Meyer Dieu have hung on to their lead ahead of Sweden's Anton Dahlberg and Sebastian Ostling and Italy's Gabrio Zandona and Pietro Zucchetti.
In the Women's 470 Italy's Giulia Conti and Giovanna Micol have climbed to second position overall, behind France's Camille Lecointre and Mathilde Geron, with Israel's Gil Cohen and Dana Mamriav just two points behind.
Hyeres has been a rotten regatta for Skandia Team GBR's 470 sailors, with neither the Men nor Women making it through to the medal races.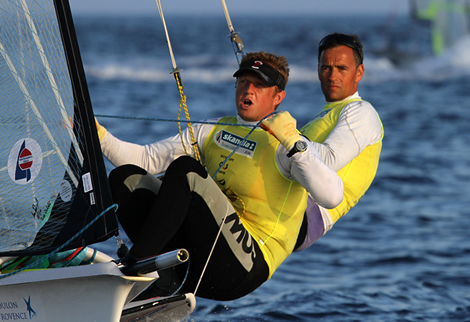 News remains good for the Brits in the 49er where Paul Brotherton and Mark Asquith (GBR) posted two seconds today to keep their first place, with the Austrian team of Dellekarth/Resch moving up to second after a race win today, nine points adrift.
"We saw every end of the fleet, I think, and we saw both side of the racecourse but that's the nature of sailing these boats in those conditions," Brotherton explained. "The only time we lost places today was when we were mincing around in the middle [of the course] so we just decided from then on that we had to back ourselves and got two second places from it."
Brotherton and Asquith will be joined in the medal race by fellow Skandia Team GBR 49er crews Stevie Morrison and Ben Rhodes, currently in eighth, and development squad duo Dave Evans and Ed Powys who enjoyed a race win and two further top results to boost them into the top five and within shot of the medals.
In the Laser class, only the top three will be able to take Gold or Silver tomorrow. After winning the Trofeo Sofia Mapfre in Palma last month, Javier Hernandez has overtaken Beijing Gold medallist, Paul Goodison to move into the top spot while Athens Silver medallist Andrea Geritzer (AUT) is in third.
Goodison, competing at his first World Cup event of the year, explained: "This week I feel like I've not been on the right side of anything, but have managed to pull back well, so that's pretty pleasing. I was 25th at one point in the first race, but pulled back up to seventh on one beat to finish the race in fifth so it's been tricky racing but you just have to hang in there."

Some class favourites have missed narrowly the medal races such as Michael Leigh (CAN), Tonci Stipanovic (CRO) and Mathias del Solar (CHI) who have all suffered from the light conditions.
In the Laser Radial Finland's Sari Multala suffered in the last races today and plummeted from first to 14th position overall, leading Lithuania's Ausra and Spain's Alicia Cebrian and Fatima Reyes in the top three places heading into the medal race. Skandia Team GBR's Charlotte Dobson made huge gains posting a 3,14,10 putting her into fourth place overall - just a point off of the medal places.
Today saw some intense matches in the Women Match Racing. After the quarter finals which saw them dispatch ISAF World no1 Lucy Macgregor and her team, the German team led by Silke Hohlbrock defeated Kathy Spithill (AUS) 3-0 while Anna Tunnicliffe (USA) defeated Claire Leroy (FRA) 3-1 in the semis.
Silke Hohlbrock: "After losing the first two races in the first round robin, we didn't lose a single match. Before the regatta we trained in Kiel with lots of wind. We needed some days to adapt to the light conditions. Today we had a good upwind speed. In Palma we beat Tunnicliffe twice but here is a different story. Any small mistake can make the difference. She has a good record here so we will see."
Anna Tunnicliffe commented: "We were able to race seven really good races today. I really enjoyed racing the semi finals against Claire Leroy. She is a very good sailor. With these light conditions it is very hard to know what happen until the end. On the last leg against Claire, she had a penalty and we decided to keep it simple and go straight to the finish to secure the race. The organisers have made a fantastic job, especially with the lights conditions and wind coming late."
Norwegians Eivind Melleby and Petter Morland have taken the lead in the seven strong Star fleet.
In the 2.4m, leader Damien Seguin (FRA) added one more win to his scoreline, while Thierry Schmitter (NED) is in second. The Sonar class now sees the Israeli team of Cohen/Efrati/Vexler sharing the lead with early leader Norwegian team of Hang Wangsen.
Racing at the French Olympic Sailing Week will conclude on Friday 30 April.
Full results here
Back to top
Back to top