Brotherton-Asquith move ahead
Light wind conditions continued to dog the Semaine Olympique Francaise de Voile in Hyeres. With many fleets desperately needing races to complete their qualification series', it made for a long day on the water with the 49er class not making it back to shore until almost 2100.
In the Olympic skiff class after six races sailed, Britain's Paul Brotherton and Mark Asquith have pulled out a commanding 10 point lead ahead of Denmark's Allan Norregaard and Peter Lang. This was despite the fourth race of the day, which saw the European silver medal-winning duo score their worst result so far – a 25th – after they had to re-cross the startline, but their earlier results of 1,4,2 more than kept them in the hunt.
"It doesn't feel good at the moment because we've just spent about six hours baking in the sun," said Brotherton of their performance on Wednesday. "But I'd rather have than sit around all day doing nothing so it was good day for us, and we got some good races in."
It is 20 years since Brotherton's first appearance in Hyères in 1990 in the 470. The 49er class this year is littered with medal winners, both from Skandia Team GBR and internationally, but Brotherton, 43, insists that doesn't phase him even though he and Asquith only reformed their partnership last summer. "There's talent all over the place wherever you look if we started to worry too much about that we'd be all over the place," he replies. "It's just a matter of thinking where to put our boat at any one time."
Among the other Brits, Stevie Morrison-Ben Rhodes and Dave Evans-Ed Powys are just outside of the top ten positions, in 13th and 14th places, while Skandia Team GBR teammates Chris Draper and Peter Greenhalgh withdrew from the regatta so Draper could attend the birth of his first child.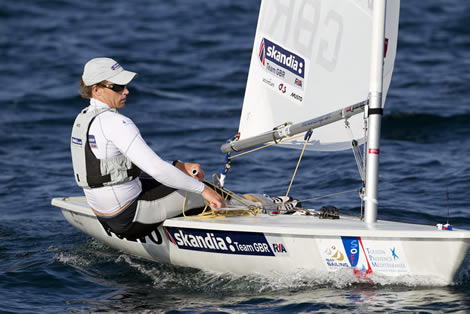 Skandia Team GBR also lead in the Laser where Paul Goodison has pulled ahead of Spain's Javier Hernandez and Austrian Andreas Geritzer, the early leader in the regatta. This was despite the Olympic, World and European Champion being set back to 31st place after four races when a second yellow flag penalty forced him to retire from race four. He hit right back, however, with a fifth and a race win as soon gold fleet racing got underway placing him at the top of the leaderboard in the 141-boat fleet.
Finland's long term Olympic campaigner and 2009 World Champion, Sari Multala has taken the lead in the Laser Radial, four points ahead of Spain's Fatima Reyes and Belarus' Tatiana Drozdovskay.
In the Finn Ed Wright has surged back with three races sailed today - more than in the last three days combined! Here Marin Misura (CRO), fifth in Hyères last year, has replaced his team mate Kljakovic Gaspic in the top position, but Wright, already this year the winner at Rolex Miami OCR and the Trofeo Princess Sofia in Palma, is on equal points with him, with France's Thomas le Breton five point behind.
France's Nicolas Charbonnier and Baptiste Meyer Dieu are dominating the 470 Men with an 8 point lead over Sweden's Anton Dahlberg and Sebastian Ostling, in turn two points in front of Germans Jan-Jasper Wagner and Lennart Scheufler. Skandia Team GBR's sailors in this class are having a rotten time in the fickle conditions, the top placed being double World Championship winners Nic Asher and Elliot Willis in lowly 24th in the 90 boat fleet.
Australia Matt Belcher is holding four despite sailing with Will Ryan, usually his training partner while his normal crew, Beijing gold medallist Malcolm Page is competing in the Farr 40 worlds. "We are using this regatta to keep developing and improving before the Worlds this summer," said Belcher. "We are used to stronger winds but it is a good opportunity to get good in these conditions as well. The hardest thing today was the eight hours wait!"
France also hold the two top spots in the 470 Women with Camille Lecointre and Mathilde Geron three points in front of Emmanuelle Rol and Helene DeFrance, Japan's Ai Kondo and Wakako Tabata now down to third after a disappointing final race today.
Lecointre and Geron pulled ahead after two bullets in today's first two races. "We understood the situation on the water but it was hard," said Lecointre. "The waiting tested everybody's nerves. It is mentally hard. On the water we had good speed and could get away from the group. We will take it easy tomorrow and try to limit the damages! There are still three races to do and the medal race, so everything is still possible."
Hannah Mills and Claire Cumming broke back into the top ten today, while the new duo double Yngling gold medallist Sarah Ayton and Saskia Clark are up to 13th.
France also leads in the Star, but it is close with Guillaume Florent and Pascal Rambeau ahead, despite a DSQ collected after rounding the wrong mark in the penultimate race today, but with Norwegian round the world sailor Eivind Melleby and Petter Morland and Spain's Fernando Echavarri and Fernando Rodriguez within two points of them.
The Repechage round of the Women Match Racing saw Claire Leroy's and Silvia Roca's team qualify for the quarter finals, which are next up with the Gold Round Robin cancelled. The quarter finals will take place tomorrow and the pairings will be:
Roca (ESP) vs Tunnicliffe (USA)
MacGregor (GBR) vs Hahlbrock (GER)
Skudina (RUS) vs Spithill (AUS)
Leroy (FRA) vs Le Berre (FRA)
In the RS:X Men Princess Sofia winner, Byron Kokalanis won both races in the gold fleet to move up to second, where he is now a point behind leader, Pole Piotr Myszka. Meanwhile Britain's Bryony Shaw increased her dominance in the women's division with a third and a fifth from her two races, while all her nearest rivals struggled to find form, which allowed her to amass a 13 point lead over Spanish training partner Blanca Manchon after six races. Laura Linares (ITA) has entered the top three with a win and a third place today.
Damien Seguin remains ahead in the 2.4mR ahead of Helena Lucas and Thiery Schmitter while Marcel van de Veen's team still leads by two points in the Sonar.
Full results here
Images from Guillaume Durand.FFVoile:
Back to top
Back to top