Well behind schedule
Conditions at the Semaine Olympique Francaise de Voiles in Hyeres remained light on day three and despite the organisers pulling the start times forward, only one race was possible in the majority of classes. At the half stagae the programme is now well behind schedule.
Initially racing started and stopped a few times, before the sailors were sent back ashore to wait for the thermal breeze to settle. It was almost 1400 when a 10 knot westerly finally filled in but unfortunately, it didn't last for long and three hours later it was gone.
The last group in the Women Match racing finally completed their round robin, selecting the final two teams for the Gold fleet: They are number 3 on the World rankings, Katie Spithill from Australia and the German team of Silke Hahlbrock, the 2009 EUOSAF Match racing champion. They join, ISAF no1 Lucy Macgregor (GBR), Anne Le Berre (FRA) , Ekaterina Skudina (RUS) and Anna Tunnicliffe (USA). They will meet tomorrow in the Gold round robin to decide the seedings for the quarter finals when they will be joined by the top two from the repechage round. That will be the last chance for France's Claire Leroy ISAF no2, to take a place among the top eight.
In the RS:X, yesterday's leaders confirmed their positions with one more race won by both Piotr Myszka (POL) and Bryony Shaw (GBR). With four races completed in both groups, the RS:X men will race their final series on Wednesday in Gold and Silver fleets.
Only three races so far count in the Lasers, still divided into three groups. A fourth race has been sailed for two groups, with the third sailing their fourth tomorrow morning. However Skandia Team GBR's Paul Goodison, the Olympic, World and European Champion has taken the lead, one point ahead of Athens Silver medallist, Andreas Geritzer (AUT) who is on equal points with Javier Hernandez (ESP), winner of the Trofeo Sofia Mapfre in Palma.
Susana Romero (ESP) remains on top in the Laser Radial, where three races have been held while her Spanish team mate Fatima Reyes won the day's only race, to climb into fourth place overall. Holding second is France's Sophie de Turckheim, while Finland's long term Olympic campaigner Sari Multala holds third.
Sharing the course with the Laser Radial is the Finn fleet. Here there was upset today when nine were black flagged including yesterday's leader Zach Railey (USA). Ivan Kljakovic Gaspic (CRO), last year's winner and European Champion, won today's race, only the second in the series so far. Skandia Team GBR's Ed Wright posted a 26th today dropping him to 13th overall.
Only three races have been sailed in the 49er for the sailors in the yellow group, while the blue group stayed ashore. Among the blues development squad duo Dave Evans and Ed Powys enjoying a solid day, including two results inside the top five.
"We had a pretty good day today," Evans explained. "We were sat in the team hospitality unit again this morning thinking there wasn't going to be much wind, but luckily we got out today and it was our kind of conditions.
"It was pretty shifty, and we quite like to sail in those conditions because it's not just about 'go left' or 'go right' up the course – you have to play the shifts with the wind shifting round."
"It's been a pretty slow start, we were on second starts we'd only done one race up until today so we've had a lot of sitting around," added Powys. "We've played a lot of scrabble and football and getting a bit bored and twitchy so it was nice to get some good racing in today!"
So the results are only counting two races with the young Belgium team of Yannick Lefebvre and Matthieu Janssens leading while unusually Skandia Team GBR's Paul Brotherton and Mark Asquith are up to second, one point behind, despite not racing today.
The top three have increased their lead in the 470 Men. French duo Charbonnier/Meyer-Dieu are now on equal points with Mantis/Kagialis (GRE), just one ahead of today's winners, Sweden's Anton Dahlberg and Sebastian Ostling who move up to third overall.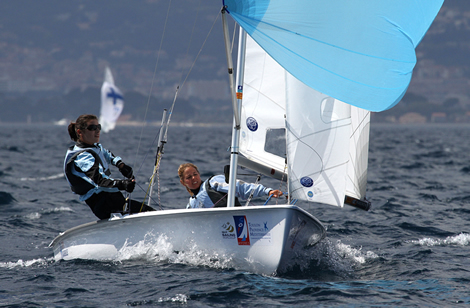 In the 470 Women, just two races have been sailed but this has allowed Japan's Ai Kondo and Wakako Tabata to surge ahead after their win today. Top Brits remain Hannah Mills and Claire Cumming in 11th.
Guillaume Florent and Pascal Rambeau (FRA) won today's race in the Star in only their second event together in the Olympic men's keelboat, while it was a disappointing day for the British team of John Gimson and Ed Greig who have dropped to fourth.
In the 2.4m, Damien Seguin added one more win to his scoreline, while Helena Lucas remains in second place overall despite a fifth place finish today. Marcel de Veen Van, Mischa Rossena and Udo Hessels have taken the lead in the Sonar fleet, after winning today's race.
Full results here

Back to top
Back to top