Young guns
We won't mention the Princess Sofia Trophy last week, where they finished a disappointing 32nd, however one of the top tales to come from Olympic classes racing last year was when after just a week in the boat together, British nippers Luke Patience and Stuart Bithell went to the 470 World Championship in Denmark and astonished everyone, not least themselves, by coming home with silver. This was ahead of the likes of team-mates, veteran double silver medallist Nick Rogers and double World Champions Nic Asher and Elliot Willis.
The pairing came together after the normal round of incest and wife-swapping that goes on in the early days of Olympic cycles. Luke Patience had parted ways with his crew Chris Gribb in April and sailed a few regattas in the early summer with Cal McDonald, who previously Bithell had sailed with in 470s. "But he had grown quite a lot and his heart wasn't quite in it," says Patience. "So that ended in June and at that point I felt my options were running out and the Worlds were fast approaching and if it wasn't this World's it would be a whole more year and it would be getting close to the trials and it would be getting a bit difficult."
23 years old, Patience comes from Helensborough on the west coast of Scotland where he is a member of the Royal Northern & Clyde Yacht Club. He grew up making the text book progression through Optimists and into 420s, where he was one of the top performers – national champions and earning a silver at the Europeans. Leaving school he says his heart was set on an Olympic 470 campaign. With his former crew Chris Gribb, he won the 470 Junior Europeans and bronze at the Junior Worlds.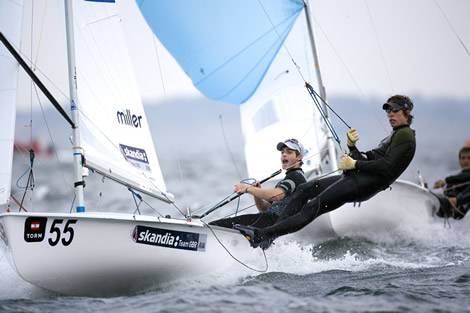 Bithell, also 23, heralds from Rochdale in the northwest of England where his home sailing club was Hollingsworth Lake. His path up the RYA sailing ladder has been less straightforward, starting out in the Mirror and into the Mirror Youth Squad, then into the 420 Transition and National Squads – at this point always on the helm. He swapped positions in the 420 with his crew Jonny McGovern and the duo beat Patience to go to the Volvo Youth Sailing ISAF World Champions in Gdynia, Poland in 2004, where they won bronze.
Since then Bithell has done a big meander through most of the Olympic classes. This included a year in the 470 with Cal McDonald. He then joined up with John Gimson in the 470 but realised that together they were too big for boat. He and Gimson then jumped into the Tornado and competed at the mass World Championships in Cascais in 2007. Then the Tornado got dropped from the Games, causing Gimson to move into the Star. "I had a short spell in Lasers, which didn't quite work out for me," Bithell recounts. "Then Paul Brotherton asked me to crew for him in the 49er and we started doing that at the beginning of last year. We did one event which we won – the Spring UK National ranking series. However he was coaching quite a lot then and he couldn't fully commit and I didn't have any funding from the RYA, so I wasn't too sure about the whole situation."
Half-way through the summer Patience and Bithell finally had 'the conversation'. Knowing each other well, having raced against one another since their teens, they were almost joking about sailing together.
"We had the conversation about the Tornado possibly coming back into the Olympics for London and we were talking about having a go at that, if it happened," recounts Bithell. "It was a month or so before the 470 Worlds, so we said 'shall we go and do them? Worst case scenario we do rubbish and we'll come back and have a go in the Tornado or the best case scenario we go and get a good result and we find out that the 470 is the boat for us'." So after just one week of training they went to the 470 Worlds and the rest is history. The only time Patience and Bithell had previously sailed together was in a 470 development camp soon after they'd both left 420s.
"We are quite similar people in a lot of areas, on the same wavelength with each other," says Patience. "If you haven't spent enough time in the boat together and you are looking to go and do something big and be at the front of the fleet, for us it boils down to your mindset on the day and being ready to race and thinking correctly. Certainly in the very early days, back at the Worlds, that is what pulled us through the races and we built the regatta together. It is funny we only did five or six days together and to go out and do that – we set our hopes high from there on." And as if to show their Worlds result wasn't a fluke they followed it up with another silver, to Asher and Willis' gold at Skandia Sail For Gold.
Particularly good news was that following their Worlds result, they landed A-status funding – previously Patience had been on level three, while Bithell had no funding. "I went from zero to hero. It was a nice surprise," he says dryly.
So why is their combination working so well? Both clearly have successful racing backgrounds. As a duo they appear to have a good weight combination with featherweight Patience on the helm and the taller Bithell crewing. While they won't divulge their combined weight, they say it is about average with Patience lighter than the typical helm and Bithell heavier than an average crew.
It may have helped that Bithell started out as a helm and understands this role as much as crewing. "Absolutely," he says. "You have got to know as a crew what the boat wants in the helm and that only helps the situation. Also, I have got a strength and Luke has got a strength: Mine is tactics and I believe I am quite good at that. And Luke's strength is making a boat go as fast as it can in any conditions. And those combined, as we've realised, is a good recipe for success."
Patience adds: "Our strengths do complement each other massively, so we can split the roles in the boat to suit that. We like to think we can always be quick, going the right way! If you are doing that you will be hard pushed to have a bad race. It's worked well for us so far."
We don't mention Princess Sofia.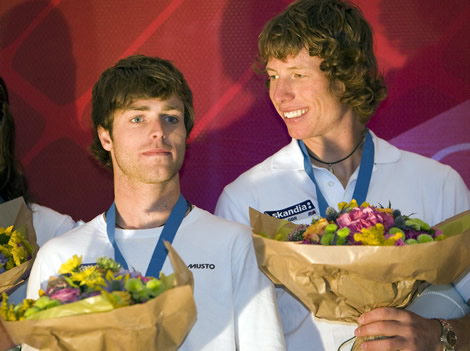 So they have since joined the hotshots – Nick Rogers and Pom Green, Nic Asher and Elliot Willis in the Skandia Team GBR 470 Performance Squad. Over the winter they have been training out in Miami, racing at Rolex Miami OCR where they were holding third until about half way through. "There were conditions we hadn't sailed in before," explains Bithell. "It was the lighter choppy stuff, but we drew loads of good points from that. We changed the boat a bit. We got a stiffer rig, etc." They have since moved to Palma and then back to the UK.
The 470 Performance Squad has an interesting mix with long term campaigner Nick Rogers, sailing with his 'new' crew Pom Green and Asher and Willis who have had World Championship success, but have never got the ticket to the Games themselves and now Patience and Bithell, the upstarts. They are coached collecively by American Morgan Reecer.
"It is certainly a mixed group," says Patience. "We are all quite good friends and we get along well, but you just have to be careful that egos aren't thrown in at every opportunity. It could be a recipe for disaster, but it does work because we don't let it get to that stage and we are all in agreement that this is best for us all. If we can stay as a group, working together, knowing it is best for all of us – regardless of who goes to the Games, then that is a good thing."
"It is a squad of three boats and we all want a Gold medal at London 2012," confirms Bithell. "We want the best person to go so we are all helping each other at this stage."
They both sound convincing.
From here it is a case of putting the pieces together to get the spot at London 2012. The exact qualification procedure devised by the Olympic Steering Group is under wraps but allegedly results in Weymouth are key - at Skandia Sail For Gold, along with the additional Olympic test event which will take place in 2011. But presumably it will also include results at this year's World Championship in Den Haag, Holland over 9-18 July.
"We hope to keep that consistency up," says Patience. "We'd like to come out of the Worlds with another medal and at a couple of other events and hope to be the most consistent British boat, if not the world. The clock is ticking, London is round the corner, the trials are even closer."
"Give the old boys something to worry about!" pitches in Bithell.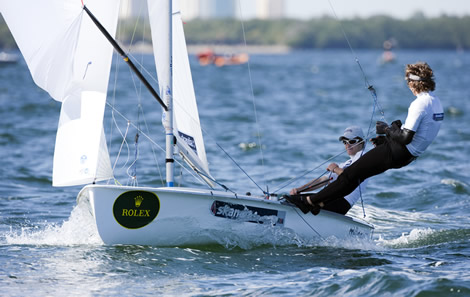 Back to top
Back to top