OCS for defending champ
The start of Day 3's racing emulated the America's Cup - with flat water and sailors just hanging around. Unlike Valencia, the wind came in and Race 5 of the 2010 OK Dinghy World Championships was able to get away.
Following his disqualification from Race 4, Karl Purdie (NZL731) was ready and loaded for Race 5. All guns blazing, Purdie came out on top - *first round every mark and first over the finish line. Michael Williams (AUS730) chased Purdie from mark 2 and finished second, with junior Matt Steven (NZL519) in third.
This left Purdie in a great position - with six races nearly in the bag he would be able to drop his worst result to date, being the disqualification from Race 4. Unfortunately, Purdie misfired at the start of Race 6 and was OCS (On Course Side). Now, with two 'dud' races in his lap Purdie was faced with a possibly insurmountable challenge.
However, God played a hand and a dark cloud developed over the course, sucking away the wind. Race Officer, John Parrish, had no option but to abandon Race 6. A reprieve for Purdie.
When the flukey wind finally settled down the Race Committee was able to lay a new course and, at 1700hrs, get Race 6 underway for the second time.
Purdie's gun was out of bullets this time, finishing in 18th*. However, he was not alone in being down the fleet … local adversary and current leader Paul Rhodes (NZL517) was 29th, current World Champion Thomas Hansson-Mild (SWE100) 20th and Nick Craig (GBR2134) 16th.
OK Dinghy International Association President Andre Blasse (AUS729) was first in Race 6, with Wellingtonians Steve McDowell (NZL525) second and Luke O'Connell (NZL511) third.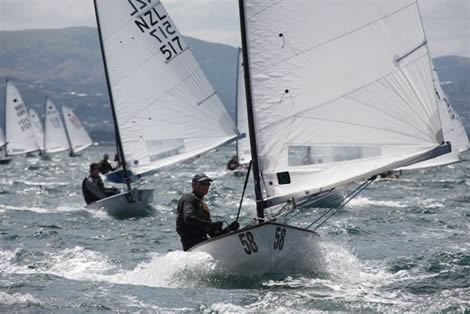 Back to top
Back to top