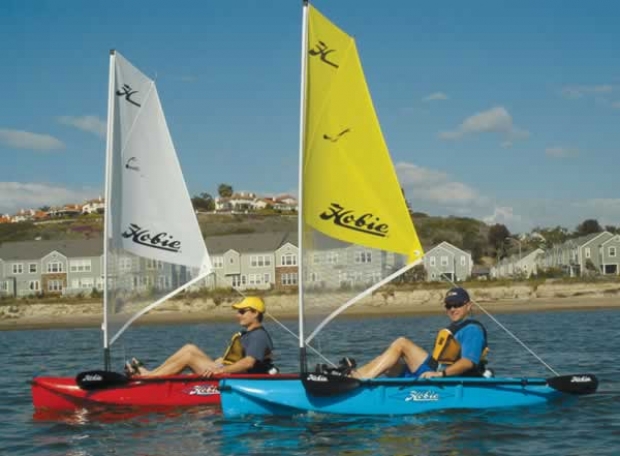 And now for something completely different
The new Hobie Mirage Sport was scheduled to be introduced in 2005, but that was before some key retailers across the country caught wind of the 'rumour'. They told Hobie that the new sit-on-top kayak was just too hot to hold that long and asked for an early introduction. Hobie listened. Inspired by their lightweight, compact, and super-manageable Lanai and the unique Mirage Outback SUV, designed with Hobie's patented MirageDrive pedal technology. Hobie introduces the Mirage Sport.
The extremely lightweight Hobie Mirage Sport is designed with a unique adjustable seat that accommodates a wide range of users from four-foot youths to six-foot adults. As the seat is moved forward, the pedals move backward, shortening the distance for smaller paddlers and vise versa for taller paddlers.
Like all Hobie kayaks, the Mirage Sport is designed to enhance fitness and exercise or for the enjoyment of recreational interests such as fishing, photography, diving, and bird-watching at any age and skill level. It has a built-in mast receptacle for the optional sail package and goes easily to windward for all levels of sailors. An optional Sportsman Kit that includes a plug-in cart, anchor kit, tackle box, and insulated cooler accommodates the growing numbers of those who enjoy fishing from their kayak.
"We're all having great fun with the new Mirage Sport," commented Hobie designer Greg Ketterman. "It isn't often that you find a product that can truly accommodate a wide variety of user shapes and sizes without losing performance. You can do it all in the Mirage Sport…pedal it, paddle it, sail it, lift it, and easily store it. It's the mini-SUV of the Hobie kayak family."
The hull of the Mirage Sport is constructed of recyclable and environmentally friendly, seamless, rotomolded Super-Linear ll polyethylene. Its closed-deck design with self-draining scuppers keeps the cockpit seat dry. The deck layout features storage trays, a six-inch hatch with a storage bag, an eight-inch hatch, and flat areas that allow customisation for an after-market rod holder, GPS, or other equipment. The oversized rear cargo area includes bungee tie-downs and has the flexibility to accommodate a cooler, milk crate, or bucket for the fishing kayaker. For transporting, it fits easily in a truck or SUV. Stainless padeyes as well as carrying handles on each end make transport easy from parking lot to beach or from a boat deck down to the water.
Hobie's patented MirageDrive pedal mechanism is connected to two underwater flippers, much like penguin wings. Kayakers will enjoy the fact that they can propel themselves faster using the pedals rather than a traditional paddle. Steering is controlled via a fingertip-controlled rudder system that can be rotated out of the way in shallow water for transport or storage. A paddle (standard equipment) can be used in conjunction with the pedals, or can be used independently.
The Hobie Mirage Sport is offered in Caribbean Blue, Hibiscus Red, Papaya Yellow, White Granite, and Sand. Standard features include a two-piece paddle, deluxe high-profile seatback with a detachable fanny pack (bum bag for English readers...ed), two hatches, mid-hull carrying handle, scupper plug for MirageDrive well, speedometer, on-hull paddle storage, bungee tie-down, padeyes, and carrying handles.
Specs:
Length: 9ft 7in
Width: 29.5in
Hull Weight: 43lbs.
Mirage Drive Weight: 8.25 lbs.
Capacity: 245 lbs.
Suggested Retail: $1,199
Optional Gear: Plug-In Cart, Sail Kit, Sportsman Kit (includes plug-in cart, anchor kit, tackle box and insulated cooler)
Back to top
Back to top