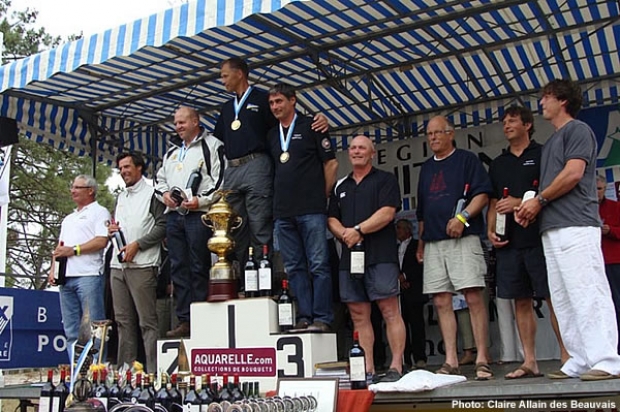 Third title for Budzien
Second place in the final race at the Finn World Masters in Maubuisson, France was enough for André Budzien (GER) to take his third title in a row. The overnight leader Jürgen Eiermann (GER) finished fourth to end up second overall. Laurent Hay (FRA), the early leader of the regatta, finished sixth in the race which was enough to hang onto third overall.
After a week of fantastic weather, the final day dawned without a breath of wind, with worries of a no-race day. But the breeze came through at 12.00, it rained, and the fleets got in a fittingly tough final race. The title race had come down to three men. Jürgen Eiermann (GER) led defending champion André Budzien (GER) by one point, who in turn led Laurent Hay (FRA) by one point.
By start time, a 15 knot southwesterly breeze had kicked in and the fleets were sent afloat in overcast conditions.
In the gold fleet, Allen Burrell (GBR) spotted a left shift just two minutes before the start and headed for the pin to launch a perfect start in the choppy conditions. The breeze was still shifty but Burrell managed to cross to the right hand side of the course before a big right hander dumped all those on the left. Burrell rounded with a clear 100 metre lead from Budzien, who then showed great athletic technique to take the lead on the first reach.
Maier soon caught up the leaders on the second beat to take the lead in the stiff breeze. On the last beat he put a tight cover on Budzien as the breeze started to drop and match raced him to the finish. But Budzien wasn't worried about that. He had his main competition behind him, and that is where they stayed. Maier won the race with Budzien crossing just behind in second to claim his third world masters title in a row. Burrell came home in third, just ahead of Eiermann, which was enough to pull him up to seventh overall.
Budzien is only the second sailor to win the Masters in three successive years after Andre Mevel (FRA) won it from 1974 to 1976. He didn't make it easy on himself though. A black flag on day two meant no more mistakes were allowed, and a ninth place in race five could have cost him dearly. But Hay, the early leader of the series, lost his way at the same time and the points difference gradually became smaller.
Budzien spoke about the week. "I had a black flag in race two. I had set my watch one minute, wrong. I had to grow into the races. It's hard as you cannot always compete against your direct competitors as they were in a different group."
"But today was really nerve-racking with the points so close for the top three. It was complicated because of the unpredictable wind, shifts of 30 degrees, and in strength. It was sometimes hard to know which direction to go. This was certainly my toughest Masters so far. I tried to keep my composure, but actually it was very nerve racking."
Forty years ago at the Finn Gold Cup in 1969, held in the rather exotic location of Bermuda, the suggestion was first put forward to hold a Veteran Finn Gold Cup for sailors over 40 and the first event was held in Switzerland in 1970. That concept - which has developed into the Finn World Masters - has now come of age itself. The 40th Finn World Masters is already history, and sailors are already looking forward to next year, with a welcome return to Split in Croatia.
Results after seven races (top 30 out of 264 entries)
1 GER 711 André BUDZIEN 17
2 GER 8 Jürgen EIERMANN 18
3 FRA 75 Laurent HAY 22
4 CZE 1 Michael MAIER 27
5 FRA 7 Stephane ALEXIS 53
6 BUL 24 Mihail KOPANOV 56
7 GBR 2 Allen BURRELL 64
8 NED 29 Bas DE WAAL 65
9 DEN 208 Jørgen LINDHARDTSEN 70
10 NED 747 Thierry VAN VIERSSEN 72
11 ITA 5 Francesco CINQUE 80
12 NED 780 Jan Willem KOK 82
13 NED 81 Gerko VISSER 82
14 GER 13 Eckhard DREPHAL 88
15 DEN 2 Michael STAAL 97
16 GER 28 Christian KÜHLWEIN 118
17 FRA 99 Marc ALLAIN DES BEAUVAIS 119
18 NED 888 Luuk KUIJPER 128
19 NED 904 Cees SCHEURWATER 131
20 SWE 721 Mikael BRANDT 132
21 GER 3 Walter MAI 133
22 CRO 110 Luksa CICARELI 135
23 GBR 567 Martin HUGHES 136
24 NED 703 Eric BAKKER 137
25 CZE 8 Jiri OUTRATA 138
26 NED 69 Roel VAN OLST 146
27 GBR 61 John HEYES 150
28 RUS 21 Vladimir BUTENKO 152
29 HUN 17 Antal GABOR 153
30 GBR 665 Julian SMITH 154
Grand Masters (50-59)
1 ITA 5 Francesco CINQUE
2 GER 13 Eckhard DREPHAL
3 DEN 6 Mikael STALL
Grand Grand Masters (60-69)
1 DEN 208 Jørgen LINDHARDTSEN
2 SWE 721 Mikael BRANDT
3 CRO 110 Luksa CICARELI
Legends (70+)
1 GER 3 Walter MAI
2 GBR 631 Richard HART
3 FRA 46 Henri ROUMAILLAC
Back to top
Back to top