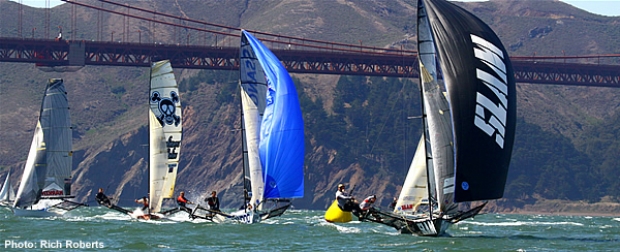 Narrow lead for Winning
The story of the eighth annual 18ft Skiff International Regatta so far is Winning, Winning, Winning . . . and Hamlin. How'd he get in there?
Four races over the first two days of the event hosted by the St Francis Yacht Club have swept Australia's John Winning and John Jr. (a.k.a. Herman) and the veteran Trevor Barnabas into three of the top four current positions of contention with a lone American, Howard Hamlin of Long Beach, CA, intruding into second place as the only other winner.
Only four points separate the first four with six races remaining through Friday. Discards will kick in after the fifth and eighth races.
The younger Winning, sailing the prettiest skiff in the fleet - a faux wood veneer hull sponsored by
Applianceonline.com
, won Tuesday's first race handily. Then the elder Winning, repeating his successful port tack start of the previous day, scored his second victory, although he had to overtake countryman Grant Rollerson and then fight off Hamlin and his son most of the way.
Father and son insist they aren't working together. "Not at all," Herman said. "Whenever we talk too much we argue."
Dad said, "He does his own thing. We probably sail a bit differently, anyway."
Whatever, both seem wired in to the conditions, which haven't been extreme for San Francisco at 14 to 18 knots, although a persistent outgoing ebb tide as strong as three knots flowing against the breeze blowing in through the Golden Gate - just bad timing on the tide schedule - makes the sailing a bit uncomfortable.
Hamlin, who would be dealing with delamination on his hull overnight, said: "It seems every year we're here we're racing in an ebb tide."
One thing that hasn't changed: Nobody bothers to bring an optional tall mast here. All 13 boats are using small rigs.
Another local distraction can be the traffic on the windward-leeward race course, including freighters, tankers and ferries. But the club race office has learned to deal with it over the years by defining boundaries between race courses and the shipping lanes backed up by direct radio communications with the vessels that tend to move even faster than the 18-foot skiffs.
An occasional exception to the orderly procedure is a private boat, like the large motor yacht that chose to drive directly across the starting line for the first race as if it, too, was responding to the gun. Race manager John Craig was compelled to order a general recall, which did not apply to the yacht, which had proceeded on blissfully unaware of any problem.
Paul Allen, a member of Hamlin's crew who has sailed these waters from boyhood, said, "It's part of the game here."
Herman Winning's sixth place in Tuesday's second race following his win left him disappointed, but he was encouraged that "we're quick downwind when it's windy," which it could well be before Friday.
Rollerson, an 18 Skiff veteran, is off the pace in fifth place, but looked strong when he led the fleet to the windward mark in the first race before the elder Winning passed him.
"We got some laylines wrong downwind and probably sailed a bit too cautiously," he said. "Our speed is fine. We're comfortable with that."
Complete results
(after 4 of 10 races)
1. Yandoo, John Winning/David Gibson/Andrew Day, Australia, 1-3-5-1, 10 points.
2. Harken, Howard Hamlin/Paul Allen/Matt Noble, Long Beach, Calif., 5-1-3-2, 11.
3. Appliancesonline, Herman Winning/Tim Austin/David Ewings, Australia, 4-2-1-6, 13.
4. 24hrRoadService, Trevor Barnabas/Aaron Links/Daniel Phillips, Australia, 3-6-2-3, 14. 5. Slam, Grant Rollerson/Fang Warren/Ris Cleary, Australia, 8-4-4-5, 21.
6. Asko/Gill, Archie Massey/Simon Noarne/Dan Wilsdon, Australia, 2-5-10-7, 24.
7. Macquarie Group, Micah Lane/Jack Macartney/Peter Harris, Australia, 6-7-8-4, 24.
8. Spot Satellite/Toyota Messenger, Dan Brandt/Cooper Dressler/Danny Cayard, San Francisco, 7-8-6-DNF, 35.
9. Skiff Foundation Blue, David Rasmussen/John Gray/Dan Morris, San Francisco, 10-9-7-10, 36.
10. Panasonic Viera, John Whitty/Dan Higlett/Harry Bethwaite, Australia, DNF-10-DNF-8, 46.
11. Harken Blue, Joey Pasquali/Rory Giffen/Kevin Richards, Santa Cruz, Calif., 9-DNF-DNF-9, 46.
12. Skiff Foundation White, Chad Freitas/Mark Breen/J.V. Gilmour, Albany, Calif., 11-11-DNF-11, 47.
13. Skiff Foundation Red, Ty Reed/Dan Malpas/J.V. Gilmour, Albany, Calif., DNF-DNF-9-DNF, 51.
More photos on page two...
Back to top
Back to top