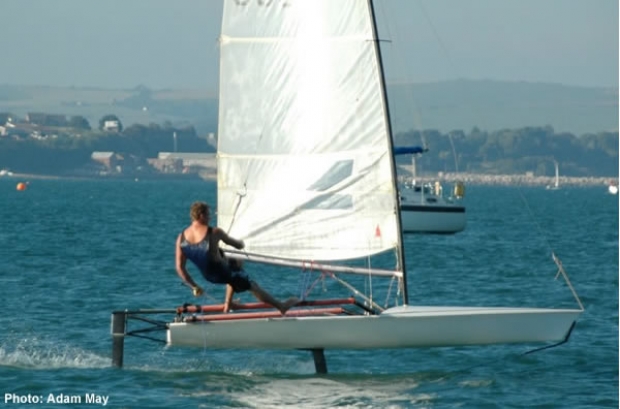 Ready to take flight
With foiling taking off in recent years, particularly the birth of the foiling Moth, we have seen a number of other classes take to the skies, as it were. There has now been the Swiss foiling 18ft Skiff (read about it
here
), reports of a number of different foiling International 14s and even a foiling Cherub plan/hoax. However, for the most part only the Moth has managed to make a class and until now groups of boats foiling together were a rare sight outside of the Moth Worlds. In recent months though the RS600ff (the foiling 600) has begun to take off and this weekend will see a fleet of the boats gathering in Weymouth for the first time.
The concept for the RS600ff originally came from Linton Jenkins of Full Force Boats who builds the Mistress design of foiling Moths. After a few months of reported sightings over winter 2005-06 Jenkins finally confirmed his plan to retro-fit foils onto the RS600 back in March 2006 at the Dinghy Sailing Show in London. "We were getting so many people saying, 'well, if the Moth was bigger and had a trapeze and a bigger sail, I would give it a go'," explained Jenkins at the time. "We started thinking about building a boat that would do the job but when we actually looked at it there was a boat that fitted the bill perfectly: the RS600."
However, even though this boat was officially announced at the 2007 Dinghy Show and supposedly unveiled at the event (although the foils never quite managed to be delivered in time) it has not been until recently that foil kits have actually begun to arrive at people's door. For a long time the only person out racing around in a 600ff was ex-UK Moth National Champion, Sam Pascoe, who has been doing much of the development so far with Jenkins.
This weekend will be the first time we get to witness a number of these boats out on the water as they take part in the first ever 600ff open meeting. Surprisingly there are going to be 13 foiling 600s making their way around the race track. Among these early adopters are some top sailors, including ex-RS700 European Champion, Paul Bayliss. Even more impressive are the people who are due to pick up some of the next batch of foils, including Alistair Richardson, Peter Greenhalgh and Simon Hiscocks.
Despite a wealth of talent jumping into the class there is little doubt about who is going to be fastest this weekend when the boats hit the water. "Sam [Pascoe] will be there - he will give us all a good roasting.He is just so far ahead of everyone else," explained well know journalist and first to buy a 600ff, Andy Rice. "Even Simon Payne admitted to me the other day that Sam is going faster in the 600ff than he is in the Moth, but I do not think there will be anyone else going that fast."
In fact the event is only really to be an open meeting in name as, Rice explains, most people sailing the boat have been doing so for such a small amount of time, no one will pose a significant threat to Pascoe. "We will have racing, but it will really be pretty meaningless because people are so far at the bottom of the learning curve that it will really be Sam Pascoe fly-by training. I think for that reason it will be about learning as much off Sam as we can."
Aside from foiling manoeuvres, the holy grail of foiling craft, and what Pascoe manages to do much better than the rest at the moment, is to foil consistently upwind. "I have sailed it so little that I am not too well qualified to talk about exactly what the difficulties are," Rice continues. "All I know is that when I have sailed it, I have thought 'this is just impossible.' Then I saw Sam do it with ease and have had to swallow a bit of my pride and say 'well there is a lot to learn here.' Sam has to pull the boat off the wind to get foiling, but there is a question of how far he has to do it. He probably does need to do it less and he can keep it there higher than we can and that is all down to feel and experience."
Another significant name on the list of current RS600ff owners is Olly Straker who is Chairman of the RS600 (non-foiling) Class Association. Clearly this is an encouraging sign that the foiler is being accepted by the regular 600 sailor. However, this is not exactly the case as Rice explains: "As with all these things, not everyone in the standard fleet is a fan, but by and large they seem to be coming round to the idea. And Olly is a good person to have sailing one, so it is not an 'us and them' mind set. I hope that the fleet sees us as being complementary to what we are doing. To be honest anyone that owns a boat at the moment, I can't see us doing anything other than good for them because the value of their boat is only going up at the moment."
Despite some RS600 members not being fully behind the new foiler clearly RS themselves do not have too much of a problem with it. Rice says at the moment they are in talks about becoming an official part of the RS Association, so benefiting from the backing of a large company. "It is too early to say what is going to happen, but so far the noises sound good on that. Because we are a young class it would give us a lot of creditability." It is hard to see many reasons why RS would want to refuse the class from being officially adopted. We presume they would want to wait a while to ensure boats are not breaking regularly, so tarnishing their reputation. Presumably they also want to avoid irritating their current RS600 members. But in truth while the fleet is relatively small and we feel it is only a matter of time until there are more actively sailed 600ffs than there are RS600s.
Aside from this first open meeting no other events have yet been officially scheduled. There are plans for a National Championship next summer in Weymouth – offering the exciting possibility that the class could hold this just before or after the Moth Worlds to be held at the same location – but beyond this nothing is confirmed. "The other reason for meeting up this weekend is that on the Saturday evening we are going to sit down as a class and talk about what we want next year," explains Rice. "We will probably have only four or five open meetings next year; we are erring on the side of having fewer and better attended events."
Finally we are going to see a class other than the International Moth foiling in significant numbers - 13 boats at the first ever event is very impressive for the 600ff. From here, who knows where the class is going to go, but as Rice says if someone is over 75kg and is trying to decide whether to drop some weight for Moth sailing then the foil-born 600 could be for the, and this could open up a very big market. We are very excited to see another foiling class coming to the fore. We will be in Weymouth this weekend to bring you all the news.
Entry List:
Graham Simmonds
Olly Straker
Paul Bayliss
Peter Barton
Ian Gotz
Alex Tobut
Martin Oliver
Steve Burbeck
Martin Pascoe
Dave Smith-White
Henry Clark 
Stuart Applby
Back to top
Back to top