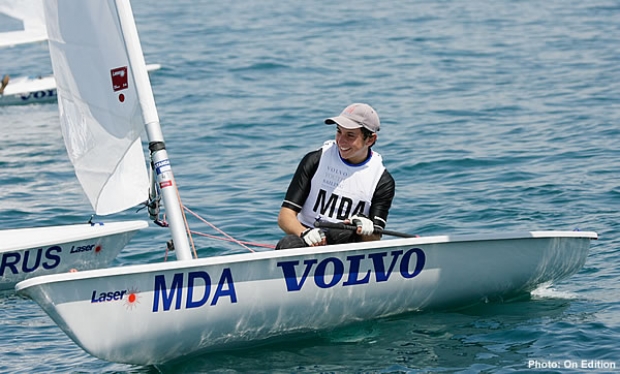 The weight lifting alternative
It is not every day that you sit down with someone from Moldova. This, we discover is not some civil war torn west African dictator state (we'd be thinking of Monrovia - capital of Liberia) and our latest interview victim does not come with large rings enlarging various body parts.
Moldova, we discover after a five minute hunt around Google, is in fact sat snugly between Romania and Ukraine (ie northwest of the Black Sea). It was originally part of Romania until the Ruskies hived it off for themselves at the end of the World War 2. It was then decidedly 'Eastern Bloc' until gaining independence in 1991. According to the wholly unbiased CIA website it became the first former Soviet state to re-elect a communist party and is "the poorest nation in Europe".
Crucially for our surprisingly unphased 17 year old interviewee and aspirant Olympic Laser sailor, Alexandr Denisiuc, who we meet at this week's Volvo Youth Sailing ISAF World Championship in Weymouth, Moldova is also landlocked. While he lives in the capital Chisinau (also known as Kishinev - another useful fact for your next pub quiz) Denisiuc says he trains on a small lake just outside the capital and sails every day.
Compared to the plush, business-like surroundings of the Weymouth and Portland Sailing Academy the club Denisiuc belongs to in Chisinau is also Moldova's school for weight lifting. While inevitably football is big in Moldova, weightlifting is the country's main Olympic discipline. One can only imagine the extreme range of physiques - from spindly teenage Laser sailors to barrel-chested he-men - wandering around that club.
Out on the nearby lake the situation is less than ideal for Olympic training. "We have no Lasers as all," says Denisiuc. "We have a copy of the Laser, made 20 years ago in the USSR and we have ten of them. They are called Luc, it is a translation of Laser, the Russian Laser. It is the same, but they are very old." Matters are made no better by Denisiuc having no regular training partner.
What has impressed us talking to sailors competing at the Youth Worlds from the more obscure countries is just how determined they must be to make it to the international circuit. While simply going sailing can be hard enough, there is the added peer pressure of going out on a limb, doing something different during one's sensitive teenager years.
Coming to these events where Denisiuc can meet like-minded souls becomes almost a home from home, the opportunity to meet friends he hasn't seen since the last regatta - this year he also competed at the ISAF World Sailing Games finishing 65th out of 75. "But that was in senior class not in the youth class," he points out.
Typically Denisiuc hangs out with fellow Russian speakers - the Russians, Ukrainians, Bello-Russians and Bulgarians. While Romanian is the national tongue in Moldova in practise he and his friends back home speak Russian while his English is surprisingly good considering he has only learned it for a couple of years.
What is most impressive is that Denisiuc has got himself to compete at the Youth Worlds in Weymouth on the south of England several thousand miles away from home. The process has been eased thanks to his father, also called Alexandr Denisiuc, being President of the Moldovan Sailing Federation as well as his mentor. "My father is my trainer. He sails with me and he helps me," he says.
This is even Denisiuc's second time competing at the Youth Worlds. "The first time was in Gydnia in Poland [in 2004] when I was 16. So this is my last year. [In Poland] it was too windy for my 16 years, so I am trying this second time to be better than when I was 16," he says.
Fortunately ISAF paid for 75% of the cost of his participation at the Youth Worlds in Poland via their Athlete Participation Program, his parents funding the rest. This time he was unable to get money from the APP scheme to cover the cost of his participation in Weymouth but this time the Moldovan government have stepped in - he is after all their only aspirant Olympic sailor. "This is the first time in the history of sailing in Moldova they gave money to come here," he says. The Youth Worlds in Korea last year were too far away and the government wouldn't back him.
Denisiuc says he would like to get funding to qualify his country and thereby himself to go to the Beijing games, but this will depend upon how many events he can get funding to go to. "We take part in all the competitions where they provide the boats, because we haven't got our own boats," he says. He is more realistic about his prospects of returning to Weymouth in 2012. "This is my first time in England. I love it," he says.
We wish Denisiuc every success. Anyone who has a Laser they would like to donate to help an exceptional young lad become Moldova's first sailing Olympian should email thedailysail
here
.
Back to top
Back to top