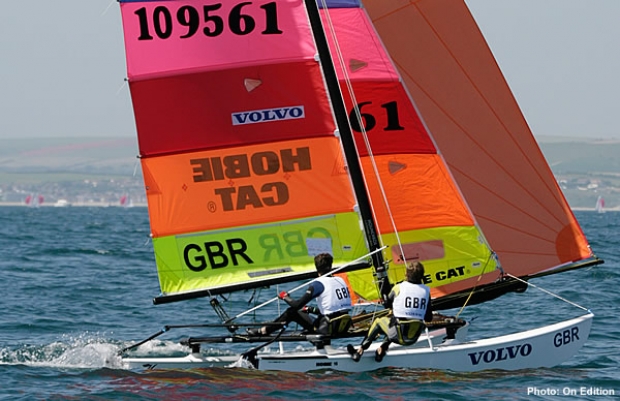 Weymouth bound in 2012?
The Volvo Youth Sailing ISAF World Championship, pitting the world's finest 13-18 year old sailors against one another in a variety of classes including the Laser, Laser Radial, 420, Hobie 16 catamaran and RS:X board, is currently underway out of the Weymouth and Portland Sailing Academy.
Aside from being an opportunity to see how the new facility operates in anger as it hosts its most high profile international event to date, the Youth Worlds provides an opportunity to see who the next up-and-coming Ainslies, Coutts and Dicksons are lurking around the international youth fleets. Since it was first held in Sweden in 1971 it has produced notable winners such as Chris Dickson (1979 and 1980), Russell Coutts (1981), Stuart Childerley (1984), Andy Beadsworth (1985), Kevin Hall (1986), Stu Bannatyne (1989), Dean Barker (1990), Robert Scheidt (1991), Carolijn Brouwer (1991), Ben Ainslie (1995), Nick Rogers (1995), Siren Sundby (2000), etc
En track to join Dickson as one of the event's rare double winners is Britain's Hobie 16 sailor Tom Phipps who won the catamaran class with his regular crew Jonathan Cook two years ago in Gdynia, Poland and who was runner up to the Australia duo of Evan Walker and Kyle Langford at the Youth Worlds last year in Korea. Here in Weymouth Phipps is well on his way to a second gold, dominating the Hobie 16 on a mere 9 points to the second placed Singapore duo's 24.
Above: Tom Phipps (left) and Richard Glover
On this occasion Phipps is sailing with Richard Glover, his regular crew Jonathan Fells having broken his collarbone in a snowboarding incident just before the selections. "I had to team up with a completely different person for the selections and I got one of my friends from Falmouth who is a good Hobie 16 sailor," recounts Phipps. "We won but because he was already committed to doing other sailing events he couldn't do the Youth Worlds with me so we spoke to the RYA and came up with Richard as being the best option."
Richard Glover and his brother Andrew were runners-up in the selections for the UK Hobie 16 spot (like the Olympics it is a case of one boat per class per nation at the Youth Worlds) and where this Youth Worlds will be Phipps' last before he turns 19 later this year, Glover hopes to compete again next year. While Phipps is from the depths of darkest Cornwall, Glover comes with the added advantage of having Weymouth harbour here as his regular training ground.
That Phipps should become a leading cat sailor was almost inevitable. His father Brian for years has run the Cat Clinic for budding twin hulled sailors out of Mylor, close to Falmouth. He is also a long term RYA coach, although in recent years he has spent more time teaching in countries such as Hong Kong and Dubai.
To start out when he was aged 5, Phipps junior had to sail on one hull, in Oppies. "That is what I had to learn in and I didn't really enjoy it and I wasn't much good. So I pulled out of Oppies quite early and started sailing with dad in catamarans like the Dart 18s." Aged 9/10 Phipps junior was crewing for his father in events such as the Dart 18 Nationals at a time when this fleet was at its zenith. "Then I wanted to start doing a bit of steering so I went out with my friends at weekends and I went out sailing with Jon [Fells] a lot who also from Falmouth, a couple of miles up the road. I managed to drag him away from Oppies and we started sailing cats together and we went through the Junior program, Youth program and we are at the top end of that now."
Aside from his Youth Worlds success, Phipps and Fells have finished first Under 21 crew at the Hobie 16 Worlds in 2004, were second at Eurocat earlier this year again in the 16 and were 8th overall against the grown-ups in the 16 at the Hobie Worlds last year. If they stay together then Phipps and Fells stand a good chance of becoming one of the longest standing pairings in our sport.
At present they are dominating the class here in Weymouth, so what is making the different? "I have to say - the fleet is a much better standard than it has been in previous years," says Phipps. "The first year we went there were only a few boats that could have taken it. The world was quite a long way behind because the spinnaker had only just come in and only us and the French had got into using it. Now they have had more time with the boat, the standard is getting better."
It has also been a case of time on the water, the duo training here in Weymouth every weekend. "That has benefitted us because our boat handling and our downwind speed is substantially better than everyone else and we are able to sail past people. And sailing in home waters helps," says Phipps.
In terms of coaches they use Paul Wakelin who is the RYA's Hobie 16 class coach this year, although for the Youth Worlds they have had the extra help of Mark Plummer.
The Youth Worlds technically marks the end of Phipps' part in the youth squad and his move up to the RYA transitional squad will see him make the substantial leap into the Hobie Tiger Formula 18 catamaran. This will happen quickly - just two days after the Youth Worlds conclude this week Phipps is en route to Spain, reunited with a hopefully mended Jon Fells to compete in the Hobie Tiger Worlds.
"All the Olympic transitional [catamaran] training is done in the Hobie Tiger because the Tornado is so ridiculously expensive and it is so hard to get enough money together even to start sailing," says Phipps of the uphill struggle that lies before him. "Hopefully once we've got some good results and established ourselves in the top of that fleet we'll be able to get some funding and move on to the Tornado."
In the meantime they have to master the Tiger, a very much more sophisticated boat than the 16. Fortunately at the Worlds there don't appear to be many of the Hobie 'works' teams competing such as the Bundock/Ashbys or the Booths/Dercksens however Booth's son Taylor will competing as are the strong French duo of Mourniac/Citeau and Jeff and Cody Alter (the Alters being the originators of the Hobie cat). However Phipps and Fells will be up against other Team GBR transistional squad sailors such as Simon Kearns/Benjamin 'mad dog' Burns and Kevin Cooper/Justin Martin.
So what at their prospects? "I don't know," says Phipps tentatively. "We haven't done any events in tghe Tiger yet. This is the first one and we haven't been sailing it much because I've been doing so much training in the 16 in the lead up to this event."
Obviously the first Olympics Phipps will practically be able to go for happens to be London in 2012 and a return to the venue he's sailing in this week. "I really enjoy sailing in Weymouth. It is great water to sail on in the Bay, even if it is a little cold in the winter."
The Tornado is an 'old' class, as Phipps puts it "with every Olympic cycle the average age goes up by four years" and the Booths and Hagaras seem to have no place to move on to, but the main issue Phipps sees over making this dream become a reality is solving the issue of money. "The Tornado is stupidly expensive and young people don't have that much money. To stay at the front of the fleet you need the best kit and the kit is changing all the time, they are getting new designs of this and that. There is a lot of sail development that goes on behind the scenes and you need a lot of money to do that and young people unless they have great funding with good sponsors they just can't keep up."
Fortunately Phipps is aligned with what is at present the world's most successful Olympic sailing teams and one gets the feeling that if he shows the talent and flair he has so far then the RYA will do everything possible to oil the wheels for him and his wingman to jump aboard the Olympic catamaran.
In terms of their sailing long term both Phipps and Glover suffer from the normal teenage complaint in this country of not being able to see past the Olympics. And even having the boys on the Basilica Volvo Extreme 40 posing their way around Weymouth harbour this week at a rate of knots on one hull, doesn't seem to have wetted appetites as much as it might. "I saw the VX40 out - it looks amazing, but I didn't have a go on it, My aim is the Olympics at the moment and we'll go from there," says Phipps.
So Tom Phipps - the next Ben Ainslie? In the catamaran world this seems most likely.
Back to top
Back to top