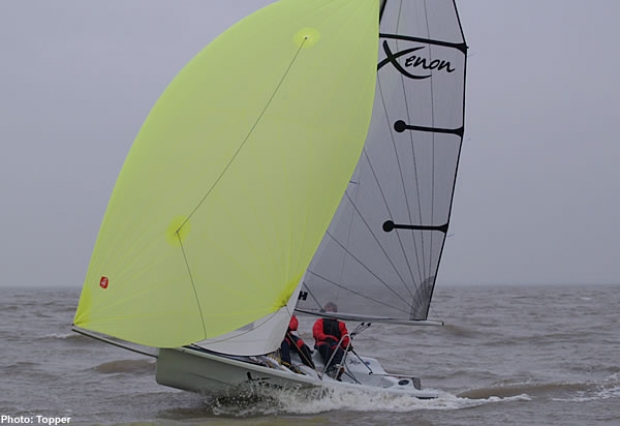 The priceless prize
Preparations are now well underway for this year's prestigious Endeavour Trophy, to be held over the weekend of the 8th and 9th of October at the Royal Corinthian Yacht Club, Burnham.
The event is by invitation only to those British dinghy sailors who have either won a National, European, or World title in their class. The winner of the weekend of racing is crowned the dinghy racing 'Champion of Champions'. The list of previous winners reads like a who's who of British dinghy racing talent over the past four decades: Laurie Smith, Eddie Warden Owen, Ian Pinnel and Jim Hunt amongst others.
Organised and hosted by the Royal Corinthian Yacht Club in Burnham this year's event sees several significant changes to make the event easier and more enjoyable for sailors to attend.
Key to this year is the news that the racing will be in matched, brand new, Topper Topaz Xenons. This new design, launched over the summer is a perfect vehicle for the Endeavour – no one has ever sailed it before and the boat is expected to be more manageable than the incumbent RS400. All 30 boats will be at the club and so no sailor who has entered will need to embark on the often difficult task of bringing their own boat to compete in; a simple case of turning up with your sailing gear.
The schedule has also been changed to include an optional day of practice/coaching on the Friday 7th October before racing commences on Saturday morning. This will enable all sailors to get acquainted with the boat and receive some expert coaching. This day is sponsored by TNG, a national training company specialising in the provision of recruitment, training, consultancy, mentoring and business support service for individuals and organisations.
The two days of racing will be as difficult and demanding as ever, with the startline comprising of the best dinghy sailors in the country, there will be no easy options. The back to back races will again be held on the River Crouch, itself a testing patch of water not for the faint hearted.
A big dinner on the Saturday night will provide a perfect opportunity to fuel up and soak up the Endeavour atmosphere and meet and chat with fellow invited Champions.
The racing days are sponsored by Holt (company founder Beecher Moore created the event back in 1961 and sourced the now priceless trophy) and are providing a variety of gifts and prizes to those competing. TheDailySail.com is a supporting sponsor.
Invitations have been sent out to 47 sailors with places limited to 30 on a first come, first served basis. First to accept the challenge was OK World Champion, RS 400 National Champion and defending Endeavour Champion, Nick Craig.
Other confirmed entries include Laser National and European Champion, and Team GBR Athens Olympic sailor Paul Goodison; GP 14 National Champion Graham Nelson and Laser 4000 National Champion Andy Palmer-Felgate.
Those listed below who have not received their personal invitation sent via their class secretary are encouraged to contact the Royal Corinthian Yacht Club (01621 782105) to secure their entry.
| | |
| --- | --- |
| 420 | Matt Burge & Chris Evans |
| 29er | Huw Humphries & Max Todd |
| 49er | Stevie Morrison & Ben Rhodes |
| 505 | TBC |
| Albacore | Chris Turner Simon Maguire |
| B14 | Matthew Searle & Andy Ramus |
| Blaze | Steve Cockeril |
| Cadet | Stephen Videlo & James Joplin |
| Comet | Bill Webber |
| Contender | Tim Holden |
| Enterprise | Tim Sadler & Richard Salt |
| Fevas | TBC |
| Finn | TBC |
| Fireball | David Edwards & Dan Newman |
| Fireball | Chips & |
| Firefly | Dr Anthony Gunstone |
| GP14 | Grham Nelson & Mike Senior |
| Hornet | Micheal Mac |
| Int 14 | Alistair Richardson Dan Johnson |
| ISO | Lloyd Walker |
| Lark | Sarah Richards & Nigel Wakefield |
| Laser | Paul Goodison |
| Laser 2 | FIRST RESERVE |
| Laser4000 | Andy Palmer-Felgate |
| Laser Radial | Steve Cockeril |
| Merlin Rocket | Phil King & Linton Jenkins |
| Miracle | Sam Mettem & Geoff Philips |
| Mirror | Hecotr & Bill Cisneros |
| Musto Skiff | Ian Trotter |
| National 12 | Graham Cam & Zoe Ballantyne |
| OK | Steve Dunn |
| Osprey | Tim Rush & Andrew Elliot |
| Phantom | Simon Childs |
| RS200 | Craig Benton & Fiona Clark |
| RS400 | Nick Craig & James Stewart |
| RS600 | Dan Dixon |
| RS800 | TBC |
| Scorpion | John Mursell & Nick Keast |
| Solo | Jamie Lea |
| Splash | Chris Schonhut |
| Streaker | Ian Jones |
| Supernova | Mike Gibson |
| Topper | Bleddyn Mon |
Back to top
Back to top