Six Multi50s for the TJV
While the MOD70 fleet in the forthcoming Transat Jacques Vabre may be dropped by a third following the capsize of Virbac Paprec, six of the smaller non-one design Multi50s will be competing on the course from Le Havre, down the Atlantic to Itajai in southern Brazil.
Among the fleet are two past winners - Actual skipper Yves Le Blévec is the defending champion, while Erwan Le Roux, skipper of Fenêtré A Cardinal won in 2009 with Franck-Yves Escoffier when the race finished in Costa Rica.
Actual co-skipper Kito de Pavant and Lalou Roucayrol, skipper of Arkema-Région Aquitaine, hold the record number of partipations, both having competed six times before. They are followed by Solitaire du Figaro winner and Arkema-Région Aquitaine co-skipper Yann Elies, who has sailed three previously on monohulls, while Loïc Féquet, skipper of Maitre Jacques has done it twice before on Multi 50s and no Multi 50 race is complete without an Escoffier and on this occasion Loïc is representing the St Malo Multi 50 sailing dynasty as co-skipper on Maitre Jacques, and has sailed the TJV once before.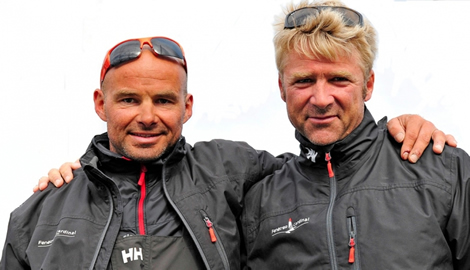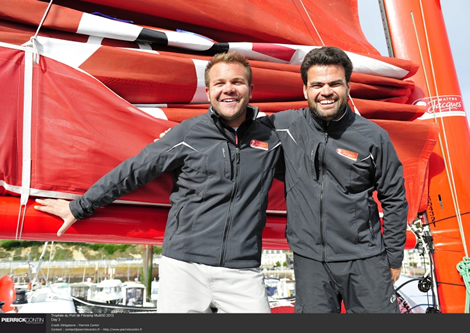 Five of the 12 crew are TJV newbies. Class rookies are experienced Figaro sailor Erik Nigon and Samy Villeneuve, sailing the 1988 generation Nigel Irens design, Vers un monde sans SIDA.
Also new to the race are Gilles Lamiré and Andrea Mura, sailing Rennes Metropole/Saint Malo Agglomeration, formerly Lionel Lemonchois' Prince de Bretagne, a design by Nigel Irens and Benoit Cabaret. Ex-Il Moro di Venezia AC trimmer, Mura is a former 420 European champion and Junior 470 World Champion, while Lamiré has previously sailed in the Route du Rhum and Quebec-St Malo.
Another rookie is the co-skipper on Arkema-Région Aquitaine, Mayeul Riffet, a kiteboarder with previous in the ORMA 60 class.
So who's going to win?
The answer remains as uncertain as ever. The most recent VPLP design in the race, the 2009 generation FenêtréA Cardinal has already won the race before in 2009 with Franck-Yves Escoffier as Crepes Whoau! 3, while Maitre Jacques is a 2005 generation VPLP design (ex-Crepes Whoau! 2) but has been fully optimised and is no less competitive. But they are up against the highly experienced duo Yves le Blevec and Kito de Pavant (who between them have won both the Mini Transat and the Solitaire du Figaro) on Actual, a 2009 generation Guillaume Verdier design.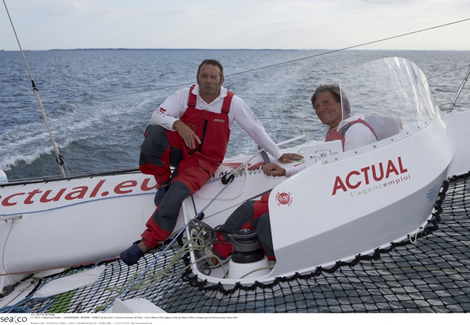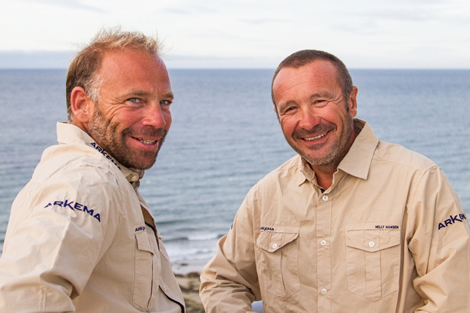 Back to top
Back to top