First time for the Figaro class
After a tight tactical battle at the front of the nine-boat Figaro fleet in the classic Rolex Fastnet Race, spanning 611-miles from Cowes to Plymouth via Fastnet Rock, Artemis Offshore Academy skipper Nikki Curwen and Charlie Dalin on Artemis 77 took line honours this morning to win the Figaro Class – marking the first time in the history of the Rolex Fastnet Race that the class has been given its own division.
Five minutes later, the next two Figaro boats approached the line and with just metres to go Ed Hill and Gilles Chiorri on Artemis 37 pipped French crew Xavier Macaire and Yves Ravot to second place, with just five seconds to spare!
Aremis Offshore Academy doublehanders Sam Matson and Robin Elsey were the first fully British crew to cross the finish line in fourth, 21 minutes behind the winners, followed by Nick Cherry and Lizzy Foreman on Magma Structures in 5th, RockFish skipper Henry Bomby in 6th and Alex Gardner and Dyfrig Mon in 7th on Artemis 43.
With just minutes separating the sailors on the Class Figaro podium, it was great finish for the British skippers, truly showcasing the highly competitive nature of the one-design Class Figaro here in the UK.
"The race was awesome, so intense the whole way round," said a delighted Nikki Curwen. "Charlie is the master of tactics, it was such a good learning experience to actually go through the motions of making and acting on those decisions and even better when they repeatedly paid off."
2012 Transat AG2R winner Charlie continued: "It was really close racing with Xavier and Yves the whole 608 miles, we were never out of sight of each other, neck and neck for most of the way trying to out do one another with tactics. In the end our race was won by a single gybe coming into the line that we made and they didn't."
After setting off the skippers became embroiled in a tough battle between the 32ft one designs. West country sailors Henry Bomby and Academy double-handed skippers Matson and Elsey quickly became locked in a fierce battle as they raced through home waters: "It was on between us and Artemis 21 all the way to Fastnet Rock, but then we dropped the spinnaker a bit too early and they gained a few miles on us. It's a bit of a sore subject," Henry joked. "It was a tactical race and winning tactics are what paid off in the end. In true class Figaro style, the race was tight, tactical and a close battle throughout."
Matson, who begins his own solo Figaro campaign with the Artemis Offshore Academy later this year, couldn't be happier with his and co-skipper Elsey's performance and first real Class Figaro race: "If this is what Figaro racing is like all the time, that close and competitive the whole way round the course, then I can't wait for the next one and for my Figaro season to begin."
The Class Figaro skippers saw a mixed bag of conditions from a light 3-5 knots putting the brakes on the fleet at Lands End, to 25 knots for a wet and wild beat across the Irish sea towards the finish line: "Conditions were not really rough nor was their a total shut down," Magma Structures skipper Nick Cherry explained. "The almost benign weather made for a really tactical race, which is must more typical of a one-design Figaro race."
For Artemis co-skippers Alex Gardner and Dyfrig Mon still in their first year of Figaro training, the majority upwind and longer distance to sail made for a new racing experience as Gardner revealed: "I don't think we realised how tired we were and how it was effecting our performance, until I forgot how to steer and Dyfrig quite strongly told me about it. Tiredness combined with the constant pressure of racing over a long distance is really disorientating."
Whereas for more experienced Figaro skipper Ed Hill, the doublehanded Rolex Fastnet Race came as a welcome break from the physical and mental toils of the recent solo Solitaire du Figaro: "It was different to race a Figaro with two people, it was a lot nicer. I enjoyed the race throughout rather than having the constant love/hate battle I do with solo sailing. I'm thinking of going part-time with the Academy!
"I hope that the Class has made a good impact on the UK sailing scene and we've shown just what an exciting and highly competitive class the Figaro really is."
Rolex Fastnet Race 2013 – Class Figaro Results
1. Artemis 77/Nikki Curwen & Charlie Dalin/05:11
2. Artemis 37/Ed Hill & Gilles Chiorri/05:16
3. Maluel/Xavier Macaire & Yves Ravot/05:17
4. Artemis 21/Sam Matson & Robin Elsey/05:32
5. Magma Structures/Nick Cherry & Lizzy Foreman/06:27
6. RockFish/Henry Bomby & Richard Tolkien/06:30
7. Artemis 43/Alex Gardner & Dyfrig Mon/07:07
8. Full Irish/David Kenefick & Full Irish/07:18
9. Jehol/Didier Bouillard & co-skipper/07:31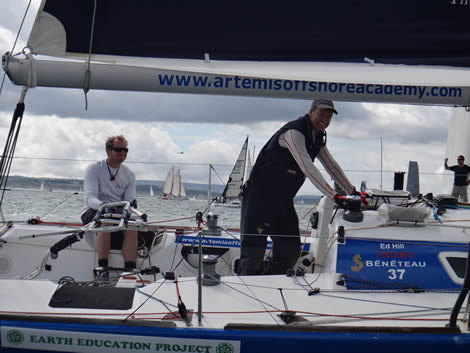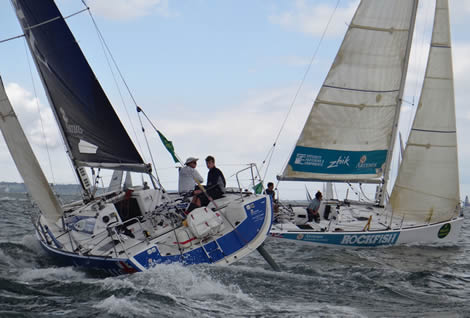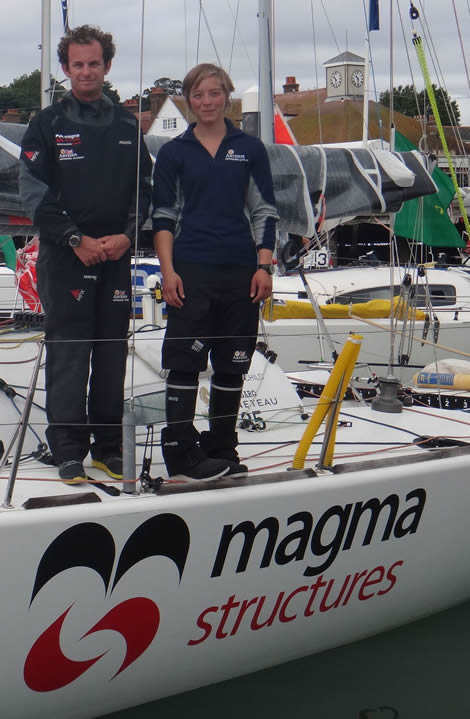 Back to top
Back to top